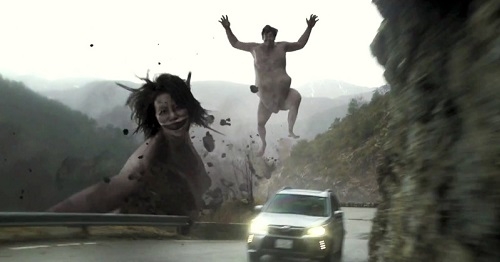 Anime crosses over to the auto world in this new Subaru commercial, featuring the giant nude antagonists from Attack on Titan. After seeing just a few commercials out of Japan lately, this one should not surprise you.
The 30-second ad features live-action Titans going up against the new Subaru Forester.  Director Shinji Higuchi, who helmed the 2006 disaster flick Sinking of Japan, worked on the Subaru collaboration and may be showing us how the Titans will look in the movie adaptation slated for release next year.
In a nod to the series' "3D maneuver gear," the Forester is being promoted as an "omnidirectional SUV against attacks".  I do love the idea of a vehicle that can go anywhere and handle any condition, but will there ever be a time that we face a Titan attack?  I think not, but let us not think about that. It is still a great way to promote a vehicle that is known for its all-wheel drive capabilities.
Watch below and I hope you enjoy it as much as I did.

Like any good manga, Attack on Titan soon found itself adapted into an (also good) anime… and then some light novels, and a video game, and a live-action movie, and a spin-off, and a crossover with Marvel Comics, and a… holy crap, how does all [...]

Community Post: This article was submitted by a member of our community. Find out how you can publish your own writing here!It's rather ambitious for any show to make its central focus about the impending and unstoppable nature about death. Sure, [...]

On this episode of Couch Potatoes, Jose discusses all things anime with professional voice actress, Erika Harlacher!