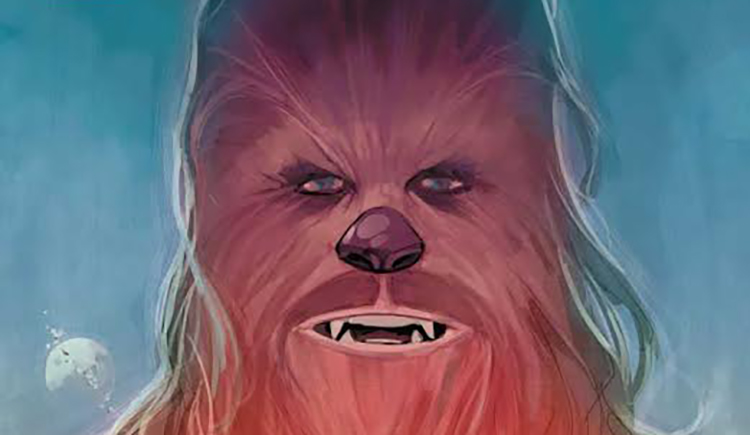 Following in the proud tradition of Darth Vader, Princess Leia, and Lando Calrissian before him, Chewbacca is getting his very own limited comic book series this fall. 
What's it about?
Gerry Duggan and Phil Noto are teaming up for this story set after the Battle of Yavin. After crash landing on an Imperial planet, Chewie finds himself cut off from Han and the rest of the Rebel Alliance. There he meets a young woman who needs his help, and Chewie must find a way to defend her home from the Empire's forces.
It sounds weirdly like a classic Fistful of Dollars/Yojimbo set-up, and that's pretty awesome.
Canon?
Of course.
And when can I read it?
Chewbacca #1, the first of a five issue limited series, will be out on October 14.
In the meantime, here are the covers for the first issue, along with a few teaser panels:

Marvel Comics is teasing… something involving Spider-Gwen and Deadpool. 

September is here, which means summer is finally drawing to a close. Don't be sad about the lack of sun though, there are more than a few reasons to stay inside as those temperatures begin to drop.

The 2015 Fantastic Four movie is…not doing great. Yeah, let's go with that. But that doesn't mean that people should give up on Marvel's First Family. In that spirit, Funny Books is holding an emergency review of the best entry point for new FF readers, [...]