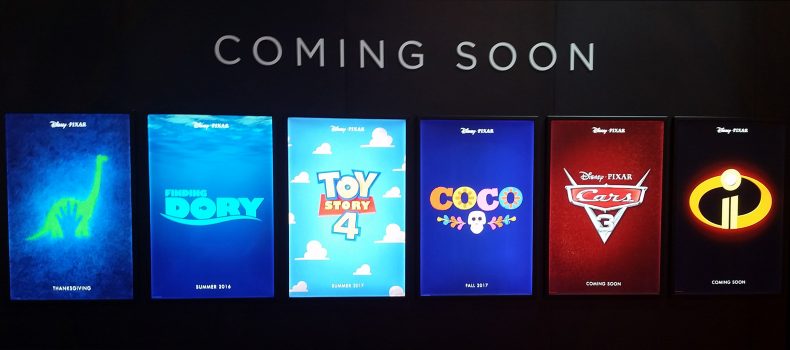 Disney-Pixar revealed their entire lineup of films, through the end of 2017 (and a bit beyond), at D23 Expo this weekend. 
This included the surprise reveal of a fourth Toy Story installment, confirmation that Cars 3 was in development, and a title for their long-rumored Dia De Los Muertos movie, Coco. On the show floor itself, the Disney animation booth also showcased teaser posters for all six of their upcoming movies.
They are, from left to right:
The Good Dinosaur (November 25, 2015)
Finding Dory (Summer 2016)
Toy Story 4 (Summer 2017)
You can see each of them individually below.

In the last installments of Adventure Time's "Stakes" miniseries, "Checkmate" and "The Dark Cloud," Marceline confronts the Vampire King, whose unexpected proposal leads to the culminating battle between Marceline [...]

On the next installments of the "Stakes" Adventure Time miniseries, "May I Come In?" and "Take Her Back," Marceline and crew contend with the shape-shifting Hierophant, and the nightmarish Moon.

On Adventure Time's next installments of the "Stakes" miniseries, "Vamps About" and "The Empress Eyes," Marceline discovers that five vampiric foes from her past have resurrected, and one of them has chosen the [...]