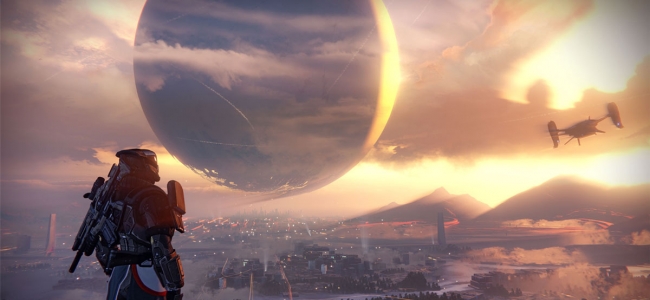 Destiny is out today, and if you're looking to give your character a little boost, these 25 codes will add grimoire cards, emblems, and shaders to your account. You can redeem them at Bungie.net, and pick up your items at the Special Orders shop in-game.
The codes were originally printed on trading cards given out at events around the world. These cards aren't available anymore, but luckily, the codes on them aren't single use, so they're freely available online.
Here are all 25, and what they unlock:
Emblem Codes:

Blinding Focus: FJ9-LAM-67F

Ab Aeterno: JDT-NLC-JKM

Field of Light: JNX-DMH-XLA

Lone Focus, Jagged Edge: 7CP-94V-LFP

Illusion of Light: JD7-4CM-HJG

Sign of the Finite: 7F9-767-F74
Shader Codes:

Double Banshee: 7MM-VPD-MHP

Oracle 99: RXC-9XJ-4MH
Grimoire Card Codes:
Warlock: YKA-RJG-MH9

Hunter: 3DA-P4X-F6A

Titan: MVD-4N3-NKH

Rixis: TCN-HCD-TGY

Old Russia: HDX-ALM-V4K

Hive: 473-MXR-3X9

Moon: JMR-LFN-4A3

Gjallorhorn Launcher: HC3-H44-DKC

Duke Mk. 44: 69P-KRM-JJA

The Tower: 69P-VCH-337

Hive Ogre: 69R-CKD-X7L

Valley of the Kings: 69R-DDD-FCP

The Fallen: 69R-F99-AXG

Red Death: 69R-VL7-J6A

The Cabal: 69X-DJN-74V

The Devastated Coast: 6A7-7NP-3X7

Vex Minotaur: 6A9-DTG-YGN
You can redeem these codes on Bungie.net.
The new expansion for Destiny, House of Wolves hasn't been out for more than a day and players are already uncovering some hidden treats. Throughout various areas of the expansion, players have discovered mysterious small coins that don't seem [...]
The next "expansion" for Destiny, House of Wolves, will be dropping soon. According to the information we have about it, it's not going to introduce a lot of new stuff to the game. The biggest expansion is said to be dropping sometime in [...]
With its next expansion, House of Wolves, scheduled for release on May 19, Destiny players are getting their characters ready to gorge on the new content that will be arriving.