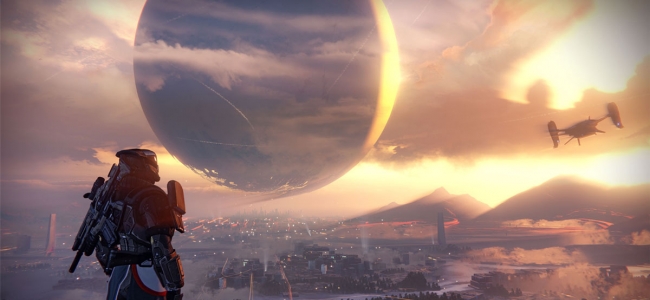 Destiny is out today, and if you're looking to give your character a little boost, these 25 codes will add grimoire cards, emblems, and shaders to your account. You can redeem them at Bungie.net, and pick up your items at the Special Orders shop in-game.
The codes were originally printed on trading cards given out at events around the world. These cards aren't available anymore, but luckily, the codes on them aren't single use, so they're freely available online.
Here are all 25, and what they unlock:
Emblem Codes:

Blinding Focus: FJ9-LAM-67F

Ab Aeterno: JDT-NLC-JKM

Field of Light: JNX-DMH-XLA

Lone Focus, Jagged Edge: 7CP-94V-LFP

Illusion of Light: JD7-4CM-HJG

Sign of the Finite: 7F9-767-F74
Shader Codes:

Double Banshee: 7MM-VPD-MHP

Oracle 99: RXC-9XJ-4MH
Grimoire Card Codes:
Warlock: YKA-RJG-MH9

Hunter: 3DA-P4X-F6A

Titan: MVD-4N3-NKH

Rixis: TCN-HCD-TGY

Old Russia: HDX-ALM-V4K

Hive: 473-MXR-3X9

Moon: JMR-LFN-4A3

Gjallorhorn Launcher: HC3-H44-DKC

Duke Mk. 44: 69P-KRM-JJA

The Tower: 69P-VCH-337

Hive Ogre: 69R-CKD-X7L

Valley of the Kings: 69R-DDD-FCP

The Fallen: 69R-F99-AXG

Red Death: 69R-VL7-J6A

The Cabal: 69X-DJN-74V

The Devastated Coast: 6A7-7NP-3X7

Vex Minotaur: 6A9-DTG-YGN
You can redeem these codes on Bungie.net.
A huge Destiny patch has gone live, previewing a bunch of content that will lead in to The Taken King next week, as well as the larger "Year Two" initiative. Best of all? It's free to everyone, even if you don't own TTK or any of [...]
We've covered this story a bunch so really it shouldn't come as a surprise. Originally, the name The Taken King cropped up when Bungie filed a trademark. Not long after, some promo packaging on Red Bull products revealed the name was probably [...]

Destiny dev Bungie has filed three mysterious new trademarks.