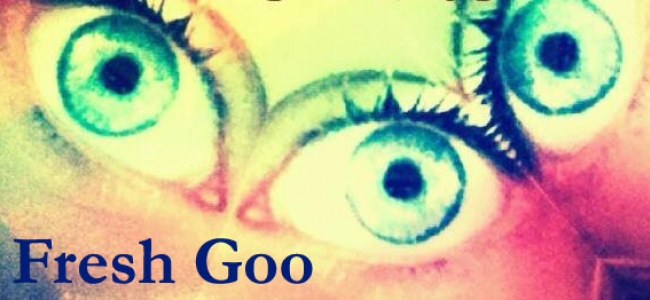 Community Post: This article was submitted by a member of our community. Find out how you can publish your own writing here!

Welcome back to this week's Fresh Goo, your weekly playlist distillery of the best of the new of the stuff in the corner that doesn't seem to have gone bad, but sniff before you taste. I've got your Damaged Bug debuts, your BEAK> bonus albums, your woldcaves and rautkrocks and amuchamucha more!
"Rope Burn"
Origin: Damaged Bug – electronic side project of John Dwyer, prime noisemaker and mic-swallower of Thee Oh Sees. While obviously a newcomer to his synth of choice, the Realistic MG-1, the Damaged Bug debut Hubba Bubba still manages to frost the heart with its bleak lyricism and underworld-industrial tones.
Flavor/Consistency: meat grinder lubricants, valium, stale attic air
"Cells in Orbit"
Origin: Prana Crafter – one-man psych-rock project of William Sol, harmonic shaman of the Washington woodlands. Check out his third album Mountain Throne, released last Wednesday and available at his bandcamp.
Flavor/Consistency: high-altitude hallucination, Syd Barrett, Santana
"Little Prayer"
Origin: Mindflowers – barebones psychedelic purists of Sacramento; there are many in their field, but few as affecting in the absence of a gimmick. From their first full-length, the un-googlable *.
Flavor/Consistency:  surf rock, The Entrance Band, sunlight through the dock planks
"Illape"
Origin: Shard – jewel in the roster of Rotterdam techno label Mord. From the EP Rowing Sheep smile for the Dead, just released today, congrats fellas!
Flavor/Consistency: dark techno, the ghost of Darth Vader, all campfire stories involving a scraping sound
"Dursley"
Origin: BEAK> – krautrock darlings, featuring Geoff Barrow of Portishead. From the March-released Beak>> Bonus Album, featuring session tracks formerly attainable in box sets only. Might not be new material per se, but that didn't stop me from squealing at the Facebook announcement. Listen to this one all the way to the end for the paranoid finale.
Flavor/Consistency:  krautrock, tunnel anxiety, invisible car chases
"Broken Babylon"
Origin: Dead Heart Bloom – New York shoegaze outfit still finding its wings across three dynamite EPs, this one hailing from the latest, So It Goes, released in January.
Flavor/Consistency: My Bloody Valentine, Opal, comet frost
"At Night in Dreams"
Origin: White Denim – I'm a few months late on the uptake, but I'm in need of a glass-eating, hard-driving, garage blues group to fill the void left by Black Keys' increasingly over-produced albums. White Denim is this close to supplanting them.
Flavor/Consistency: Southern psychedelia, moonshine, corrugated metal
"Milk and Honey"
Origin: The Harrow – New York coldwave kids moniker'd after the torture device in Franz Kafka's short story "The Penal Colony," and an unimaginably fitting appellation.
Flavor/Consistency:  Cold Cave, Pornography, factory-fresh leather
Community Post: This article was submitted by a member of our community. The views expressed are the opinions of the designated author, and do not reflect the opinions of the Overmental as a whole or any other individual. We will gladly cooperate in the removal of plagiarism or any copyright infringement. Please contact us here.

Community Post: This article was submitted by a member of our community. Find out how you can publish your own writing here!Otherwise known as the artist that can do no wrong, or this generations answer to Brian Wilson, Beck surprisingly launched himself [...]

Community Post: This article was submitted by a member of our community. Find out how you can publish your own writing here!I'm late on this mostly because I stopped paying attention to him a long, long time ago, but it is important to point out [...]

Community Post: This article was submitted by a member of our community. Find out how you can publish your own writing here!Time for your weekly round-up of all the new music stuff hitting the weekend waves! I'll tell ya what's good, [...]