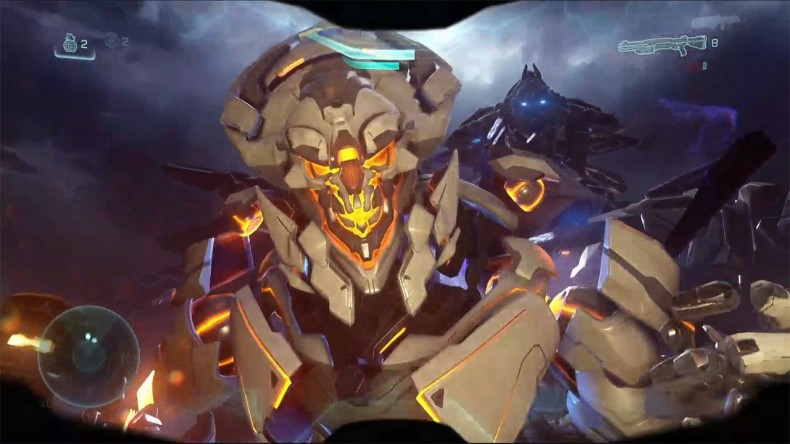 Built from the ground up for Xbox One, Microsoft unveiled Halo 5 Guardians during their live E3 press conference. We finally got to see some new gameplay of it in action.
In the gameplay demo we can see the player exploring new areas, right alongside new allies. Spartan soldiers come under fire from aliens as they rush through the landscape of a crumbling city. Near the end, they are separate before taking on what appears to be a new enemy with a sword — it might be an augmented covenant of some kind.
Take a look at the demo:
The game will include 4-player cooperative modes and brand new enemies.
What Is Halo 5 Warzone?
In Halo 5 Guardians, the singleplayer campaign and multiplayer campaigns will mesh. Players will now be able to use the same abilities and weapons across game modes utilizing a more seamless loadout. If the video is any indication, you can sprint indefinitely.
In addition, a new Warzone mode will introduce both PVP and PVE style gameplay.
If you'd like to see the mode in action you can check out the gameplay trailer for Warzone:
Halo 5 will debut on the Xbox One, on October 27, 2015.

Now that the crew has had some time to process everything they saw at and from E3, Jen, Matt, Moo, Rami, and Sean discuss what they liked and what they didn't like. Matt's got opinions about Last Guardian, and everyone's excited about [...]
We got to see some extended gameplay of Kingdom Hearts III in action, and man does it ever look fantastic! However, it's not the only Kingdom Hearts game we'll be playing.
Whether you're a fan of Paramount Pictures' Paranormal Activity — and one it's many spinoffs — or not, you might be interested to know that's it's getting the virtual reality makeover. Pretty soon, you could find [...]