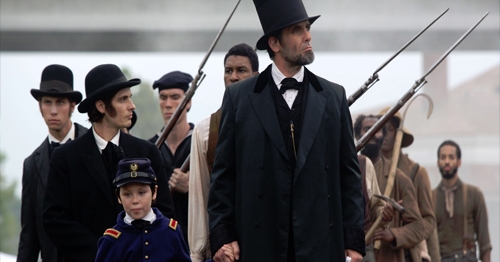 It's amazing how pop culture has been very inviting of the 16th President of the United States lately. A number of movies were released this past year, from one telling of a secret (fictional) life of the Great Emancipator to a film directed by Stephen Spielberg, which is a contender for being the big winner at this year's Academy Awards. An interesting thing about all these mediums is that it showcases different viewpoints of Abraham Lincoln. Killing Lincoln, based off the book by Bill O'Reilly, places the man in a supporting role to that of his killer, John Wilkes Booth.
Narrated by Tom Hanks, Killing Lincoln, tells the intricate story of a group of conspirators attempting to decapitate the United States government by taking out the three most powerful men in the country: President Abraham Lincoln, Vice President Andrew Johnson, and Secretary of State William H. Steward. The center of this plan is John Wilkes Booth, a famous theater actor at the time, but will forever be remembered in history for killing Abraham Lincoln at Ford's theater, the first successful assassination of a United States President.
One of the goals of Killing Lincoln was to show how one action, big or small, could alter a person's destiny and even change history. It sold Booth as a hero fallen from grace due to his actions. Jesse Johnson portrays Booth, in the most part, as a hard headed person but also very passionate. His acting, much like many of the other players in this production, is more fitting for the stage rather than television, but considering the occupation of the assassin, it feels a bit fitting. It's not a movie about what happened, but more of a recreation of Booth's gradual downfall.
One may not agree with the actors he took, but in this interpretation, one can understand how passionate he felt. In a sense, everyone is the hero of their own story, even if they are not a hero. They don't see themselves as a villain, but that their actions are justified one way or another. Johnson does show this in his portrayal, which is very important in telling this story.
While many book adaptations attempt to make a seamless process onto the screen, Killing Lincoln doesn't do that. Much of the narration doesn't feel natural, but rather being read directly from the source material. Narration in something like this is fine, and the writing was very well done, it just felt like it should belong in an audio book instead.
Also, there is plenty of tongue and cheek moments here that anyone with a basic high school education could figure out. It tries to be clever at some points, and it does fit in some scenes, but falters and feels flat for the most part. It doesn't feel like clever foreshadowing, but instead it feels as if the movie is poking fun at the audience.
Much like another film based around Abraham Lincoln, Killing Lincoln puts the focus on an event in history, putting the title character into a secondary role. Still, the story it tells is very interesting, and does show some information that average viewers may not have known before. Some scenes may be cheesy, and it lulls towards the last half hour, but it is very interesting for those who can absorb themselves into historical and political drama.

In last night's episode of Adventure Time, "Joshua and Margaret Investigations," it's Jake's birthday and he's reminiscing about Joshua and Margaret, Finn and Jake's mystery-solving parents from the earlier days of Ooo, [...]

When it comes to anime, it's nice to see something mature in terms of storytelling. With the market packed with a lot of action shows, it's calming to find one that steps back from all of that and explores the other aspects of adulthood. Golden Time, [...]

There is some exciting news for us anime fans here in the west. One of the biggest anime conventions of the year, Anime Expo, has just recently announced that Noizi Ito will be a special guest. For many fans, she is very well known for her illustrations [...]