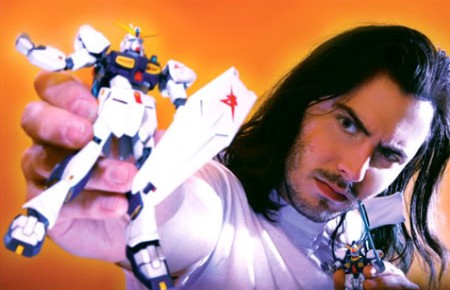 The king of party, and generally most enthusiastic human being in the world, Andrew W.K., recorded an entire album of classic Gundam music for the popular show's 30th anniversary. It open with Andrew's reading of the opening narration, and later takes on the touching memorial speech that Gihren Zabi gave for his fallen brother.
The album adds rock energy to music from the first Mobile Suit Gundam series, as well as the movie trilogy. It also highlights Andrews vocal chops outside of his usual hyperactive shouting. The album's  cover art is an original illustration by respected Gundam artist, Akira Yasuda.
It's always nice to be able to add a layer to any celebrity. It turns out along with writing an advice column good enough to wriggle the tendrils of whatever vile organ most closely resembles Glenn Beck's heart Mr. W.K. is also a classic anime fan.
Remember the part of Pacific Rim's opening montage where humanity was actually beating the Kaiju, to the point where we turned them into little toys? Well, now you can own said little toys. 

I managed to resist the Disney Infinity craze, then those blasted Amiibos… I don't think I can do it three times in a row, especially not when Batman is involved.

If you've gone to any comic, anime, video game, or pop culture convention in the past few years, you may have noticed or purchased some of these little guys being sold mostly at booths that specialize in plush toys or Japanese cultural items.