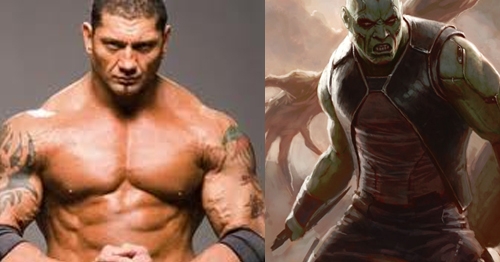 The long, long road to a complete Guardians of the Galaxy cast continues, with the second bit of official news. Dave Bautista, former pro wrestler and current mixed martial arts fighter, has officially signed on to play Drax the Destroyer.
Previous rumors pinned Jason Momoa as Drax, but after a few weeks of contract negotiations, it looks like Marvel has moved on. THR reports that the deal is closed, and describes the character as:
"a human resurrected as a green warrior with the sole purpose of killing Thanos (the villain in the final-scene tease of Avengers). His powers include flight, super-strength and energy blasts."
Chris Pratt was previously cast as the film's lead, Star-Lord. We're still waiting on casting news for Groot, Gamora, and the voice of Rocket Raccoon. Guardians of the Galaxy is currently set for a August 1, 2014 release date.
Last fall, the internet blew up at the news that we would be getting a Captain Marvel movie. Considering it's not out until 2018 though, we didn't expect to hear much about it for a while.

Our favorite teleporting mutant is making a return to the X-Men movies, but Alan Cumming will not be returning for the role. Instead, we'll be seeing a young version of the character played by Kodi Smit-McPhee.

The movie starring the merc with a mouth will now feature Morena Baccarin as the female lead.