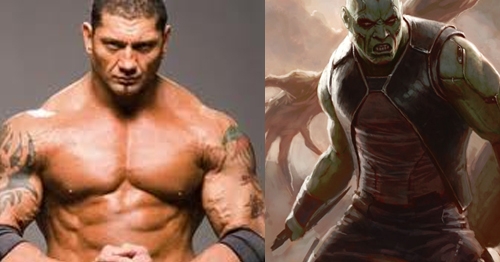 The long, long road to a complete Guardians of the Galaxy cast continues, with the second bit of official news. Dave Bautista, former pro wrestler and current mixed martial arts fighter, has officially signed on to play Drax the Destroyer.
Previous rumors pinned Jason Momoa as Drax, but after a few weeks of contract negotiations, it looks like Marvel has moved on. THR reports that the deal is closed, and describes the character as:
"a human resurrected as a green warrior with the sole purpose of killing Thanos (the villain in the final-scene tease of Avengers). His powers include flight, super-strength and energy blasts."
Chris Pratt was previously cast as the film's lead, Star-Lord. We're still waiting on casting news for Groot, Gamora, and the voice of Rocket Raccoon. Guardians of the Galaxy is currently set for a August 1, 2014 release date.

Earlier this week we got word that Matthew McConaughey was being courted by both Marvel and WB/DC for potential roles. According to a big new rumor, the Marvel script he was shown may have been for an extremely important character.
The ID4 sequel is set to hit theaters on June 24, 2016 titled Independence Day Forever. Currently, we know that Joey King and Brent Spiner will be part of the cast, and Jessie Usher will be playing the son of Will Smith's character from the [...]

Bryan Singer took to Instagram today to announce that not only would Olivia Munn be joining the cast of X-Men, but she's also set to play one of Marvel's most iconic mutants.