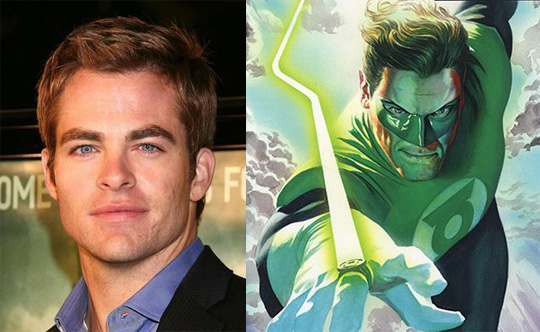 Word on the digital street has it that Chris Pine, of Star Trek fame, is being considered for their next Green Lantern film.
Green Lantern? You Mean John Stewart Right? RIGHT?
Before we all get our internet pitchforks ready, it should be noted that this is a rumor. No one from Chris Pine's camp, or DC's for that matter, have made any official statement.
It's common for big films like this to have multiple candidates for leading roles, lest we forget the Bryan Cranston rumor that floated around for Batman v Superman.
Aw man, you had me worried. So John Stewart is a lock right? RIGHT?
Can't promise that either. While there is a very strong contingent of fans that want John Stewart to be the Green Lantern that joins the new Cinematic Justice League, the corporate machine that is Time Warner might not be too keen to cast too many people of color in their team, especially since Green Lantern and Cyborg are currently schedule to be released back to back.
I mean, they totally should, but executives are dumb. Anyway, I'm keeping my fingers crossed.

This week in the Convergence tie-ins, the cities of the pre-Zero Hour universe (basically the DC Universe in the late 80s and early 90s) fight the cities from the Kingdom Come universe, which was seen in the seminal comic of the same name by Mark Waid and [...]

Kicked off with Man Of Steel, Warner Brothers has been working to establish its own cinematic universe on the coat tails of Marvel's massive success. Next year will see Batman v Superman: Dawn of Justice and David Ayer's Suicide Squad. Further [...]
Watch out, Skylanders, some competition is heading your way in the form of Legos. Specifically, Lego Dimensions.