Community Post: This article was submitted by a member of our community. Find out how you can publish your own writing here!

Overview:
Nomi and Amanita are reeling after their encounter with Niles\Dr. Matheson.  They have no idea what to do now.  Wolfgang is feeling the same as he sits by Felix's bed. Felix is in the hospital, in critical condition.  Wolfgang feels guilty for what happened.  Wolfgang and Felix were friend since they were young.  They first met in detention.  Wolfgang was hated as a kid.  He moved from East to West Berlin.  The other kids saw him as a 'Commie.'  His father was also a bully.  Felix was the only one who stood up for Wolfgang.
Sun is facing her own problems.  A kind woman, Soo-Jin, has offered to teach her how to sew.  She must learn certain skills while in prison.  Another prisoner is bullying Soo-Jin so Sun stands up to the bully.  Later, Sun finishes her work and is able to go outside.  She's enjoying painting a picture of her and her mother.  The bully appears and splashes paint on Sun's picture.  Sun is then attacked by the bully and other prisoners.  She easily handles herself before the guards arrive and break up the fight.
Capheus is troubled.  He wants to provide for his mother.  He doesn't want to work for Silas anymore.  A group of armed men appear, looking for revenge.  The leader wants Silas's daughter or he'll come back and kill Capheus's mother.  Capheus doesn't want to hand over the girl.  He's stick between a rock and a hard place.  If he hands over the girl, she'll die.  If he doesn't, his mother will die.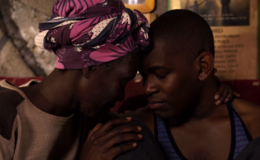 Daniela contacts Lito and Hernando.  She's made a deal with Joaquin.  If she marries him, he'll leave Lito alone.  He won't tell anyone Lito is gay.  Hernando doesn't want Daniela to go through with this.  Daniela doens't want to ruin Lito's life.  She wants him to keep making movies.  She leaves with Joaquin.  Hernando later shows up to reveal he's breaking up with Lito.  Hernando is disgusted that Lito allowed Daniela to stay with Joaquin.  Lito doesn't want to lose Hernando but doesn't want his acting career to end.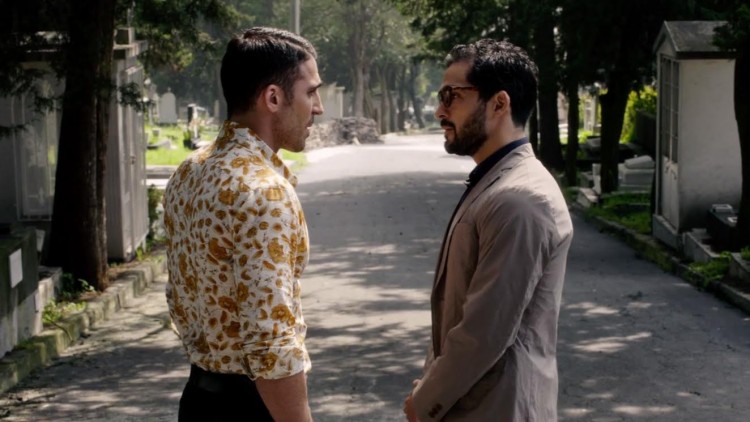 Will is getting closer to cracking the case.  He shows Diego some footage he found.  It shows Niles in his room visited by a delivery man.  The man leaves a package for Niles, then leaves.  Niles puts on a suit then takes a gun out of the package.  Will elaborates that the man Niles shot, Dr. Metzger, was the same doctor who performed the surgery on him.  There's something else: the company that paid Dr. Metzger, paid for Niles's care is the same company that rented the van that took away Angelica.  It's called BPO (Biological Preservation Organization).
Will and Nomi compare notes.  She tells Will that BPO has been paying Dr. Metzger a ton of money to lobotomize people from all over the world.  Their investigation is interrupted when Dr. Matheson appears at Amanita's house, along with the police.  Amanita distracts the cops long enough so Nomi can escape.  She's caught in the alley.  Sun and Will appear and help Nomi escape.  She's able to flee on a bicycle for a while.  The police are closing in so she steals a car.  She can't drive so Capheus appears and drives for her.  She manages to escape so she's safe for now.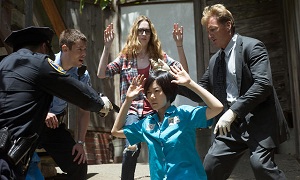 Kala meets with Rajan's father at a nearby temple. It's a tense meeting because he knows that Kala doesn't love his son.  He thinks it's best if the wedding is called off.  Kala secretly agrees but is afraid to say so.  She doesn't want to make a scene as a crowd is leaving the temple.  Before she can think of something to say, a group of masked men appear.  They rush forward and stab Rajan's father to death as the crowd runs away in terror.  Kala desperately calls for help as she holds her father-in-law in her arms.
Impression:
This episode is one of my favorites so far.  It was able to balance both emotion and action.  The chase scene with Nomi was fantastic.  The Sensates are learning to work together and look out for each other.  Their cluster appears to getting stronger as they lean to use their gifts to help each other.  Dr. Matheson is closing in.  He found Nomi so it's only a matter of time before he finds the others.
There was so much emotional drama in this episode.  That's why this recap was longer than the previous recaps.  Wolfgang has to put any romantic feelings aside so he can help Felix.  Lito allowed Daniela to leave with a dangerous man.  He loves his career, more than he should according to some people.  Capheus is in a situation he can't face himself.  Finally, Kala lost someone dear to her.  Even though she didn't love Rajan, she cared about him and his family.  The people that attacked her father-in-law will more than likely strike again.
Community Post: This article was submitted by a member of our community. The views expressed are the opinions of the designated author, and do not reflect the opinions of the Overmental as a whole or any other individual. We will gladly cooperate in the removal of plagiarism or any copyright infringement. Please contact us here.
Community Post: This article was submitted by a member of our community. Find out how you can publish your own writing here!Hey there music lover! You like new stuff? Great! You've stumbled into the perfect corner of the internet.  Each week all sorts of [...]

Community Post: This article was submitted by a member of our community. Find out how you can publish your own writing here!I think TMZ reported it first but who cares. My wife called me at work to tell me. Really, really sucks, The Purple One was only [...]

Community Post: This article was submitted by a member of our community. Find out how you can publish your own writing here!Hey there music lover! You like new stuff? Great! You've stumbled into the perfect corner of the internet.  Each week all sorts of [...]