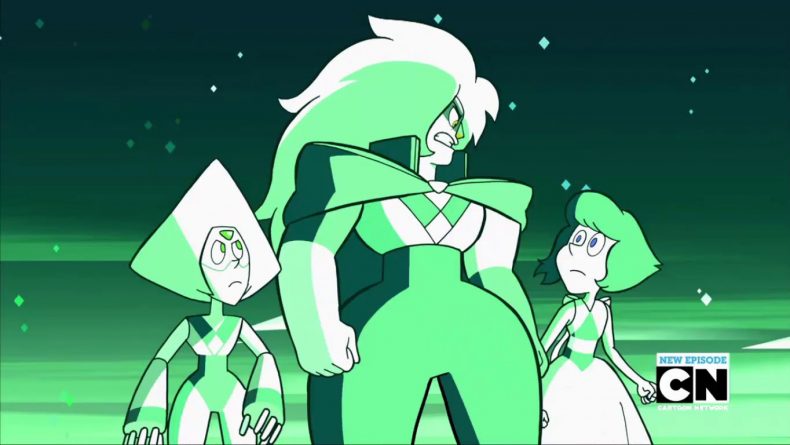 Community Post: This article was submitted by a member of our community. Find out how you can publish your own writing here!

And now we come at last to the epic two-parter which brought season one of Steven Universe to a crashing, thundering conclusion. Expectations were confirmed, they were demolished, they were crushed and then made whole again. The scope  of the show widened considerably, but still showed some restraint so that season finales yet to come won't seem tame by comparison. This stris went down, man, although at the same time, it still leaves room for much greater events further down the line. So, let us return when it all began.
It's hard to think of anything more intimidating than a giant, alien hand, index finger pointing accusingly at you, appearing in the sky and slowly moving straight towards you. The Gem race has clearly honed the act of descending upon lesser beings into an art, and you have to admire the results: it's freaking terrifying. The time is now; Peridot is here, who she brought with her is uncertain, what they'll do is even more uncertain, but one thing is definitely certain: this is something the Crystal Gems need to deal with alone.
Steven, doing his part to help, calls in some political favors. Mayor Dewey (Who, as a politician, is even more alarmed at the giant pointing finger than everyone else) is surprising effective at getting everyone to evacuate. It's a testament to that community strength we saw in the last episode: the people of Beach City are many and varied. Their individual quirks–and, it might be argued, neuroses–have been showcased all throughout the show. These distinct personalities have often…strike that, always lead to conflict amongst these very, very odd people. But when something of this magnitude happens, they can all do the smart thing of one accord and head for the hills.
Even Steven. At first. Despite his adventurous leanings, in the beginning Steven is willing to let our Gems handle things on their own. There is a brief, but to my mind, brilliant sequence showing Steven and Greg evacuating with everyone else. There's nothing immediately arresting in this scene like the montage at the end of "Rose's Scabbard," but it perfectly captures the feelings of the characters with minimal to no dialog. These people are throwing their stuff into their cars and driving away from their homes, because if they stay there they will most likely die. Most of them don't even fully understand why they have to leave, even the Universes. But Greg knows one thing no one else does: if the Gems fail, it's not just Beach City that isn't safe anymore. It's the whole world.
When pressed by Steven, Greg finally spills the beans on what us viewers had put together some time ago: the other Gems were going to invade earth, and, but for the noble efforts of Rose Quartz and her friends, they would have succeeded. Everything hits Steven at once; it's a tribute to how tough this kid is that he remains as composed as he does. But when Greg lets slip that it was Rose's shield–now Steven's shield–that saved our Gems from the wrath of the others, Steven comes to a decision very quickly: he has to go back.
And Greg, winning either the Worst or Best Parent of the Year award depending on your point of view, lets him go. Greg really is something. He has such faith in Steven that he will allow him to ride his lion directly towards people who want to kill him, confident that Steven is just extraordinary enough to come out unscathed. Steven realizes this is something he needs to do, and Greg respects that decision as if Steven were his fellow man, rather than his tiny son. In some ways, he demonstrates the same attitude the show itself has towards its own child-viewers: "This stuff is really big, and complicated, and you might not understand all of it for a while, but I believe that you are intelligent enough to be able to deal with it, and maybe become a wiser person for going through it."
So Steven rides through the night on his lion like the badass he is, arriving at the beach just as the hand touches down. Our Gems implore him to leave, but quickly realize that it's too late, and only worry about shielding him from the danger. Out of the ship comes Peridot, but she is not the leader of this mission. A huge, muscular Gem follows her, dragging poor Lapis Lazuli with her. This person is unlike any of the Gems we have seen before; she is warlike, masculine, and is generally a bully. Steven tries to protect them using his shield, but only succeeds in convincing the big Gem that he is Rose herself, having somehow changed her form to that of a small, chubby boy. The episode ends on a tense cliff-hanger as the our Gems are all overpowered and Steven is knocked unconscious.
Note: I swear to you, I will catch up with these reviews at some point. I should be finished with these late-comers by the time next week's episode airs, so I'll be back on schedule then.
Final Rating: Great/Mind-Blowingly Amazing
Community Post: This article was submitted by a member of our community. The views expressed are the opinions of the designated author, and do not reflect the opinions of the Overmental as a whole or any other individual. We will gladly cooperate in the removal of plagiarism or any copyright infringement. Please contact us here.

Just about everyone knows the theme song from "Seinfeld." But who was the man behind this musical gem of the 90s, and why was it so funky?
Today we share our positive thoughts on Marvel's latest series, which features a soulful soundtrack that fits perfectly with the show's Harlem setting.

Today we recap the funky adventures of "The Get Down" (2016) a Netflix original series that documents the budding years of hip hop music in the 1970s. While the story is fictionalized, it seamlessly blends with real people and events.