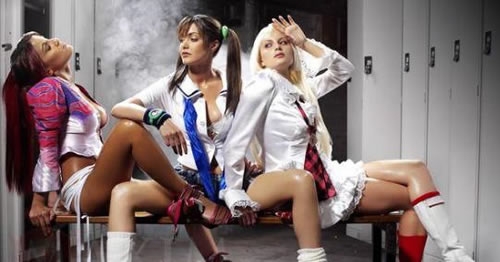 Well this is… interesting. The trailer for the upcoming Tekken film adaptation has just been released, and I am not impressed. Not only did they make dramatic changes from the vague, loose plot of the games (to be fair, I'm not actually sure how bad this really is), but where's King? Where's King mothalovas?! Besides, the trailer just oozes B-movie, and not in a good way. Check it out below, and turn off the annotations, that's just obnoxious.
The year is 2039. World Wars have destroyed much of civilization as we know it. The remaining territories are no longer run by governments, but by corporations, the mightiest of which is Tekken. In order to keep the masses down, Tekken sponsors the Iron Fist Tournament in which fighters compete to the death for ultimate glory and receive a lifetime of stardom and wealth.
By the way, the above pic is from a Tekken-themed Maxim photoshoot, not the actual movie. I found it more interesting than the entire trailer. Cheers.

Video game movie adaptations used to be to synonymous with bad taste. After all, this was the domain of Uwe Boll and Super Mario Bros. In the past decade or so though, public perception of gaming as a medium has begun to rapidly shift, with many recent [...]

It may not have a lot of hype behind it yet (in fact, I keep forgetting it exists), but the Assassin's Creed movie continues to pick up steam, rounding out its cast with an Oscar Award-winning actress.