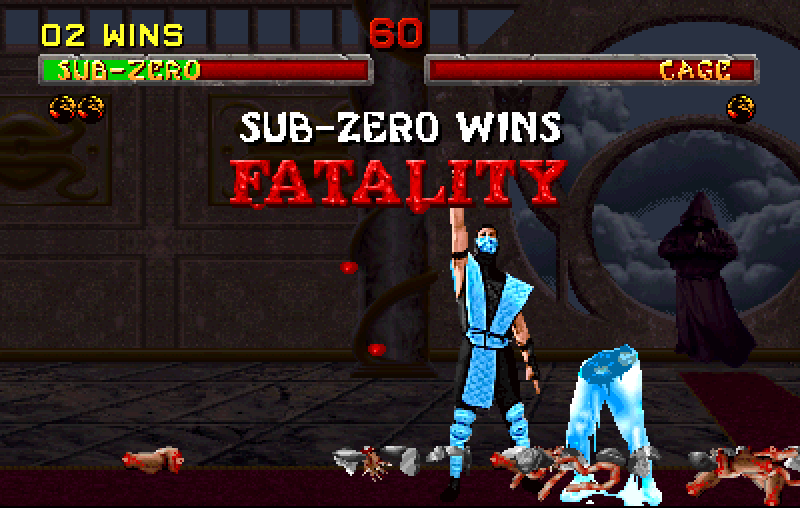 Have you noticed a sudden rise in bloodlust and an inexplicable desire to tell people to,"get over here?" Well it surely has everything to do with Mortal Kombat's imminent return with its upcoming tenth installment in the iconic series (or maybe you should consult a physician).
The series has come a long ways since its humble beginnings in the early '90s hidden away in the arcades. Even as the series continues to evolve though, something that's always stayed the same is its infamous Fatalities feature. So in honor of this hyper-violent video game turning ten (in a manner of speaking), we present to you the 20 best Fatalities from the history of the series:
20. "Arcade Cabinet Drop" – Liu Kang – Mortal Kombat 3/Ultimate/Trilogy

Truly a classic, memorable Fatality for any hardcore fan of the series, it contains one of the weirder meta moments from the games. I suppose ol' Liu got tired of the fireballs and wanted to mix it up. I wonder if he's going to play that thing after… I bet he's a Sonya guy.
19. "Ice Torture" – Sub-Zero – Mortal Kombat Deception
Sub-Zero's been an inventive guy through the years, and you'd be surprised at how many ways he's been able to use ice differently. Mortal Kombat Deception depicts a particularly sadistic version of the character with this Fatality, which momentarily cripples the character before finishing the job. The most crucial touch though is the loser's pleading through it all. Have some dignity, warrior.
18. "Nether-Gate" – Scorpion – Mortal Kombat 9

Mortal Kombat 9 marked a creative departure for the series, with Fatalities now having an especially playful degree to their brutal nature. Some of the wildest Fatalities are from this game as the series looked to push the limit. Like here for example when Scorpion uses his trademark weapon to hang his opponent, using a bridge between dimensions. Use what you know.
17. "Identity Theft" – Shang Tsung – Mortal Kombat 9

Speaking of using what you know, Shang Tsung has always been a wild card when it comes to Fatalities, but here he just cuts to the punch. Why turn into you when he can just go into you and force you to kill yourself? Why involve a middle man?
16. "Dragon Snack" – Liu Kang – Mortal Kombat II

What is this crazy paradox!? This is a Fatality, but Liu Kang turns into a Dragon, so you shouldn't it be an Animality? But this predates Animalities. So maybe it's—I don't—the mind reeeeeels!!!!
15. "Head Inflation" – Kabal – Mortal Kombat 3/Ultimate/Trilogy

Kabal was a new character to the Mortal Kombat world when he first appeared in the series' third entry. He's almost treated like a bogeyman with a mysterious weirdness to him. His two Fatalities (which are both featured here) took creativity to new heights—quite literally here.
14. "Migraine" – Sindel – Mortal Kombat (2011)

Sindel's trademark voice allows her a wide berth of a range to attack her enemies. That being said, that doesn't mean getting up close and personal can't also be fun…and gory.
13. "Eye Stab" – Dairou – Mortal Kombat Deception

Dairou might not be anyone's favorite character from the Mortal Kombat series (seriously). But I wouldn't go around telling him that. He just might tear out your ribs and stab you in the eyes with them…
12. "Mind Over Splatter" – Ermac – Mortal Kombat (2011)

Telekinetics just gotta have fun too, y'know? Even they get the need to play with their food before sending it to the great beyond. Hey, maybe Ermac's part cat, too?
11. "Trash Compactor" – Sektor – Mortal Kombat 3/Ultimate/Trilogy
When cyborgs entered the Mortal Kombat world, all bets were off accordingly. Sektor comes up with some pretty interesting ways to Fatality you all over the place. Even though he has a wide range of projectiles behind him, it's just as easy to shrink you down to size and deal with you that way.
Top Ten on Page 2!

With Mortal Kombat X just recently having been released, it's amazing to see what some have already been able to get creative with. One such person, a modder by the name of XVermillion on YouTube, has made characters playable that were once [...]

Everyone knows that the best part of Mortal Kombat is the in-depth story that-ha,ha,ha-I couldn't even make it through that sentence. The best part of MK is the brutal violence, best represented by a sweet fatality. Luckily for those of us who [...]

It's the controversial game that revolutionized the gaming industries with its blood, gore, intense combat, and their grand trademark of finishing off enemies with ultra-violent measures. Not to mention popularizing the infamous 'F' word that no game has [...]