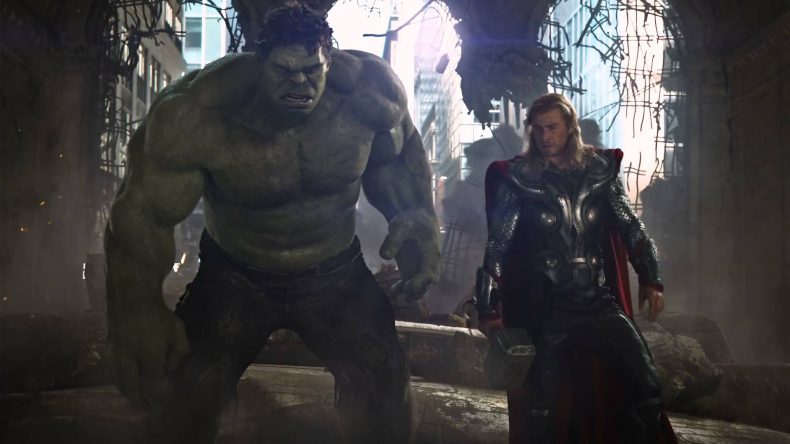 Guess who's joining Thor for the end of his trilogy? I'll give you a hint: he's big, he's green, and he smashes.
The last we saw of the Hulk, he was flying away to parts unknown in Age of Ultron. While he was briefly rumored to be making an appearance in Civil War, later reports indicated that he had been cut out of the script because Marvel had bigger plans for the character's reappearance.
Well, it looks like we know what those "big plans" are. After rumors circled earlier this week, Deadline has confirmed that Bruce Banner will indeed appear in Thor: Ragnarok next.
I can't even. How would this pairing work?
Details are still very scant on how exactly the Hulk could factor into a story like Ragnarok (which deals with the Asgardian's version of the apocalypse). Reports have also emerged that point towards Ragnarok being very cosmic in nature, further muddling how exactly our big green friend will fit into that.
We have heard it described as a "buddy road trip" style movie, but you know, with more superheroes and the end of the world and such. That sounds pretty awesome, but doesn't really help us in terms of figuring out how exactly Hulk is going to mesh with an Asgard-centric narrative.
So what else do we actually know about this story?
There are just so many rumors floating about right now (some a lot more credible than others), but here's what's actually confirmed confirmed:
Taika Waititi has been hired to direct. As a director, Waititi has mostly done independent features and TV, making Ragnarok his first big budget project. His last film was a vampire mockumentary called What We Do in the Shadows, that was apparently quite funny.
It's currently set for a November 3, 2017 release date, as part of the MCU's Phase Three.
That's really all we know about it?
Well I guess Thor will be in it? But in terms of confirmed information, that's pretty much it. Almost everything about Ragnarok is still a mystery at this point.
What about the rumors?
There's a lot more to chew on in this capacity, but again, they're just rumors, so take it with an appropriate grainage of salt:
The current working story is apparently very, very dark (at least in terms of the MCU stuff so far). A big reason Waititi was hired is because Marvel wants him to lighten up the script a bit, especially in regards to the Thor-Hulk dynamic.
The majority of it won't take place on Earth or Asgard. Instead, it will bet set on a planet we haven't seen before.
That story will apparently feature the Valkyries, alongside the specific superhero named Valkyrie (aka Brunnhilde), who will join Thor and the Hulk's journey.
The plotline of Loki usurping Odin's throne from The Dark World will be addressed and resolved.
What do you guys think? How does a Thor-Hulk buddy road trip work in your mind? Any comic book stories that the idea reminds you of?

Community Post: This article was submitted by a member of our community. Find out how you can publish your own writing here!The Captain America: Civil War trailer is up! So what comes next? Why, a shot-by-shot look at the trailer by a ravenous fan boy [...]

The Marvel cinematic universe is an entertainment juggernaut, always expanding and broadening its narrative reach every year with new TV shows and films. How's a person supposed to keep up with all that material? Well, fear not. We've done our [...]
We still have a ways to go before seeing the next Guardians of the Galaxy, but the casting process has already begun on a number of important roles.