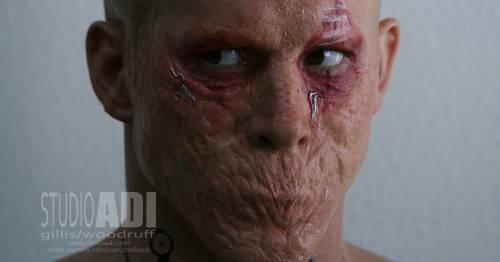 Alec Gillis and Tom Woodruff of Studio ADI, the character effects company behind movies like Ender's Game, Alien Vs. Predator: Requim, and Starship Troopers, have released a video explaining just what went wrong with their Deadpool design for X-Men Origins: Wolverine.
Here's the full video:
For those who can't or don't want to watch the video, what it comes down to is that there were a lot of different sources of feedback for the company, some miscommunication, and a general sense of chaos about the whole production that led to this disaster. Some choice quotes:
"I wish it was up to us, it's not up to us, even as the character designer's, it's never up to us" – Woodruff
"We're at the very bottom of the totem pole, the political totem pole trying to make everybody happy with whatever we can give them" – Woodruff
"We don't know… there's a lot of communication that you would expect happens that just doesn't." – Woodruff
"In the case of this character, what was in the script was that Wade Wilson was being re-created… they pull Wade Wilson out of the scientific process early. If you're looking at him as Deadpool, I can understand why you'd be disappointed. He doesn't have the costume, he's not that character that you know and love from the comic books. What the studio was trying to do – I think – was was set up the character of Deadpool for the future. This is sort of a pre-Deadpool. If you think of this as the embryonic Deadpool then it might make more sense." – Gillis
"We knew that they wanted it to be make-up. We knew that they wanted him to look like a patient/victim of this scientific process. We did do some designs that echoed the look of the mask, but we tried to turn them into incubation helmets, that maybe could be seen as medical devices working on his scarring, and those were rejected in favour of this make-up approach." – Gillis

The movie starring the merc with a mouth will now feature Morena Baccarin as the female lead.

We've been hearing about a possible Deadpool movie for over a half decade now, so it still feels a little surreal that it'll be hitting theaters in under a year. Making it a bit more tangible is this recent bit of casting news, part of which [...]

When it rains, it pours, and today we've gotten confirmation on four seperate casting rumors regarding upcoming Marvel properties. Doctor Strange The biggest one is arguably Doctor Strange, with Benedict Cumberbatch now officially set to play the [...]