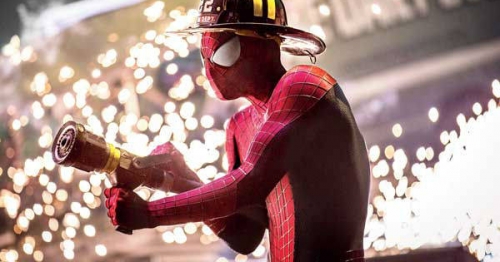 One of the more obvious changes to Spider-Man in the 2012 reboot The Amazing Spider-Man is the costume. Sam Raimi's version (from the original Spider-Man trilogy) tried to stick as closely to the source material as possible, but the new movie presented a very different look for the classic suit. And hey, it wasn't half-bad. But apparently that costume could have been different. Much different.
They certainly do look…interesting? I can't help but think of Batman and Robin's chrome chestpiece when I see these costumes, so maybe we lucked out in the end. Either way, we're now getting superawesomespidey wearing a firehat, so it's all good.
[via Yahoo!MoviesUK]
We know Guardians of the Galaxy 2 is coming in 2017, and that Chris Pratt is set to return for at least one other sequel after that. What we don't know for sure is what new characters will be showing up in the next film.
Empire of the Dead is a series of comics published by Marvel and written by zombie master George A Romero. It offers an interesting take on the age-old zombie plot, by throwing vampires into the mix.
Some new photos leaked from the set of Captain America: Civil War and guess who was spotted? If you guessed Paul Rudd then you're correct. Why would he be there, you ask? Obviously, Ant-Man is going to have some kind of cameo in Civil War.