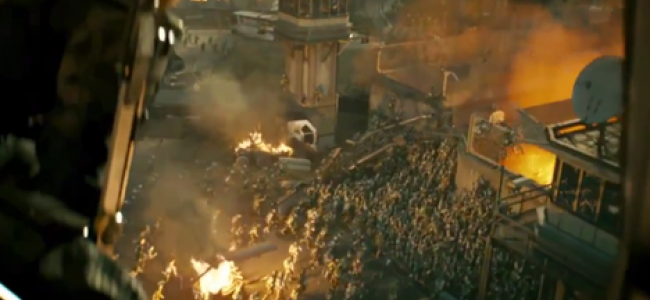 Unlike previous installments, Advanced Warfare's Zombie mode wasn't included in the main game. Instead, you'll need to shell out extra for it via a future DLC update. It's not all bad news though, as the game does include some zombie gameplay, unlockable by playing Exo Survival mode.
To play Advanced Warfare's zombie "teaser," you'll need to reach the final (Tier 4) Exo Survival map, Riot.
To unlock Riot, you will need to complete 100 rounds on Tier 3 maps.
To unlock Tier 3 maps, you need to complete 75 rounds on Tier 2 maps. To unlock Tier 2 maps, you need to complete 50 rounds on Tier 1 maps. These rounds do not need to be completed in one session.
After unlocking Riot, clear the first 10 rounds, and you'll be hit by a bomb, triggering the start of a mission that feels like a preview of the Advanced Warfare's upcoming zombie mode. You'll also earn the achievment "Exo Survivor."
If you have a friend who already has Riot unlocked, you can join their session as a shortcut to experience this zombie section.

E3 2015 might still be four months away, but the rumors have already started flying. Some of these ideas are way too far out there to be accurate, and others are so boring they must be true. Somewhere in between though are a few possible announcements [...]

You know what really needs to make a comeback in the world of video games? Cheat codes. Let's talk about that. To celebrate the 2015 NFL Champions, the New England Patriots, I decided to take a look back at what made them so great this year; a lost [...]

It seems that modern AAA games seem hell-bent on holding my hand through every scenario. Why can't I just learn on my own?