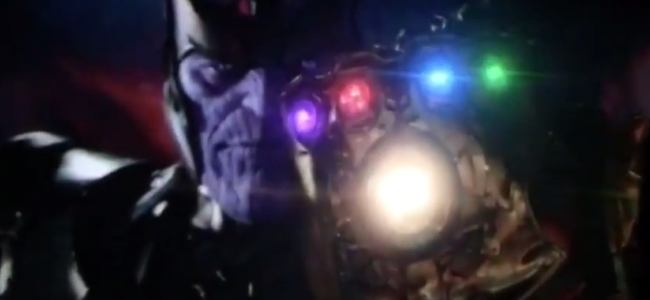 Yesterday was a massive day for Marvel news, but we've got two more video clips this morning to finish things off. First up is the Infinity War teaser that Marvel showed at yesterday's press conference. Aside from Thanos and his new accessory, it has no new footage, but it is really cool.
It's not a bootlegged camera version of the trailer (hopefully Marvel will release an HD version soon), but the upside of that is it includes the audience reaction; which as you can expect, was pretty euphoric.
Next up is the Avengers: Age of Ultron clip that was shown last night during Agents of SHIELD (a fantastic episode by the way). It's once again a truncated version of what was shown at Comic-Con sadly, but at least we get to see a small snippet of the Avengers party scene before it transitions into the trailer. Check it out below.
Sometimes, after a long and strenuous day of work you just have to let your hair down. That's exactly what our beloved Avengers actors did when they paid a visit to Jimmy Kimmel's show. We get a chance to see the Avengers lineup having a great [...]

Whoopee! We get to talk about Force Works today! It was so BAD!!!

Happy Woman's History Month Everyone! In honor of women's history, Funny Books will list the best Female Avengers again, because why the hell not!?