Some kind of a sniper. There's a patch on his shoulder that looks like it says "Police."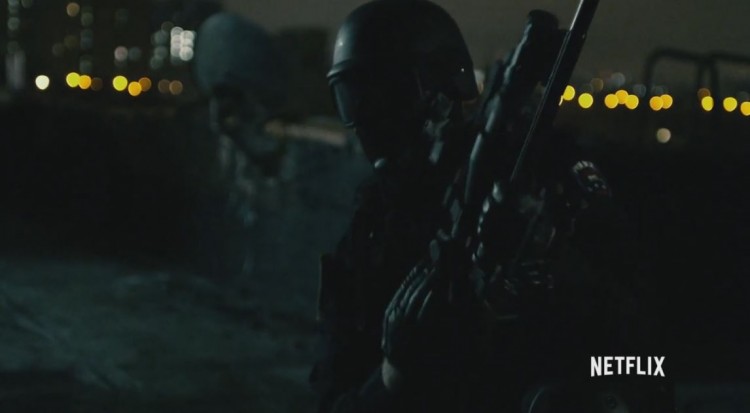 "I'll keep you safe Karen." Something she's done must have put her on the wrong side of the Kingpin. Marvel's official casting announcement stated that she's, "an enigmatic young woman whose quest for justice sends her crashing into the life of Matt Murdock."
These are shots of Matt Murdock's father, a boxer they call Battlin" Jack Murdock. You can see in the window that he's training at Fogwell's Gym, the same place he did in the comics.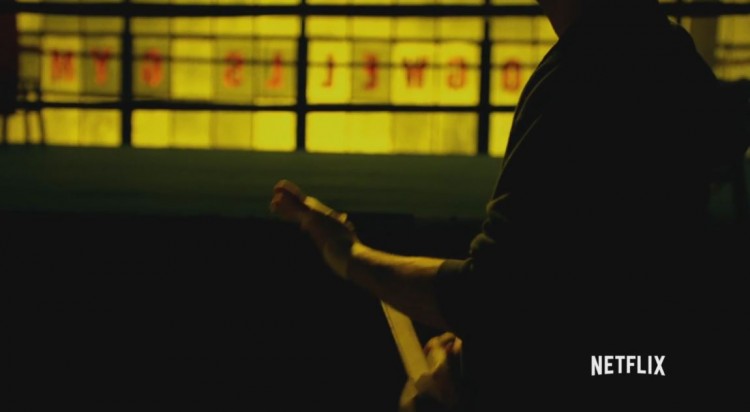 He'll be played by John Patrick Hayden. In the comics, Jack Murdock is murdered by the mob after refusing to throw a fight. This provided his son with the motivation to suit up and fight crime as Daredevil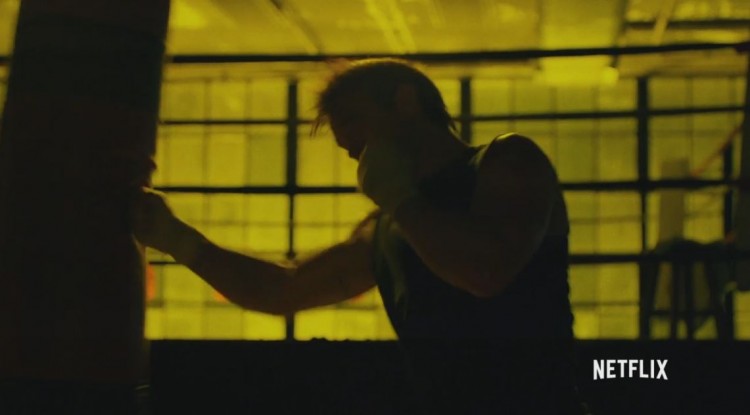 Daredevil's first costume is a whole lot of black with just a splash of red. We'll have to see if he ever adopts his iconic all-red costume from the comics.
He's fighting a ninja! The Hand confirmed? In the comics, the Hand is a villainous order of ninjas who had a fierce rivalry with another ninja clan led by Stick. Daredevil has had many run-ins with the Hand due to his affiliation with Stick, and also his on-and-off-again relationship with Elektra, herself a Hand operative.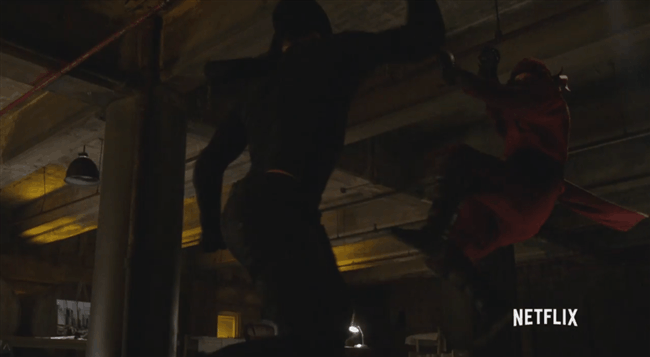 "You and I have a lot in common."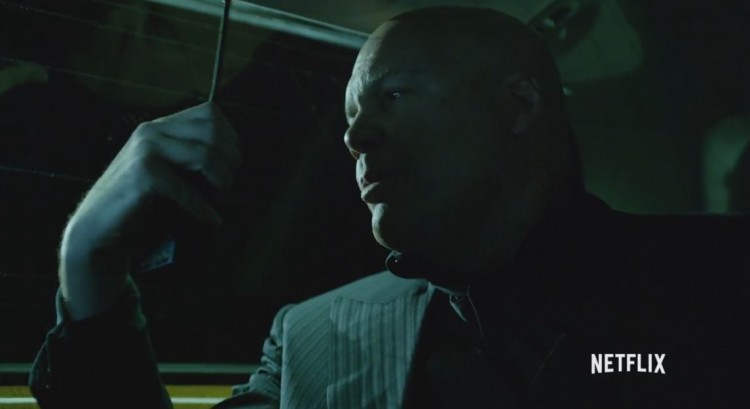 "We're nothing alike."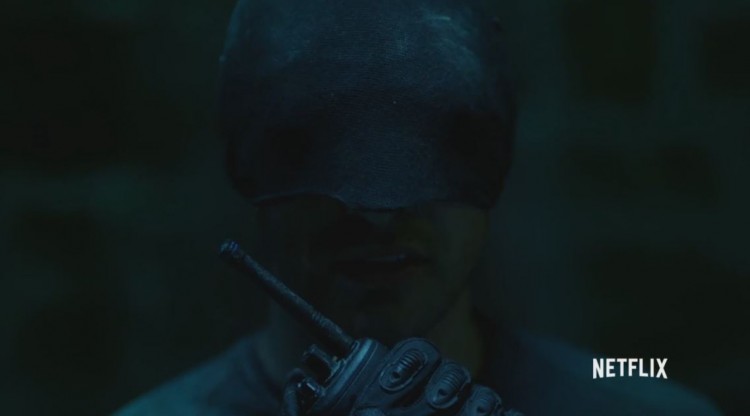 The show is really playing up the dynamic between Daredevil and Kingpin. Both of them want roughly the same thing, to make the city a better place, but they're using polar opposite methods to accomplish this.
Daredevil has a run-in with the police. He's definitely on the Batman end of the spectrum in regards to his relationship with law enforcement. Card-carrying SHIELD member he is not.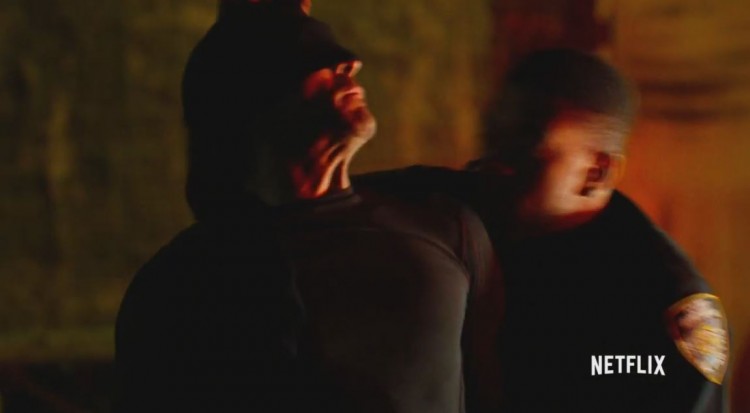 The Kingpin is very angry, and very strong. His comic book counterpart was also surprisingly physically fit, despite his appearance.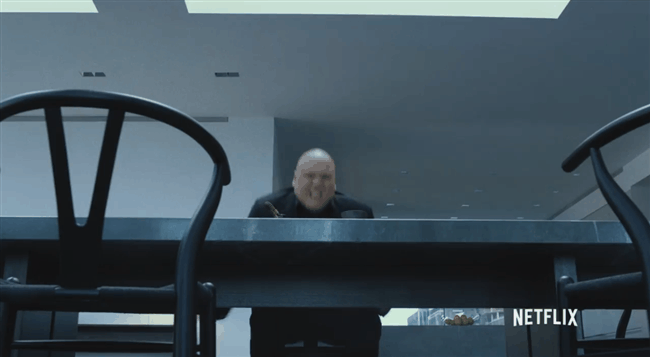 I think that's Karen Page on the right. Maybe she survived a bombing by the Kingpin, but her boyfriend/husband didn't, and that's why she's looking for vengeance. Alternatively, maybe the man is John Patrick Hayden again as Jack Murdock, and this is how Matt Murdock loses his parents. It moves a little too quick to tell for sure.
It looks like people are fleeing away or running towards something. There's a big ol' boom mic in the middle, so I'm assuming that's a news crew on the scene of some kind of incident. Sorry about the motion blur, but there weren't any clear frames.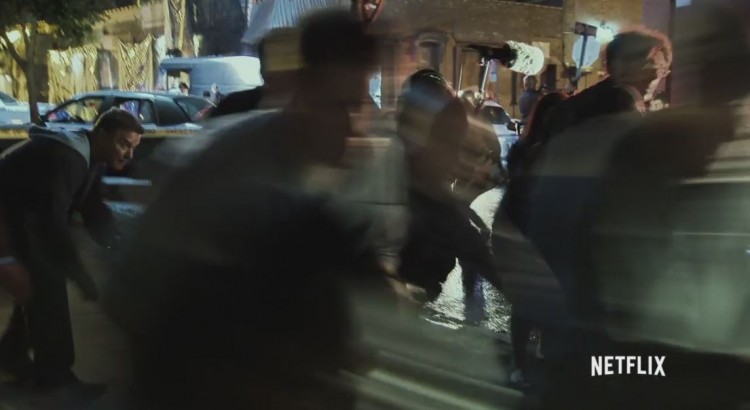 Daredevil took one hell of a beating.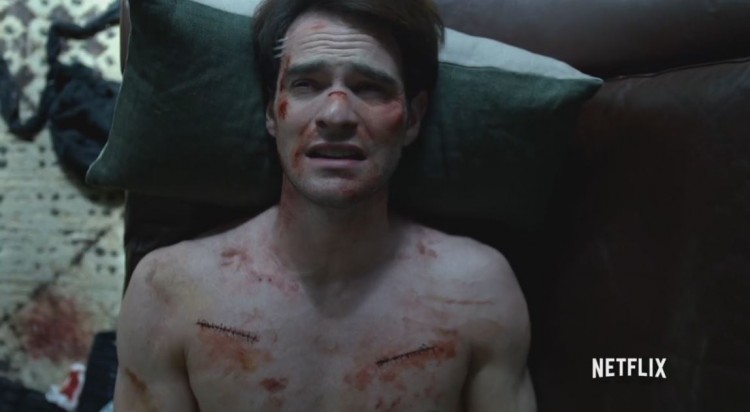 The accident that took young Matt Murdock's vision. Just like his comic book origin story, exposure to toxic chemicals resulted in Murdock losing his ability to see, but heightened his other senses to superhuman levels.
Battlin' Jack Murdock in his boxing robe.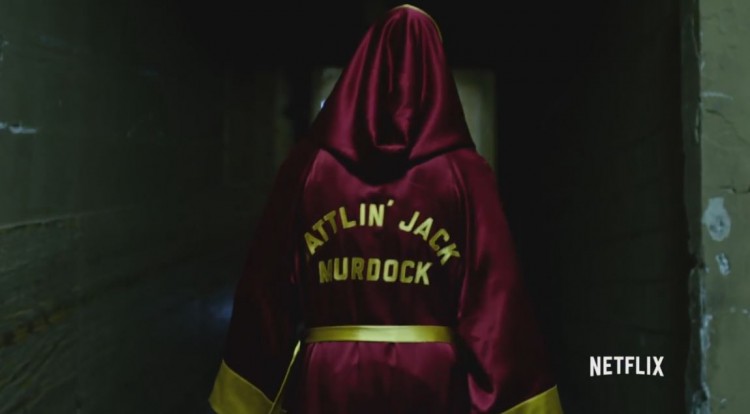 "Another man's evil does not make you good." Also, fuck computers.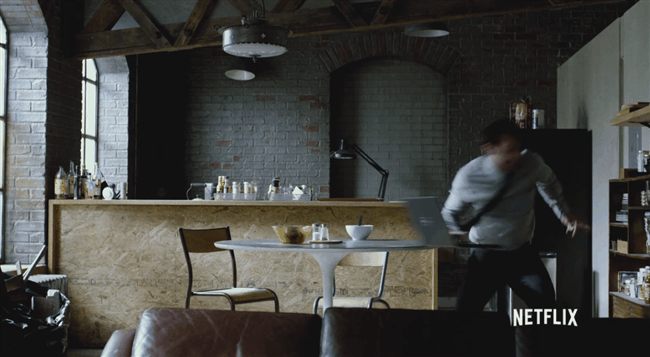 The religious imagery is constant throughout the Daredevil previews we've seen so far. Here's a clever little crossfade they uses.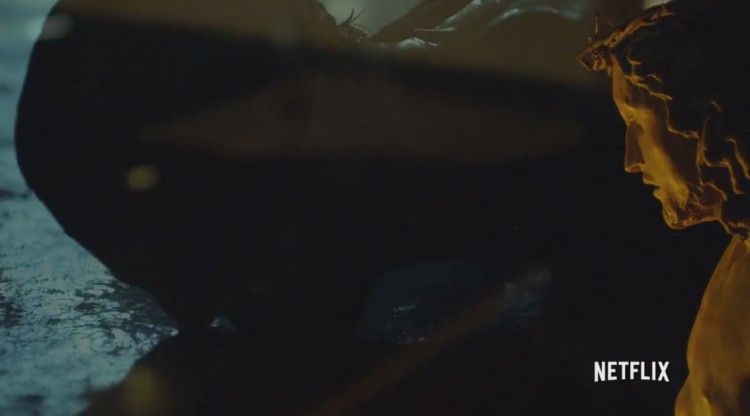 Maybe if he had an iron suit or a magic hammer, that would explain why you keep getting your asses handed to you."
A nice little reminder that somehow, this gritty, dark, and violent drama exists alongside with a alien invasion and the Avengers. Somehow, Marvel will make it work though, and it will be glorious.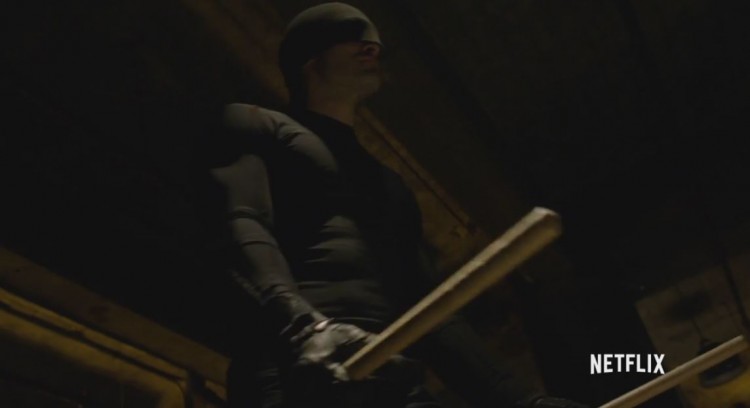 Daredevil season one premieres, in full, on April 10 exclusively on Netflix.

When the current era of the Marvel Cinematic Universe wraps up with the followup to Avengers: Infinity War in 2019, it will have been over a decade since Tony Stark first donned a suit of armor, and kick started the most expansive superhero story [...]

The full-length trailer for Netflix's Dardevil Season 2 has arrived, and it's not playing coy about the new guy in Hell's Kitchen.

There's no actual footage, but it's still a wonderfully moody tease of what's in store next for Daredevil (keep a sharp eye out for the Punisher skull at the end!).