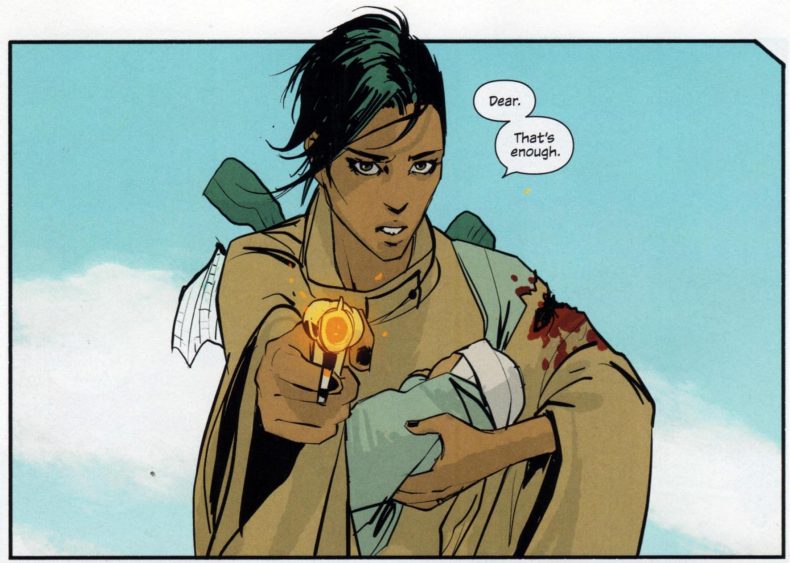 Community Post: This article was submitted by a member of our community. Find out how you can publish your own writing here!

Character: Alana
Series: Saga
Publisher: Image
Author: Brian K. Vaughan
Artist: Fiona Staples
Alana was a private first class, until she defected from her home planet's military to be with her husband, Marko, a prisoner from the other side of the war. From our first encounter with Alana, it is obvious that she is strong willed, and a fighter in all senses of the word. Initially it is to protect her newly created family, but as the series continues, we discover what has made her this way, as well as her loyalty and the lengths that have to be taken for that lloyalty to be broken. Now, her main focus is the safety of her child, Hazel. Though she often has a harsher view towards the world than Marko, he brings her back to the sunnier side of life, even in the middle of a rain storm. When faced with the decision of whether to hide and protect their child or to continue to run in the hopes of a better life, Alana's answer is very simple, that she wants "to show our child the universe." Her previous loyalty to the military is now turned to her family, and giving her daughter everything. Through all this, she is guarded, and uses her sexuality and toughness to deflect dealing with serious issues.
I chose Alana for this month's character profile — and yes, I intend on doing these on a regular basis — because she is one of my favorite female characters being written right now. She is unapologetically herself, but still has a plethora of flaws: She is stubborn and refuses to back down; She is passionate almost to a fault, and dedicated fiercely to those who are important to her. Her character encorporates struggles that make her very relatable and interesting. In addition, she is a wonderful example of a female character who is portrayed as tough, vulgar, and combative, as well as feminine, loving and sexy. In other words, as a fully formed person.
Also out from Image in January:
Rasputin #4
They're Not Like Us #2
Bitch Planet #2
The Wicked + The Divine #7
Hack/Slash: Son of Samhian Vol #1
Invincible #116
The Walking Dead #136
Lazarus #14
ODY-C #2
Coming up in February:
Sex Criminals Vol #2
Rise of the Magi #6 and #7
Witchblade #181
The Fadeout Vol #1 TP and Issue #5
Chew: Chicken Tenders Vol #9 TP and Issue #46
The Wicked + The Divide #8
Sex #20
Rasputin #5
Rat Queens #9
And many many more!
Who would you like to see in a monthly character profile? Let me know on twitter (@_ZenGirl_) or on any of my social medias.
Check back next week for more comics fun!
Community Post: This article was submitted by a member of our community. The views expressed are the opinions of the designated author, and do not reflect the opinions of the Overmental as a whole or any other individual. We will gladly cooperate in the removal of plagiarism or any copyright infringement. Please contact us here.

Community Post: This article was submitted by a member of our community. Find out how you can publish your own writing here!Yet another week comes to a close which means it's time for new music!! Each week a whole slew of new stuff is splooged onto the [...]

Community Post: This article was submitted by a member of our community. Find out how you can publish your own writing here!Hey kid! Like new music? Great! You've stumbled into the right rabbit hole. I'll tell ya what's good, what's bad, and what's a [...]

Community Post: This article was submitted by a member of our community. Find out how you can publish your own writing here!2013 winner of NMW's best album of the year, Neko Case, returns from a five year vacation from solo work next week, offering [...]