Community Post: This article was submitted by a member of our community. Find out how you can publish your own writing here!

Full Spoilers Ahead
Product placement run amuck! This week's episode of Community felt like a long commercial for Honda and while it hit a few good spots, the entire gimmick ran itself into the ground too early.
It was another Britta centric episode this season which I felt came a bit too soon after her being featured so heavily in the past episode. Our main story here ran with Britta reuniting with old flame Subway Rick (played by the returning Travis Schuldt) and joining him in his guerrilla marketing scheme for Honda on the stipulation that they get to play a couple. The chemistry between the two was clear but mixed with all of the product integration, it took away from what I felt could've been a more powerful story. Britta was given some borderline serious material as she struggled with real feelings of wanting to be loved openly but with the ridiculous Honda propaganda peppered in between it felt too outrageous and awkward even for a show like Community. Considering this shtick had already been done in Season 3's "Digital Exploration of Interior Design" I got over it fast and wish they went a different route.
Thats not to say that story did not have its highlights. Naturally, it was Dean Pelton who caught the brunt of Rick's tactics despite being the one to bring it to everyone's attention during the cold open. The storyline hit its high with me during a scene not featuring Britta or Rick at all but instead the scene with Frankie and Dean. Dean being surrounded by all the Honda gear and Frankie with her "I'm sorry you're so stupid" spiel was golden. Billy Zane guest starring as Rick's boss also was hilarious in his brief scenes with his mysterious disappearing act (which apparently is just trying to hide as fast as possible).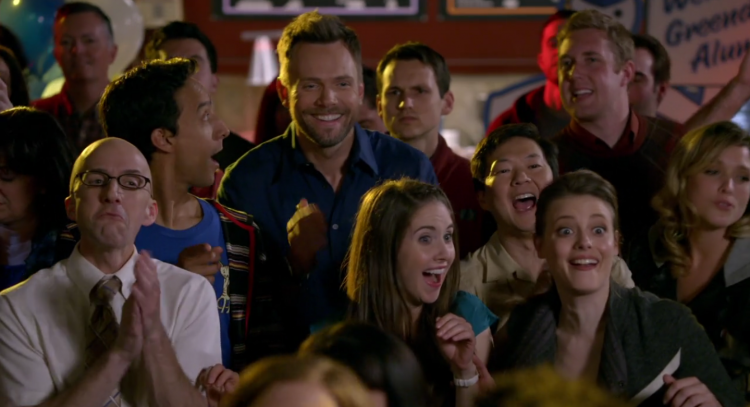 The B story this week was a lot stronger with Jeff wanting to be liked by Elroy with minimal effort. It isn't the first time this season a storyline revolved around Jeff's insecurity but it fit within the character and the story being told. In fact this story was more telling of Elroy than Jeff when he reveals his reasoning for being so distant with others. Learning he had his heart broken by Natalie Julia of Natalie is Freezing lead to his nice moment of reconciliation and hopefully that plays out in future episodes.
Oh and did I mention that Julia was played by none other than LISA LOEB! I'm really dating myself here but I'm sure for the majority demographic audience of the show they got a real kick out of that.
One last thing I feel I should note is that Chang has been killer this season. His powerpoint presentation was excellent and his little one liners like "While I'm up here anyone need anything reached? I've been practicing" have been spot on. Ken Jeong is pulling the most he can out of that character with his near perfect delivery.
Now excuse me, I have a sudden urge to go buy a Honda CRV.
Community Post: This article was submitted by a member of our community. The views expressed are the opinions of the designated author, and do not reflect the opinions of the Overmental as a whole or any other individual. We will gladly cooperate in the removal of plagiarism or any copyright infringement. Please contact us here.
Community Post: This article was submitted by a member of our community. Find out how you can publish your own writing here!Throughout time comic books have been known as a form of entertainment. Funny books some may call them in the past. People all over [...]
Community Post: This article was submitted by a member of our community. Find out how you can publish your own writing here!Yet another week comes to a close which means it's time for new music!! Each week a whole slew of new stuff is splooged onto the [...]
Community Post: This article was submitted by a member of our community. Find out how you can publish your own writing here!Hey kid! Like new music? Great! You've stumbled into the right rabbit hole. I'll tell ya what's good, what's bad, and what's a [...]