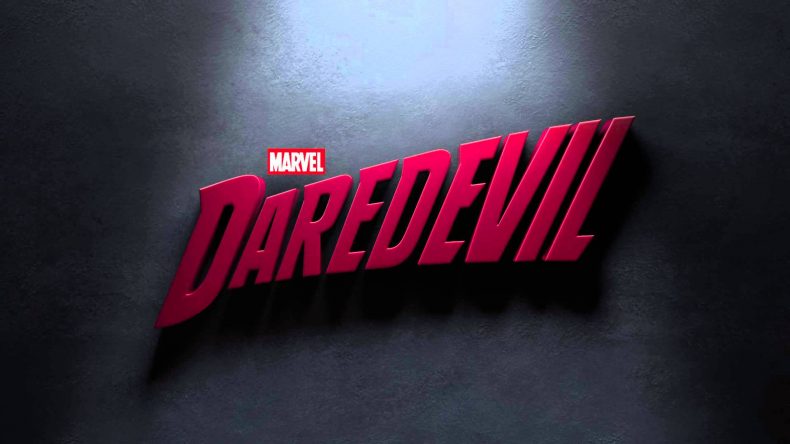 Community Post: This article was submitted by a member of our community. Find out how you can publish your own writing here!

Overview:
Matt is visiting Claire as he's getting patched up.  He enjoys her company and wants to make sure she's safe.  The Russians could still be looking for her.  He asks if she's heard the name Wilson Fisk.  She hasn't and it bothers him there's no public record of that name.  Matt isn't about to give up.  He's going to find Fisk no matter what.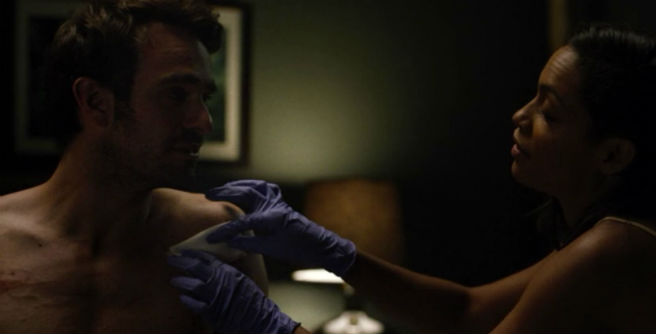 Karen and Ben have a meeting.  Ben is trying to believe Karen, yet is troubled by the 'Man In the Black Mask' aspect of the story.  He also warns her that Rance, the man that tried to kill her in his apartment, and the guard that tried to kill her, are both dead.  She should be lucky to be alive.  He thinks she should move on with her life.  He's also hesitant to continue on her story considering her past.
Vladimir and Anatoly visit Semyon, the man Matt dropped off the roof.  They use a shot of epinephrine to revive him.  They want answers about the man that attacked him.  Semyon refers to Matt as 'The Devil' and tells them about Claire.  Vladimir places a call and sends some men to find Claire.  Instead, they find her neighbor, Santino, the same man that helped her and Matt.
Claire is safe at her friend's apartment.  She's jumpy but cautious.  It's a good thing because the mobsters find her.  They take her as she calls Matt for help.  Matt is able to follow the cab for a while but loses sight of it.  Matt later finds Santino and gets some information on how to find Claire.  The men that grabbed her were using a taxi from Veles Taxi.  Matt is on his way.
The mobsters are interrogating Claire.  They beat her, hoping to find the mysterious man's name.  She won't give it, fearing they'll kill her anyway.  Matt appears and takes on the mobsters.  Claire is safe thanks to the 'Man In the Black Mask.'  The tender moment is darkened as Fisk deals with a problem.  Anatoly has embarrassed him by approaching him in public.  In retaliation, Fisk calls him to a meeting where he beats him to death.  Wesley warns this will spark a war with the Russians.  Fisk is hoping for just that.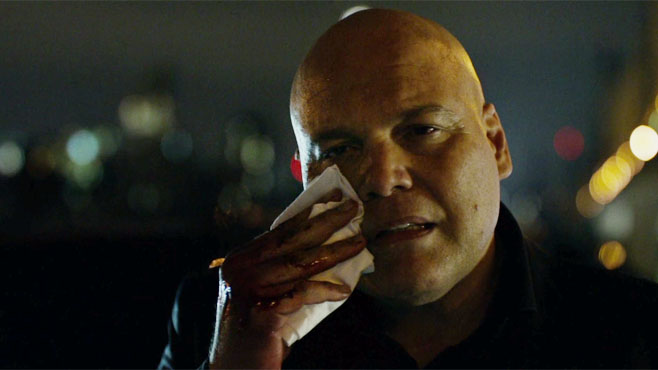 Impression:
Things are now getting interesting.  We finally meet the man behind the fear.  Wilson Fisk is terrifying one moment, then so shy it's kind of sweet.  When he loses his temper, people die horribly.  Vincent D'Onofrio took an interesting approach to this character.  He speaks softly with just a touch of menace.  I'm sure a lot of people are going to say that D'Onofrio doesn't look like the character in the comics.  To be fair, very people don't look like their comic book counterparts.  I think D'Onofrio has the right tone for the character.
The costume is a work in progress.  Claire suggests that he carry some heavier armor.  We all know what costume Matt will don in the future.  I'm just enjoying the anticipation until we see him put on the trademark costume.  I'm also intrigued by his nickname 'The Man In the Black Mask.'  I wonder at what point does the name 'Daredevil' come into play.  I guess I'll just have to be patient.
Community Post: This article was submitted by a member of our community. The views expressed are the opinions of the designated author, and do not reflect the opinions of the Overmental as a whole or any other individual. We will gladly cooperate in the removal of plagiarism or any copyright infringement. Please contact us here.

Community Post: This article was submitted by a member of our community. Find out how you can publish your own writing here!Yet another week comes to a close which means it's time for new music!! Each week a whole slew of new stuff is splooged onto the [...]

Community Post: This article was submitted by a member of our community. Find out how you can publish your own writing here!Hey kid! Like new music? Great! You've stumbled into the right rabbit hole. I'll tell ya what's good, what's bad, and what's a [...]

Community Post: This article was submitted by a member of our community. Find out how you can publish your own writing here!2013 winner of NMW's best album of the year, Neko Case, returns from a five year vacation from solo work next week, offering [...]