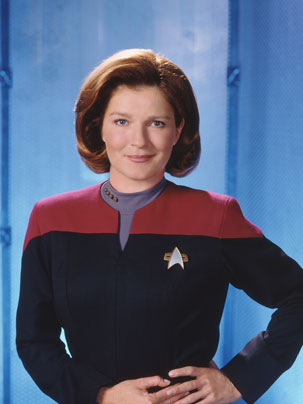 Community Post: This article was submitted by a member of our community. Find out how you can publish your own writing here!

So something amazing happened to me last week: I met the best captain in Federation history: Captain Kathryn Janeway. Don't debate me on this- she is the best. It is a bit surreal, meeting a childhood hero and pretty intimidating to say the least. Last week I got the opportunity to attend Kate Mulgrew's (Janeway) book signing for her new memoir "Born With Teeth". (Fun fact: she really was born with teeth. Now THAT is the makings of a good captain.) I sat in the second row because I wasn't fast enough to get to the first and I was shaking, seriously shaking with anticipation. Then I started to sweat, like really really sweat. I was about to see Captain Janeway!!!
Remember in Voyager every time Janeway was on the bridge or in any shot she commanded the entire scene? Well, she is just like that in real life. I instantly felt like I needed to sit up straighter and I was painfully aware of the wrinkles in my shirt. I swallowed as a bead of sweat ran down my back. I was certain people could tell my nerves were getting the best of me but when I looked around I was instantly reminded that I wasn't alone. My fellow Trekkies surrounded me and they looked just as excited as I was!
Kate Mulgrew was fantastic! She is confident, beautiful, and wickedly funny. Her book is a fantastic trip down the winding roads of her life with some great behind the scene blips of working on Voyager. She engaged the audience and answered as many questions as she could. I turned into a statue and was unable to raise my hand to ask what would have undoubtedly a generic Star Trek question, which I am sure she had answered hundreds of times. Someone a few rows down from me asked if she was upset about Voyager not getting its own movie and I kid you not she said without a beat:
"I think that Shatner and Stewart and I need to make a movie together before it's too late… Patrick needs to be spanked a little bit. It's going to be that kind of movie. Get your tickets now!"
Who do we need to call to make that happen? At the end of the reading and questionnaire we were given the opportunity to line up and get our books signed. I made my way (rather shakily) to the line and slowly made my way to the signing table. Kate was laughing and engaging with fans and I was slowly turning into a puddle. But I made it to the front and Kate smiled at me and signed my book. And then… I shook her hand. I SHOOK CAPTAIN JANEWAY'S HAND! Think Harry Kim in Caretaker- yeah… that was me. All in all it was a fantastic experience and I am so glad I was given the opportunity to meet a woman who is so influential and such an icon in the science fiction world. Now, if only I can make it to Vegas this summer for the convention!
Community Post: This article was submitted by a member of our community. The views expressed are the opinions of the designated author, and do not reflect the opinions of the Overmental as a whole or any other individual. We will gladly cooperate in the removal of plagiarism or any copyright infringement. Please contact us here.
Community Post: This article was submitted by a member of our community. Find out how you can publish your own writing here!Throughout time comic books have been known as a form of entertainment. Funny books some may call them in the past. People all over [...]

Community Post: This article was submitted by a member of our community. Find out how you can publish your own writing here!Yet another week comes to a close which means it's time for new music!! Each week a whole slew of new stuff is splooged onto the [...]

Community Post: This article was submitted by a member of our community. Find out how you can publish your own writing here!Hey kid! Like new music? Great! You've stumbled into the right rabbit hole. I'll tell ya what's good, what's bad, and what's a [...]