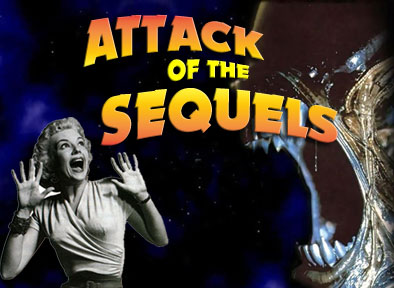 Community Post: This article was submitted by a member of our community. Find out how you can publish your own writing here!

A thought struck me recently: Why do we get so up in arms about sequels? In fact not even sequels, remakes, reboots or franchising in general.
Immediate Answer: Well we as fans of entertainment don't like to think of our favourite films/characters/heroes/intellectual properties being used solely for profit. We want new and original content and not just the same things rehashed and reused every so often.
Ok, that's fair enough. New ideas should be sought after and praised, of course they should. Humanity probably wouldn't have gotten very far if we didn't take advantage of new and exciting ideas (Christ knows where we'd be if the wheel hadn't caught on), and don't get me wrong, I am all for new ideas in films and entertainment but if I like that new idea why is it so bad that I want more? I'm always the first to ask for seconds and thirds at the dinner table when pasta is being served.
This train of thought really struck me when I saw a news article about Disney and how they're going to extend the life of the Frozen Brand (Yes I know it's a giant film and you probably can't escape it, yes I know Let It Go is everyones favourite song right now, yes I can understand how so many people find the film overrated, just hear me out). The comments on the link to the article were what you'd expect,
"They're just trying to make as much money as possible"
"Why can't they come up with anything original?"
"Frozen was overrated anyway"
"Hey everyone, lets all just Let It Go"
Yet all I could find myself thinking was,  
"You're all suprised? This is Disney we're talking about"     
This is the company that bought Marvel because they were raking in so much dough with all of their really, really good adaptations of their superheroes and we're all surprised that they want to make more money of their most successful animated film ever? But I'm not here to talk about Frozen, not when I already did for my dissertation, (it made me enjoy the film even more).
Look I believe you can make a good film out of anything, if that means I get to return to Arendelle or fight some more Xenos then sweet, bring it on says I.
BUT, having said that, I can completely understand why sequels/remakes etc etc are frowned upon. We all know why, say it with me everyone,
"They're never as good as the original"
Now that phrase is as subjective as it gets, how could it not be? But as for sequels never being as good as the originals? What about Aliens, Terminator 2: Judgement Day, Toy Story 2, Toy Story 3, Die Hard with A Vengeance, Hot Shots Part Deux, Blade 2, Empire Strikes Back, Shrek 2, Desperado, Hellboy 2: The Golden Army, Revenge of the Sith (Don't give me that look), Spiderman 2, Indiana Jones and The Last Crusade, Star Trek II: Wrath of Kahn, Superman II, Back to the Future Part II, Mad Max 2: The Road Warrior or X-Men 2. We can probably agree that each of those are superior to their predecessors or at least on par with them.
But of course those are only a few, a debatable few at that. But still proof that it can be done, it just majorly sucks that not many people took of notice of how a good sequel is made and more of how much money they brought in. Foul play indeed I think we can all agree. But saying that, we still shouldn't be surprised (trust me I'm especially not trying to put myself on a pedestal here, I am as guilty of bitching about sequels and money grubbing studios as the next person), last time I checked the whole point of Hollywood was to make money wasn't it? That's why Film Studios have marketing divisions and accountants isn't it?
In fact going back to Disney, people are annoyed that they're going to be franchising Frozen right? Well why are we angry at that and not the Marvel Franchise? That's one of the biggest franchises out there at the moment yet when Captain America 3 or Guardians of the Galaxy 2 gets announces nobody says a thing. Well that's because the Marvel Franchise is praised as unanimously good of course. But so is Frozen, at the very least people thought it was good when they saw it, that's half the reason it was so well received (aside from all the money it made of course).
In fact if you are so sick of a certain franchise, why not just stop giving it your attention? Turn the radio station over next time you hear Let It Go or turn it off altogether, this is sadly more difficult for parents since their kids are the target audience, sorry parents everywhere.
So when a large studio decides to make money off something popular we collectiveley smack our foreheads and bemoan it. Yet when they're in the midst of franchising the shit out of something else that's very popular…we all clam up? I guess I'm just yelling at a larger beast here, after all I'm just one person with a keyboard, hardly going to make a difference right?
I wish we would stop commiting the above offense, sequels and franchising are not inherently bad, it's their execution that can be viewed as bad. But hey, this is all amazingly subjective and I'm sure a lot of people disagree with me on this. Do you disagree? If so I'd love to hear how, politley mind you this isn't YouTube.
The best summation I can give is this, if you don't like the look of something be it a sequel, remake or whatever, just don't give it your time of day, you've undoubtedly got better things to be doing.
Community Post: This article was submitted by a member of our community. The views expressed are the opinions of the designated author, and do not reflect the opinions of the Overmental as a whole or any other individual. We will gladly cooperate in the removal of plagiarism or any copyright infringement. Please contact us here.

Community Post: This article was submitted by a member of our community. Find out how you can publish your own writing here!Yet another week comes to a close which means it's time for new music!! Each week a whole slew of new stuff is splooged onto the [...]

Community Post: This article was submitted by a member of our community. Find out how you can publish your own writing here!Hey kid! Like new music? Great! You've stumbled into the right rabbit hole. I'll tell ya what's good, what's bad, and what's a [...]

Community Post: This article was submitted by a member of our community. Find out how you can publish your own writing here!2013 winner of NMW's best album of the year, Neko Case, returns from a five year vacation from solo work next week, offering [...]