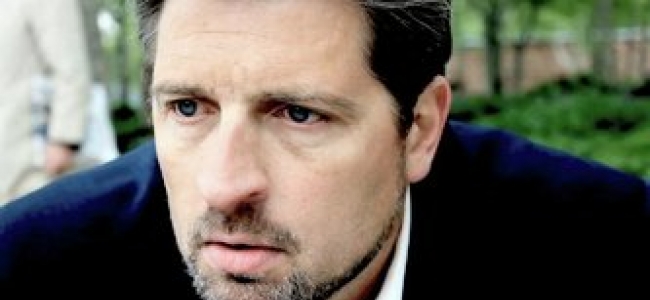 Community Post: This article was submitted by a member of our community. Find out how you can publish your own writing here!

The Watchers (2010): Written by Jeff Moffitt and Sy Cody White, Directed by Sy Cody White.
Produced by Two Man Crew Productions and Hocus Pocus Features.
Starring: Jeff Moffitt (John Porter), Timothy J. Cox (Dr, Orwell), Peter Francis Span (Mysterious Man), Kathleen Boddington (Watcher)
**** out of ****
Now here's a suspense / thriller with some kick.
Two Man Crew Productions' and Hocus Pocus Features' slick 28 minute thriller The Watchers has plenty of twists and turns to keep you guessing all the way to its exciting ending. It's no wonder that the film, released in 2010, has received numerous accolades and richly deserving rave reviews.
The film stars Jeff Moffitt, who co-wrote and co-produced the film, in an astounding 8 days, at a cost of only $350, as John Porter, an ordinary man who one day realizes that he is being watched and followed by random people in and around New York City. People pop up from all over, leading Porter from one tense encounter to another, prompting him to seek help from his shrink Dr. Orwell (Timothy J. Cox) who dismisses John's claims as paranoia. It's gets worse and worse for John with each new encounter. Ah, but there's a surprise or two in store.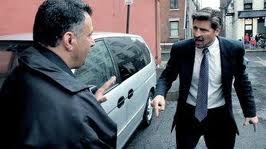 (Robert Nesi co-stars with Jeff Moffitt in The Watchers)
This is a film where everything is in the details, so be sure to pay attention. The pay off will knock your socks off.
Moffitt and White have crafted an ingenious script, that incorporates elements of Hitchcock, 24 and the Bourne Films. The suspense is constant and unrelenting. White's cinematography and direction are crisp, beautifully caputing the good, the bad and the ugly of the city that Porter inhabits in his tense travels.
The performances are spot on across the board, with Moffitt leading the way with a compelling turn as everyman John, whose tension in the film becomes the audiences' tension throughout. Great supporting work comes frrom Peter Francis Span, eerie as the last mysterious person to encounter Porter, Kathleen Boddington as one of the Watchers that Porter encounters and especially Timothy J. Cox, scene stealingly good as Porter's trusting or not so trusting shrink, perfectly named Dr. Orwell. (O'Brien might have been pushing it).
Here's the trailer for the film: https://www.youtube.com/watch?v=r0Y0bLAsD9Q
All other information on The Watchers is available for viewing at the Internet Movie Database
Community Post: This article was submitted by a member of our community. The views expressed are the opinions of the designated author, and do not reflect the opinions of the Overmental as a whole or any other individual. We will gladly cooperate in the removal of plagiarism or any copyright infringement. Please contact us here.
Community Post: This article was submitted by a member of our community. Find out how you can publish your own writing here!Throughout time comic books have been known as a form of entertainment. Funny books some may call them in the past. People all over [...]

Community Post: This article was submitted by a member of our community. Find out how you can publish your own writing here!Yet another week comes to a close which means it's time for new music!! Each week a whole slew of new stuff is splooged onto the [...]

Community Post: This article was submitted by a member of our community. Find out how you can publish your own writing here!Hey kid! Like new music? Great! You've stumbled into the right rabbit hole. I'll tell ya what's good, what's bad, and what's a [...]