Community Post: This article was submitted by a member of our community. Find out how you can publish your own writing here!

Alright, time to compensate for my laziness; let's do 'em all. Here are my thoughts on every episode of Steven Universe's second season that has aired up to now. These will be a bit shorter than normal, but at least I'll be caught up, and everybody will be happy again.
Full Disclosure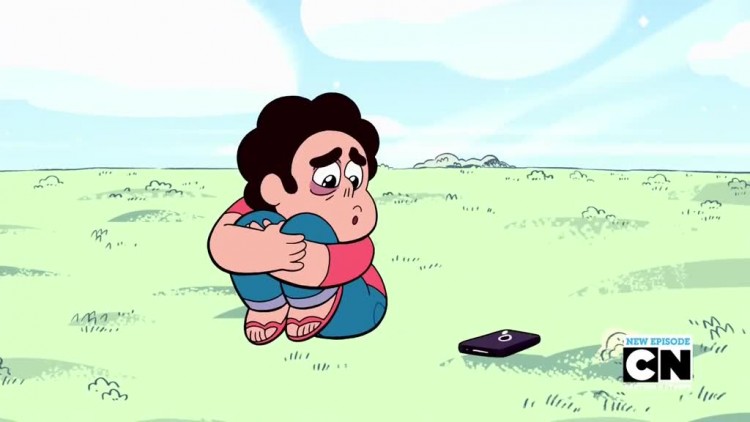 This episode is set largely on the beach by Steven's house. Said beach is still covered with bits and pieces of the Gem ship which crashed there earlier that day, and this ever-present reminder of recent events provides a strong visual link to the theme of the episode: aftermath. This episode is about Steven, Connie, and to some extent, Greg, digesting the dangerous events they were all part of, in some way. Greg, once again showing what an awesome parent he is, chokes out a congratulation to Steven, before running to his van to have a panic attack where it won't interfere with supporting his son.
Steven then decides to become Batman. After some terrible, terrible advice from Renaldo, as well as a sweet nineties power-pop ballad based around Steven's ringing cell phone as Connie tries to call and find out what the hell happened, Steven comes to the conclusion that many super-heroes have come to: You can't handle the truth! Steven saw how distraught his dad was, and can feel his own confused, troubled mind, and does what he thinks is the selfless thing: spares his loved ones the burden of what he has seen. He intends to become a brooding loner, distancing himself from the people he cares about so they don't get hurt.
That's not who Steven is, though, and he realizes that when Connie confronts him about it. Connie points out the flaw in the idea that shutting others out so they won't worry or be in danger is the right thing to do: it's not a choice the tortured hero gets to make. Connie is the one who gets to decide if she cares enough about Steven to help him shoulder that burden of worry and fear, and in this case she's more than happy to. Steven relents, and pours out everything he's been brooding about. Connie is troubled, naturally: there are people out there who want to kill her best friend, that sucks. But as they look back at beach city, and see everyone returning into the town, clearing away the debris, and moving on from that very scary time, Steven and Connie realize that they can do the same thing.
Final Rating: Great/Mind-Blowingly Amazing
Open Book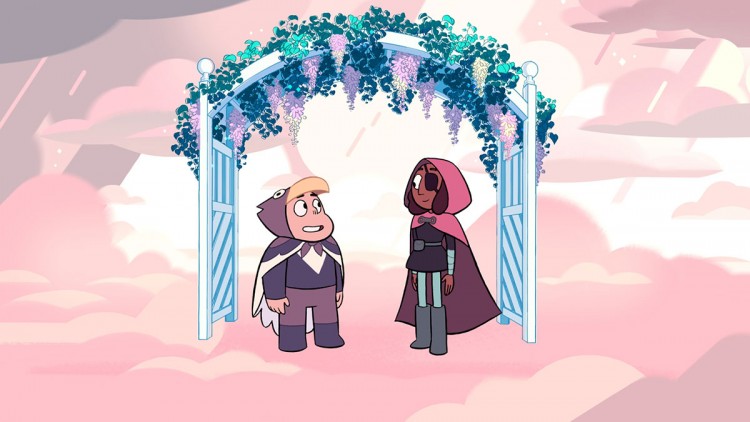 Now that Steven and Connie are friends again, it's time to get back to what they do best: being adorably geeky together. The kids' contrasting personalities, and their complete toleration of those differences, is consistently endearing in just about every moment of screen time they share. After all the heavy end-of-the-world stuff that went down during the previous episodes, it's nice to have an episode where the only conflict turns out, in the end, to be a disagreement over the end of a book series.
The book series in question, Connie's beloved Spirit Morphers, ends with the heroine finding a way to turn her falcon-familiar into a human, and the two of them are married, complete with pages of description for the wedding cake. Connie hates this ending; to her, it's a betrayal of the subversive, anti-authoritarian subject matter which drew her to the series in the first place (Probably do to her strict upbringing). Steven goes along with this, and they go into Rose's old room, which is essentially a holo-deck, to act out the ending the way Connie feels it should be.
The problem comes up when Steven accidentally creates a counterfeit-Connie from the room, which also doubles as a manifestation of his guilt over lying to Connie. Steven loved the ending, which he eventually fesses up, and of course Connie is fine with that. This is an excellent message to send to children, and to semi-adults like me: differing opinions over pieces of entertainment are never cause for anger, and I will fight anyone who doesn't think that this lesson was handled very well in this episode.
There are also some vague hints about the depth of Steven's real feelings for Connie; but we'll dissect that bridge when we come to it.
Final Rating: Good/Mind-Blowingly Amazing
Joy Ride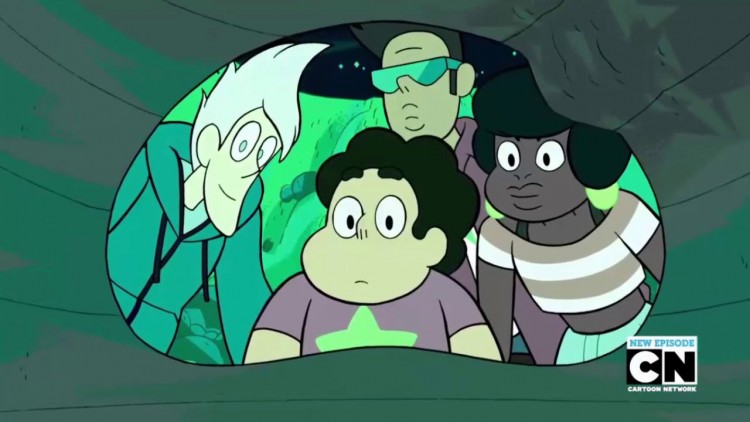 Teenagers are always tricky to portray in fiction, for a variety of reasons. One of them being that all teenagers are not stupid, but all teenagers do stupid things, and simplifying the psychology behind why that happens leads either to insult (Portraying them all as stupid) or to lack of realism (Portraying them never doing stupid things). The truth is, teenagers are not oafs (Well, some of them are, but that's beside the point), but their brains are not wired to naturally think about the consequences of their actions; sometimes they get the better of their nature and stay out of trouble, sometimes their nature gets the better of them and they make really poor decisions.
Lately I've been thinking that if there is one word which could sum up Steven Universe and why it's great, it would be balance. This episode convinces me still more that this is the case: the way the show handles the three teenagers who convince Steven to do some pretty irresponsible stuff is incredibly balanced. They're not just idiots, they're concerned about him: it's their compassion for everything he's been going through that leads them to encourage him sneak out with them at night, and eventually end up messing around with Peridot's abandoned escape pod once they find it in a field.
The motivation of Steven's older friends isn't irresponsibility just for the sake of it, it's their feeling that Steven deserves a break, which they're right about. Steven has been through a lot lately, and the Gems recognize that once they show up and figure out what's going on. They chastise Steven mildly, because he still should have known better, but they forgive him, and following the teenagers' example, even lift his thousand-year ban from television. It's nice to see a show take such a realistic approach to showing its main character recovering from being in genuine danger; most shows would breeze right through it, but this one lingers, showing Steven's changing feelings towards that fateful day when he was kidnapped by aliens. The kids are (Al)right, he does  deserve a break. Let's just hope there's nothing too traumatic in the next episode.
Final Rating: Very Good/Mind-Blowingly Amazing
Say Uncle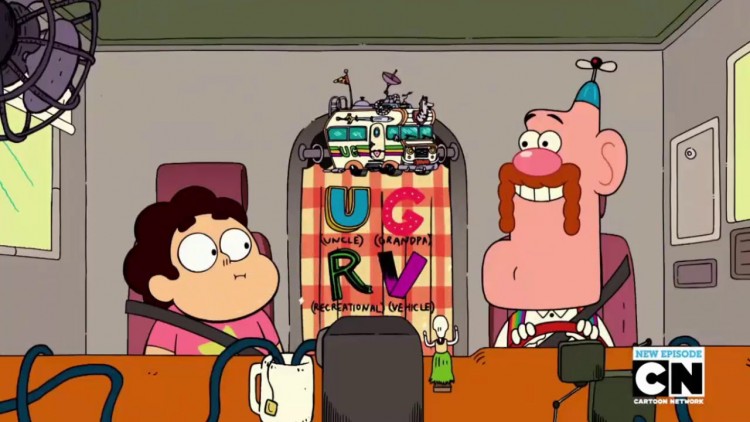 Yeah. So, this is…*sigh*… Okay. This is the, ah, "Much-anticipated" crossover between Steven Universe and Uncle Grandpa, another show which is also animated. So, I mean, right there, they already have that in common, so they were bound to gel perfectly, right? So we start out with Steven sitting on the beach, trying to summon his shield, when who should show up but…uh, no. No. Sorry. I tried. I laughed a few times. The last joke was kind of clever, I think. I'm kind of fuzzy on what constitutes intelligent humor right now. That wasn't Pearl. Pearl doesn't act like that. This wasn't Steven Universe. Steven Universe doesn't act like this. That's all I got. I'm sorry, this is really unprofessional, but…no.
Final Rating: I don't even…no.
Story For Steven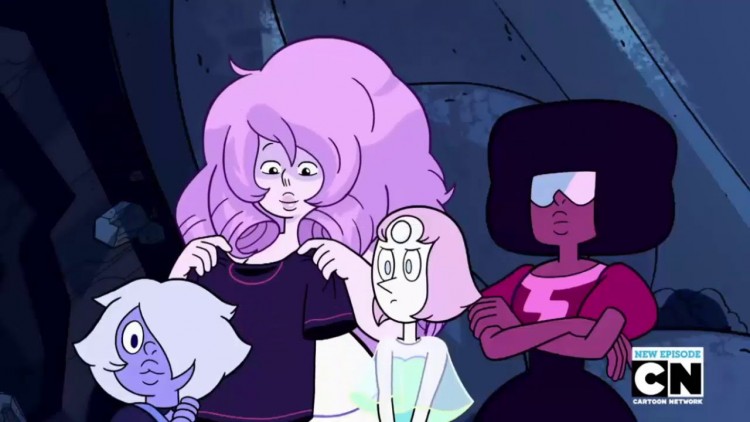 That's better. Correction: that was fantastic. Here's an episode in which we get almost no really new information, but the way it's told, and the wonderful affection the show has for its characters makes it perfectly effective. The story of how Greg Universe met Rose Quartz contains nothing really shocking, besides how awful Pearl's hair used to be. Basically, she sees him playing a concert for no one, he instantly likes her, gives her a free t-shirt, his jerky manager Marty convinces him to move on from beach city, Greg fires him, runs back to Rose, and the rest is history. And yet it works so well.
There's an implicit touch of sadness hanging over the whole thing; every adorable moment Greg and Rose share together is undercut by the knowledge that their very love, a love powerful enough to bring together two vastly different people, will ultimately be the very thing which takes Rose away. The title of the episode is significant here: Steven isn't really in this episode much, but the whole framing device is centered on him: Greg is telling this story to Steven, who is the only piece of Rose's identity which still exists. Steven is really learning his own history here, which has been an important element of the show since the beginning. When the show starts, Steven is being raised by these four very odd people, only one of whom is human. Very slowly, we are able to piece together the very sad events which lead to this situation. Garnet, Amethyst, Pearl, and Greg are all amazing characters, and this never demonstrated better than by the very fact that they were able to accept the loss of Rose, and begin to care for Steven. Only once–a few episode back in "Rose's Scabbard"–does any one of them show any hint of resentment towards Steven, who through no fault of his own took a person all four of them loved very much away from them, just by existing.
Greg doesn't even get a tear in his eye as he recounts meeting the love of his life to the person who in some ways is responsible for the fact that he will never see her again. Instead of letting his love for Rose keep him from loving Steven, Greg was able to transform that same romantic love into fatherly love for his son. To my mind, that makes him as much of a hero as anyone else in this show.
Final Rating: Great/Mind-Blowingly Amazing
Community Post: This article was submitted by a member of our community. The views expressed are the opinions of the designated author, and do not reflect the opinions of the Overmental as a whole or any other individual. We will gladly cooperate in the removal of plagiarism or any copyright infringement. Please contact us here.
The DC movie universe is not quite as expansive as Marvel's, but with seven films under their belt, it's already become quite expansive.
John Francis Daley and Jonathan Goldstein, the screenwriters on Sony/Marvel's Spider-Man: Homecoming, have been hired to direct the upcoming Flash movie.
Community Post: This article was submitted by a member of our community. Find out how you can publish your own writing here!First of all, I am going to write about the movie Wonder Woman here, and before I do, I want to make something clear: I [...]