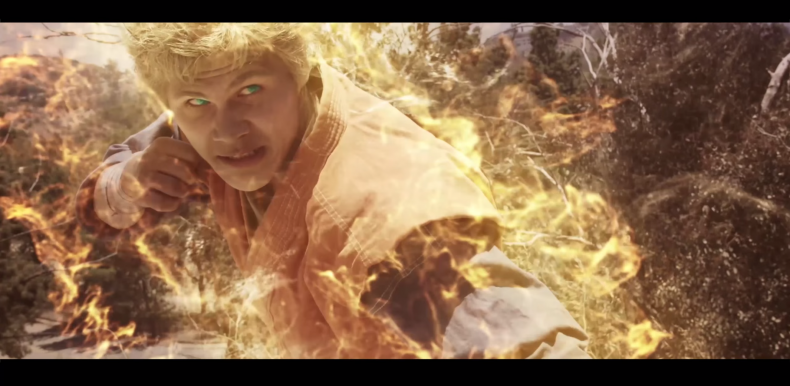 Community Post: This article was submitted by a member of our community. Find out how you can publish your own writing here!

Yes!  Finally something us Dragon Ball Z fans can get behind of!
We all know there have been a lot of live action adaptions out there in the past of Akira Toriyama's infamous Dragon Ball Z.  Although it is very rare that we come across one that really does the Anime justice.  We've seen a lot of bad ones but not so many good ones and some really bad ones (Dragonball Evolution).  So when we find one that even comes close… Well, safe to say, it turns us fans into little kids on Christmas morning.
Honestly, I feel that's the way with all Anime live action adaptions, but that's another discussion for another time.
Alright, alright, so what's this new DBZ adaption out there?
It's a YouTube based web-series titled: Dragon Ball Z: Light of Hope.  The series chronicles the reality depicted during the Androids saga of Gohan and Trunks struggle to overthrow the invading Androids, after Goku's death.
The film is brought to us by Machinima and Robot Underdog.
If you don't know who Machinima is, they are the ones who brought us the Mortal Kombat web-series that first aired back in 2011.
If you still have no idea what I am talking about, you can check it out here
Robot Underdog is… Well nobody knows what they are, at least not yet.  What we can say is this:
"We're just a small group of friends who get together on the weekends to make awesome things."  As according to their youtube channel at https://www.youtube.com/user/RobotUnderdog2/featured
Overall, the film is impressive.  They keep the little things the fans care about in tact.  For example, I have always had an issue about the hair!  After all, the hair is one of the most trademark things in the series!  Which is why I was glad to see that Trunk's hair is purple; Bulma's hair is teal and Gohan's hair is spiked (but not out of control).  The fight scenes even keep the same Dragon Ball Z feel to it that we love!  They even took the risk in depicting their idea of a live action Super Saiyan and it did not disappoint.
The series is completely crowdfunded also!  You can find their IndieGoGo link below and I highly recommend that if you like what you see, to donate!  I know I will!  Good job Robot Underdog!  You've impressed me.
Anyway!  I'm just here to spread the word to all of you here at Overmental!  Watch it and enjoy!
DRAGON BALL Z: LIGHT OF HOPE –
IndieGoGo – https://www.indiegogo.com/projects/dragon-ball-z-light-of-hope-episodes-2-3
P.S. Here are are a couple other links to some live action Dragon Ball Z adaptions.
Community Post: This article was submitted by a member of our community. The views expressed are the opinions of the designated author, and do not reflect the opinions of the Overmental as a whole or any other individual. We will gladly cooperate in the removal of plagiarism or any copyright infringement. Please contact us here.
Community Post: This article was submitted by a member of our community. Find out how you can publish your own writing here!Throughout time comic books have been known as a form of entertainment. Funny books some may call them in the past. People all over [...]

Community Post: This article was submitted by a member of our community. Find out how you can publish your own writing here!Yet another week comes to a close which means it's time for new music!! Each week a whole slew of new stuff is splooged onto the [...]

Community Post: This article was submitted by a member of our community. Find out how you can publish your own writing here!Hey kid! Like new music? Great! You've stumbled into the right rabbit hole. I'll tell ya what's good, what's bad, and what's a [...]