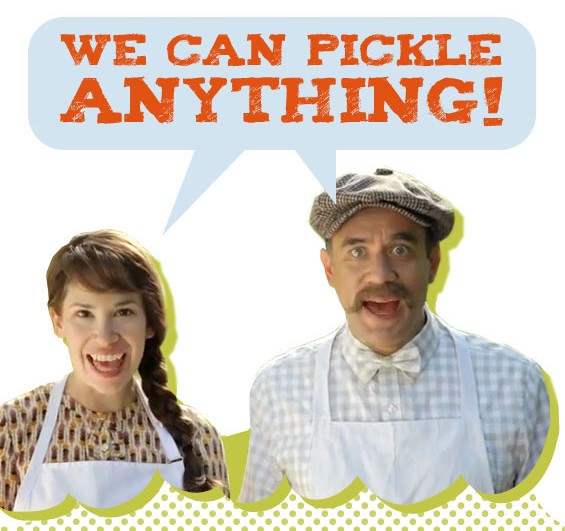 Community Post: This article was submitted by a member of our community. Find out how you can publish your own writing here!

While watching one of my favorite shows, Portlandia, I had a thought. One of the best sketches (in my opinion) is "We Can Pickle That". The pair simply takes anything they see and "pickles" it in a jar with liquid. It starts with foods, then goes on to other things like cd cases and a dead bird- gross! But could you really pickle anything? How would you go about taking all different substances and matters, placing them in a jar, and adding a liquid to pickle it? I set on a quest to find my answers!
For the sake of understanding pickling, let's use this recipe for classic bread & butter pickles:
Ingredients
4 lb. Kirby cucumbers
1/2 cup kosher salt
Ice cubes as needed
3 cups sugar
2 Tbs. mustard seeds
2 tsp. turmeric
2 tsp. celery seeds
1 tsp. whole black peppercorns
3 cups apple cider vinegar
Directions
Wash and trim the ends off the cucumbers. Slice the cucumbers into 1/4-inch-thick rounds and put them in a large bowl. Add the salt and toss to coat, then cover the cucumbers with ice cubes. Let the cucumbers rest for 1 1/2 hours. They will release their water and soften a bit.
Drain them, then rinse and drain again.
Put the sugar, mustard seeds, turmeric, celery seeds, peppercorns and vinegar in a large, heavy pot, set over medium-high heat and bring to a boil. Boil, stirring until the sugar has dissolved.
Meanwhile, wash 4 to 6 wide mouthed pint canning jars with their lids and rings in hot soapy water and rinse them, then place in a large pan or bowl and cover with boiling water. Keep them in the hot water until ready to use. Remove the jars from the water and pour out any water.
Arrange the jars together for easy filling. At the same time, fill a large pot (large enough to hold the jars in a single layer) with warm water to a depth of 4 inches. A canning kettle with a rack is ideal.
Add the drained cucumbers to the pot with the pickling liquid and bring to a boil. Pack the hot cucumbers and hot liquid into the jars, leaving about 1/4 inch of headspace.
Using a paper towel dipped in hot water, wipe the rims clean. Place the lid on each jar, then screw on the rings. Arrange the jars in the water in the pot (the water should cover the jars by 2 inches) and bring to a boil over medium-high heat. Boil for 10 minutes.
Using tongs, remove the jars from the water and place on a tray lined with a kitchen towel. Let the jars cool undisturbed for 12 hours. If the jars have sealed properly, the lids will be slightly indented and not springy to the touch. If a jar did not seal properly, either repeat the water bath process or refrigerate and use the pickles. Makes 4 to 6 pints.
First, what is pickling? Pickling is the process of preserving foods in a high-acid solution, either by adding vinegar or naturally by means of fermentation. This state of high acidity is achieved in two ways: by means of dry salt or premade brine.
How does dry salt pickling work? The dry salt method works very simply by adding the salt to your vegetables way above what you would use for tasting. WAY above. It does matter what kind of salt you use! Pickling, canning, or kosher salt are your best and only choices for this to work properly. Pickling/canning salt is pure granulated salt free from anticaking agents which can cause cloudy brines. Kosher salt has large crystals which don't dissolve as quickly as other salts and will keep your food for even longer. Table salt, also known as iodized salt, won't hurt you but will undermine the appearance, texture, and taste of your foods since it's additives don't completely dissolve in the brine. Sea salt is a poor choice just for what it is. Sea salt is made by the evaporation of salt water. It comes in many textures, variety of colors, and you never know what minerals at what levels are present in the salt. The inconsistency of this salt is a horrible choice for pickling. The salt then pulls out the moisture of the chosen food creating watery juices. This liquid combines with the salt to create brine all its own creating fermentation. This process, fermentation, is when the natural bacteria in the foods convert the sugar to lactic acid, which is a natural preservative.
How does premade brine pickling work? Pickled jar foods last a long time simply by achieving a goal level of acidification causing the pH contents to stabilize and eradicate all "spoiling" bacteria. The acid in the pickling process comes from two forms: acid & heat. The acid in vinegar stabilizes the pH levels of the chosen food. Now, remember that different vinegars have different degrees of strength, also known as grain. The most commonly used vinegars have grain strength of 5-6%*. Make sure you avoid using vinegars with lower grain strength; this results in food not acidified properly and can have harmful bacteria in them and spoil, or make you sick. The water you use is just as important as well. During the fermentation process hard and/or heavily chlorinated water can interfere with the creation of lactic acid. If you have hard or chlorinated water you can use it after boiling- reaching at least 212oF- for 15 minutes then letting is rest covered for 24 hours. Or the easier option, just buy distilled water. The other half is heat. Brines are typically brought to a boil (212oF) then immediately poured into the jars. The goal is to get them sealed off before your brine and contents reach 195oF, this could take less than four minutes in most cases. This is the reason for leaving jars in a boiling bath after you've added all of your ingredients. The temperature also serves to kill any remaining "spoiling" bacteria that could ruin your food over time.
What is beyond the basics of pickling? The other ingredients you use besides your salt, vinegar, and water will be flavoring or firming agents such as sugar, herbs, spices, and such. For sugar unrefined is fine to use. Your herbs and spices should be super fresh, not browning, slimy, or hard. If a recipe calls for garlic, make sure it is aged and cured. Fresh garlic will discolor during the fermentation process. As for firming agents, which are used to crisp up vegetables, there are two: lime and alum. Lime is calcium hydroxide which will harden your foods more during the pickling process. Alum is potassium aluminum phosphate or ammonium aluminum sulfate. This can naturally be made possible with grape leaves. Of course if your ingredients are at peak season you shouldn't need a firming agent.
What tools do I need for this mad science of pickling? For dry salt pickling you'll need a one gallon stoneware, glass, or food grade plastic crock. You will also need a glass, stainless steel, or ceramic bowl for brining. Be sure to avoid any metal bowls besides stainless steel since salt and vinegar can react negatively from the metals. You should use stainless steel pots for heating vinegar solutions. Do not aluminum, copper, brass, iron, or galvanized steel for any step of canning. And of course plenty of canning jars. You can find everything you need at your local supermarket, hobby/craft shop, or kitchen retail shop.
Could I pickle _______? Consider your ingredient. When pickling foods you need to choose them at their peak freshness. The old adage goes "Crisp into the bring pot means crisp out the brining pot". Don't put in foods that are going bad just to save and not waste them. Pickling is capturing the food's optimum freshness in time.  You would be surprised what you can jam in a jar and pickle. Here's a list of things we can definitely pickle! Be sure to check out the recipes linked with each one.
So what else have you thought of pickling? Cause I bet we can pickle that!
For more information, recipes, and pickling fun I recommend reading Jam It, Pickle It, Cure It by Karen Solomen.
---
*Bonus Science! How to determine grain strength:
Converts the titratable acidity expressed as tartaric acid, the main organic acid in wine, to acetic acid, the main organic acid in vinegar.
Determine the titratable acidity as follows:
Pipet 2 mL of vinegar into a 250-mL erlenmeyer flask.
Add approximately 120 mL of boiled, cooled, pH-adjusted DI water and a few drops of phenolphthalein. (Adjust pH of water by adding a few drops of phenolphthalein and 0.1 N NaOH until water is a very slight pink color.) Titrate with 0.1 N NaOH to a pink endpoint (pH 8.2).
CALCULATIONS TA (as g/100mL acetic acid) = 60 g/mole X 0.1 N NaOH X mL NaOH used X L/1000mL mL of sample used which reduces to: TA (g/100mL acetic acid) = (0.6) x (mL NaOH used) mL of sample
The conversion for grain strength from titratable acidity expressed as acetic is: Grain Strength = TA (g/100mL acetic acid) X 10
Community Post: This article was submitted by a member of our community. The views expressed are the opinions of the designated author, and do not reflect the opinions of the Overmental as a whole or any other individual. We will gladly cooperate in the removal of plagiarism or any copyright infringement. Please contact us here.
Community Post: This article was submitted by a member of our community. Find out how you can publish your own writing here!Throughout time comic books have been known as a form of entertainment. Funny books some may call them in the past. People all over [...]

The Visual Effects Society has revealed their annual awards nominations, ahead of the ceremony in February.

There might not be a real park themed around Blizzard Entertainment's portfolio of video games (just yet), but if there was, Blizzard World is a pretty captivating look at what it might be like.