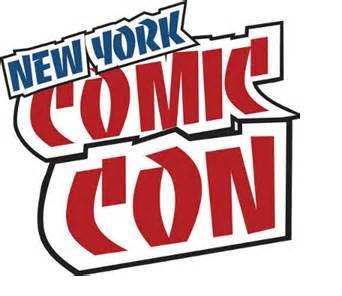 Community Post: This article was submitted by a member of our community. Find out how you can publish your own writing here!

With only a few days until the official start of this year's New York Comic Con, the show appears to have outdone itself once again. In response to fan demands, the show has expanded to make Thursday a full day schedule, unlike previous years, even with the expanded schedule. There are so many events and activities occurring during the 4-day show that not only are organizers using almost every single inch of the Javits Center, they are also utilizing the nearby Hammerstein Ballroom (with a capacity of 2,500) to showcase TV programming, especially exclusive screenings from TV studios, including Starz, USA Network and Cartoon Network.
Another location shift involves moving the location of the Artist Alley to the Javits Center's North Hall, a separate area and not on the main show floor. This comes to the delight of many of the artists that are exhibiting, since the visitors to the hall are going there because they are truly interested in art and comics.
The main highlight of the show for some may be all the panels and exclusive debuts. The much anticipated 2016 reboot of the X-files will be unveiling its first episode at the show. The must buzzed about panels are the Walking Dead: An inside look with Robert Kirkman, where Kirkman (the show's creator) and special guests from the show will be discussing the world of the Walking Dead franchise, as well as the Game of Thrones: a panel of Ice and Fire featuring numerous cast members sharing stories from the set discussing upcoming projects and speculating about Season 6.
Perhaps getting the most attention is the "major Batman announcement" that is set to take place during the DC Comics-Batman: The Bat-Universe panel. It is not clear what exactly will be announced during the panel. However, with the upcoming release of the: Batman v. Superman: Dawn of Justice" movie, many are speculating that the announcement might be about either another Batman film or perhaps an animated Batman project.
Even with all of these highly anticipated events, the main draw of Comic Con is the show floor itself, with nearly one thousand exhibitors, including Marvel, Lego, CapCom and more, the show will be active with giveaways, signings and exclusive merchandise for fans with everything from comics to television to books and so much more.
Community Post: This article was submitted by a member of our community. The views expressed are the opinions of the designated author, and do not reflect the opinions of the Overmental as a whole or any other individual. We will gladly cooperate in the removal of plagiarism or any copyright infringement. Please contact us here.
Community Post: This article was submitted by a member of our community. Find out how you can publish your own writing here!Hey there music lover! You like new stuff? Great! You've stumbled into the perfect corner of the internet.  Each week all sorts of [...]

Community Post: This article was submitted by a member of our community. Find out how you can publish your own writing here!I think TMZ reported it first but who cares. My wife called me at work to tell me. Really, really sucks, The Purple One was only [...]

Community Post: This article was submitted by a member of our community. Find out how you can publish your own writing here!Hey there music lover! You like new stuff? Great! You've stumbled into the perfect corner of the internet.  Each week all sorts of [...]