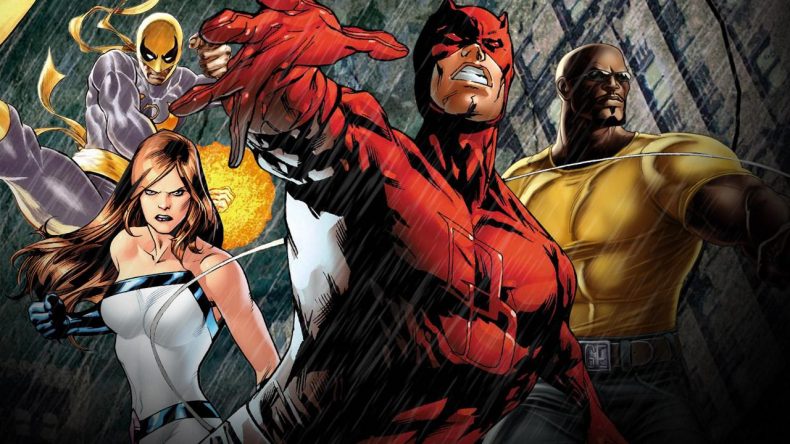 Daredevil was just the beginning. Over the next couple of years, we're going to be seeing a ton of Marvel Cinematic Universe shows on Netflix.
At the Television Critics Association summer meeting earlier this week, Netflix revealed that they're currently planning on releasing a new Marvel series about every six months. That means we'll likely be seeing The Defenders as early as 2017, just in time to wrap things up for Infinity War – Part 1.
What new Netflix series will we be seeing next?
Next in the queue is Jessica Jones, which Netflix is planning on premiering before the end of 2015. The series will follow a superheroine who hangs up her costume after a tragic accident. She subsequently opens up her own detective agency, dealing with some of New York City's more… eccentric clients.
And after that?
Following Jessica Jones will be Luke Cage, then Iron Fist. Once all of those have wrapped up their initial seasons, expect to see a team-up miniseries called The Defenders, which will bring all of these street-level NYC heroes together for the first time (although some of them may meet each other a little bit sooner).
What about Daredevil Season 2?
That's still coming, and doesn't seem to be factoring into Netflix's current "every six months plan." Filming for Season 2 began earlier this month, with an expected release sometime in 2016. That means it's very possible that we'll be seeing three Marvel-Netflix shows next year, which is great news all around.
In the meantime, we've got Jessica Jones to look forward to later this year, and by all accounts, it's supposed to be really good.

The Star Wars galaxy is about to get a whole lot bigger.

A few hours ago, Disney released a press kit for their 2018 slate. In it, we've gotten our first official description of what exactly this year's Star Wars installment is going to be about.

Today, The Force Awakens beat out Avatar to become the highest-grossing movie in the U.S. of all time. That being said, it has a long way to go if it's going to top Avatar's worldwide earnings.