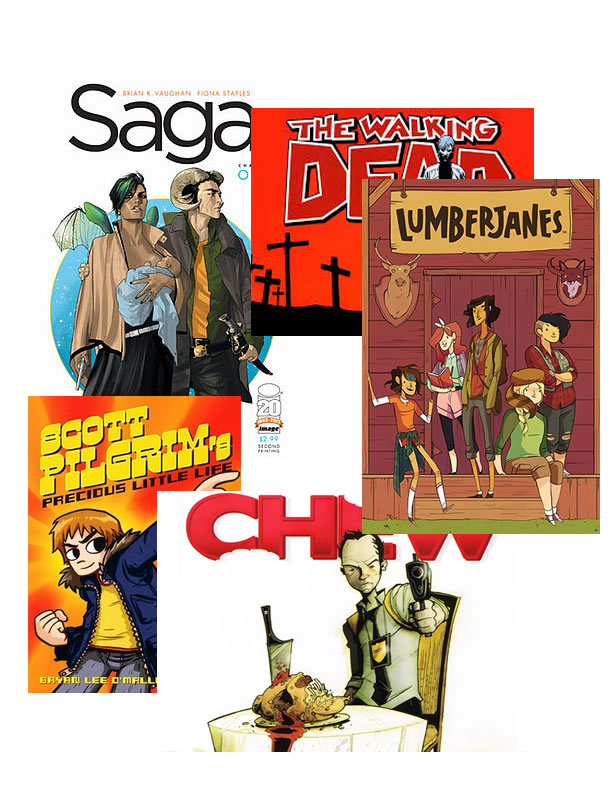 Community Post: This article was submitted by a member of our community. Find out how you can publish your own writing here!

Okay, let's not get off on the wrong foot. I love DC and Marvel as much as the next person, but independent comics were how I got in to reading comics on a regular basis. It wasn't until I was handed a stack of Avenger's Academy, Runaways, and Alan Moor's Guide To The DC Universe by my brother's girlfriend that I started reading things that came out of the Big Two. So while I do love DC and Marvel, I'm always a little saddened by the amazing breadth of comics that my DC/Marvel devotee friends don't know." title="" class="wysiwyg-break drupal-content mceItem" data-mce-src="/sites/all/modules/wysiwyg/plugins/break/images/spacer.gif" style="border-width: 1px 0px 0px; border-top-style: dotted; border-top-color: rgb(204, 204, 204); cursor: default; display: block; margin-top: 1em; width: 1552px; height: 12px; background: url(http://8cn.tv/sites/all/modules/wysiwyg/plugins/break/images/breaktext.gif) 50% 0% no-repeat transparent;">
So where do you jump in to this crazy world of other comics? Good question. These are my top ten suggestions for series to start with.
Saga – Image
A new publication this year, Saga is one of the best written comics I have read. Written by Brian K Vaughan, and art by Fiona Staples, it follows the story of Marko and Alana, soldiers from opposite sides of a pan-galactic war, and is narrated by their daughter Hazel who is born in the first issue (I promise, this is not a spoiler). Saga is written honestly and well, the the art goes beyond that to create a whole story. Staples is also unique in that the entirety of her art is produced digitally, as well as by being the sole artist visual artist involved in the creation of the comic.
Beyond Wonderland – Zenescope
I love retellings of old stories, and re-imaginings of Alice In Wonderland are some of my favorites. Released in 2013,  Beyond Wonderland is the first volume of a horror version of Alice in Wonderland, taking place after Alice's initial trip to the other side of the looking glass. Not for the faint of heart, this comic is a great place to start if you want to jump in to a new imagining of an old classic. Written by Raven Gregory, and art work by Daniel Leister.
Scott Pilgrim Vs The World – oni press
Thanks to the movie, many people know the name Scott Pilgrim Vs The World. With a video game esque set up, Scott must defeat Nora's seven exes in order to be able to date her. Both written and drawn by Brian Lee O'Malley, whose unique art style keeps the visual interest going, Oni Press has produced it is a great self contained read. With the series having run from 2004 to 2010, it is complete in six trade paperbacks.
Daytripper – Vertigo
Okay, this is not your normal set up for a comic. Written and illustrated by brothers Gabriel Ba and Fabio Moon and published by Vertigo, the main character is followed throughout his life — or lives depending on how you look at it. Different issues give us an insight to the different ways his life can go, from surfing on an island to his early interactions with his family. As far as slice-of-life stories go, this is one of the best to jump in to. Because of its narrative style, people who are not used to reading comics won't necessarily feel like they're being forced in to a new style of reading, as the lettering flows seamlessly with the images.
Lumberjanes – Boom! Studios
If you like the visual style of Adventure Time, you'll like the style of Lumberjane's illustrator Brooke Allan. Written by Grace Ellis and Noelle Stevenson, this is definitely aimed towards an audience that takes a less serious stance on some of their reading material. A story about a group of female friends at a summer camp blends summer-camp-feel-good stories with camp-fire-boogy-man stories. This is one of the few on this list that I would also recommend for younger readers, in addition to the newly indi converted reader.
Y: The Last Man – Vertigo
A virus has, over night, wiped out everything on the face of the earth with a Y chromosome, except for our protagonist, Yorick, and his monkey, Ampersand. Written by Brian K Vaughan, this series ended in  2008, but not before winning Eisner awards for best writer and best continuing series. If you like well written female characters — that are not created simply to have a strong female character — Y: The Last Man has an entire world of them. The driving story of Yorick trying to locate what is left of his family, his girlfriend, and his life, while staying alive in a world that suddenly makes him not only the minority, but a hunted minority is only made better by the inclusion of storylines that force you to question world views and roles. yes, heavy, I know, but it is executed in such a way that makes this a perfect first read for someone getting into comics. With commentary on how we live our lives and what our expectations are, this story is a great gateway for people who are not fans of capes or fantasy, or even your traditional post apocalyptic story.
The Walking Dead – Skybound
If you're looking for somewhere to enter in to comics from a point of view that you're already familiar with, take a look at The Walking Dead, by Skybound. Written by Robert Kirkman, with art by Tony Moore, and Charlie Adlard, the comics that the tv show is based on make a great recommendation for anyone who loves a good zombie movie or story in general.
Lazarus – Image
Written by Greg Rucka, with art by Michael Lark and Santiago Argas, Lazarus takes place in a military controlled world, where conflicts between reigning families determines the lives of all of those in their wake. The main character, Forever, is the Lazarus of the Carmichael family, a super soldier of types. The story mixes familial deceit and familial conflict in to an interesting paramilitary reality.
Chew – Image
Culinary black market, meets a detective with special food based abilities? Yes please! If you're a fan of detective mysteries, I highly recommend getting started with Chew, written by John Layman, with art work by Rob Guillory, Chew takes place in a reality where Chicken as a blackmarket commodity and the FDA operates much like our FBI. The story follows Tony Chu, a detective with the ability to see the history of anything that he tastes or eats. As you can imagine, this makes for interesting methods of detective work.
Serenity – Darkhorse
A continuation of the Firefly stories, Darkhorse has put out four volumes of a Firefly story. Written by Joss Whedon and Brett Matthews, they do a very good job of continuing the story that we know and love. It was a bit awkward to transition from seeing them on the screen to interpreting them from a page, but it is still a great way to get in to a series from an already established universe.
Obviously there are a lot more out there, and a lot more companies and genres, but these are some of my favorites. Did I miss something? Got a suggestion? Start a conversation in the comments.
Next week I'm going to be talking about super hero comics, so check back next Monday.
Community Post: This article was submitted by a member of our community. The views expressed are the opinions of the designated author, and do not reflect the opinions of the Overmental as a whole or any other individual. We will gladly cooperate in the removal of plagiarism or any copyright infringement. Please contact us here.

Community Post: This article was submitted by a member of our community. Find out how you can publish your own writing here!Yet another week comes to a close which means it's time for new music!! Each week a whole slew of new stuff is splooged onto the [...]

Community Post: This article was submitted by a member of our community. Find out how you can publish your own writing here!Hey kid! Like new music? Great! You've stumbled into the right rabbit hole. I'll tell ya what's good, what's bad, and what's a [...]

Community Post: This article was submitted by a member of our community. Find out how you can publish your own writing here!2013 winner of NMW's best album of the year, Neko Case, returns from a five year vacation from solo work next week, offering [...]