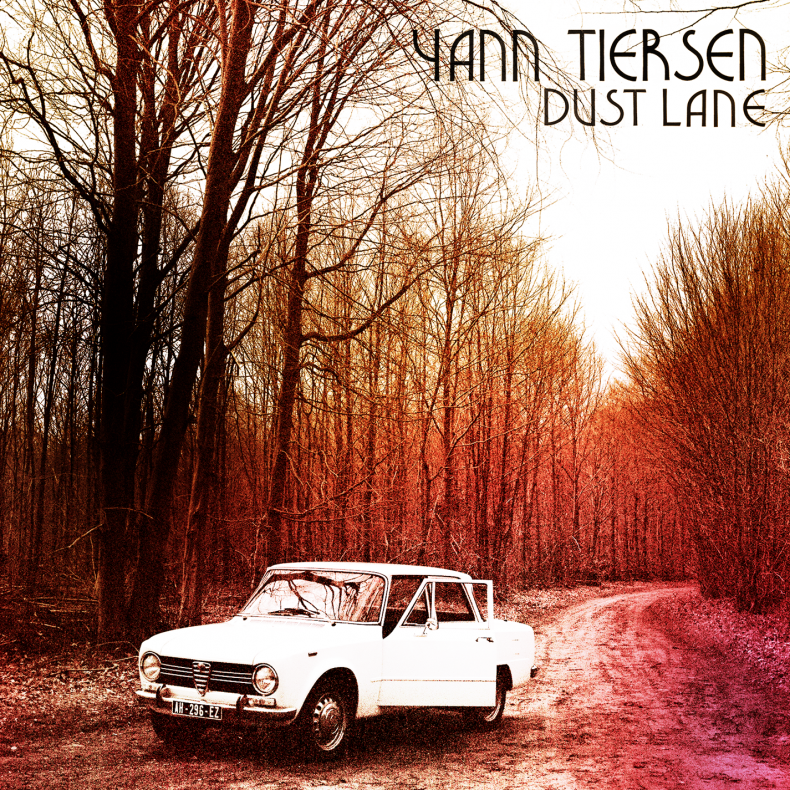 Community Post: This article was submitted by a member of our community. Find out how you can publish your own writing here!

Welcome back to The Underlooked, where we look at things that are overlooked, but we call them "underlooked" in a cheap bid to stand out against the thousands of columns exactly like this one. This week, we're looking at one of the best albums of its decade: Dust Lane, by Yann Tiersen.
Yann Tiersen is a French musician, composer, and songwriter who has been active since the mid-nineties. His name is not entirely obscure; in particular, many know him as the composer of the soundtrack for the 2000 film Amelie, for which he has received much praise. That soundtrack is mostly made up of pre-existing tracks by Tiersen, with a few original tunes thrown in for good measure. It is characteristic of his early work: a quirky, charming mix of accordions, violins, glockenspiels, pianos, mandolins, toy pianos, and other acoustic instruments mostly played by Tiersen himself. The music is essentially modern chamber music: the songs are brief, instrumental, and alternate between upbeat and fun, and beautifully moving.
Tiersen was a restless spirit, however, and had already begun to experiment by the time Amelie was released. He started working with vocalists, incorporating an electric guitar or two into the mix, and occasionally working within more familiar pop structures. Tiersen grew up during the post-punk era, and apparently broke his violin and immediately bought an electric guitar in an act of teenage rebellion. Later on, he recognized the power of classical instruments, and he retained that wisdom even as he moved towards a more rockist approach. However, many of his fans started to jump off the boat at this point; cries of "Judas!" and so forth. Which is a real shame, because if they had stayed around just a bit longer, they would have heard something extraordinary.
During the recording sessions for his sixth album, Tiersen's mother and a close friend of his both died. I think it's fair to assume that this had a rather profound impact on his work, as the resulting album, 2010's Dust Lane, is a poignant song cycle about death, as well as some adjacent themes. The spare, often feverishly repeated lyrics reveal a man struggling to resolve the chaos in front of him into some kind of purpose, which is what the album is really about: not death exactly, but life in the face of death, and impermanence in general. These are ideas we are all familiar with, but they can suddenly become frighteningly real, and holding on to belief in anything while the knowledge of your own mortality is staring you in the face is an incredible challenge. This album is nothing less than that: a musical genius confronted with the fact of death, and attempting–I would argue successfully–to find a way of looking at it which reveals it to be a truly beautiful thing.
It helps that he did this with the best material of his career, too. Taking the at once playful and sad tendencies of his early albums to unfathomable extremes, Dust Lane is an album of joyous, raucous tragedy. The wide array of instruments is still present, but here it is supplemented with washes of drums, electric guitar, and members of Tiersen's collection of vintage synthesizers. The result is a series of lush, dense, post-rock journeys with leanings towards shoegaze, folk, krautrock, a bit of dream-pop, and ambiance, as well as Tiersen's neo-classical roots. The dizzying highs and unbearable lows that this album packs into its eight tracks are too much to sum up with generalized statements, so I'm changing the format up a bit. This is one of my favorite albums, so it deserves a more in-depth look: I'm going to break down this record song by song. I feel it is the only way to do this work justice, so let's get started.
Amy
We begin the record with Amy. At first, we are greeted with silence. A few vague, ambient sounds reveal themselves. Slowly, the song begins to ease itself into existence, going from droning chords, to a folk-rocky groove, until it finally explodes in all its synth-driven, hazy glory. There is something instantly gratifying about the song's big, sweeping, major-key grandness, but it is a song divided. As will become apparent, this is often a very sad album, and this song is not entirely out of place with that. Even aside from the lyrics, there is a wistful, searching quality to the music; it is a helpless smile at the sight of something beloved burning to the ground.
Tiersen's vocals are barely audible at first, as he  rattles off a series of images in an undertone, sounding like he is speaking only to himself. "Midnight/New Year's Eve/Amy's swimming/Fireworks/Oil stations/Something anyway/Sinking."  It sounds very much like the narrator is remembering something, something related to the state he is in presently. Once the dynamic changes and the chorus kicks in, Tiersen's lone ruminations are suddenly accompanied by a spectral choir of backing vocals, obscuring the lyrics even further: the vocals on this record can make Michael Stipe look like John Darnielle in terms of discernibility. Thus, we are often left with what Van Morrison referred to as the "Inarticulate speech of the heart," as we catch snatches of words or phrases here and there: "After the war we moved further to the west/Leaving Amy on a never-ending path/Kinda lost in an overwhelming bath/Now we feel the anger growing in our chest/There you know/There you know/You know, my friend/From now on, that's how it goes."
What does it mean? That may not be for us to know. The theme seems to be lack of direction, what with the references to being lost, or on a never-ending path. It's easy to get lost, and to feel that whatever purpose you had in life is now missing; much like the song itself, life is hard to derive any kind of meaning from. There also several references to anger, continuing in the bridge: "My anger/Sweetheart/ Wake up/No riots for this/Let's burn this mess." One gets an impression of a man pounding on his walls in the middle of the night, knowing that he used to have something that he doesn't have anymore, furious with himself and and everyone around him because he doesn't know what he's doing at this point. Whatever the real story being told in the lyrics is, that much is clear: this is a song about longing for something which was once there and will never be again, even if it isn't clear what or who it is, or why it's gone.
Heavy stuff, but coming in the midst of the beautiful music, the lyrics take on another facet. The world weariness in the song is palpable, but it is coupled with a resolve to trudge on, as long as it is possible. The characters in the song are sad, yes, but they're also making the best of things, which is the only happy ending this record looks for. These competing sides make for a profoundly melancholy song which isn't depressing in the least: it's rock and roll without any attitude, using the upbeat tension-and-release qualities of popular music and re-appropriating them in a new musical language of pure atmosphere and emotion. It's the perfect introduction to an album that defines the word "Bittersweet."
Dust Lane
The anti-anthem of Amy segues into the album's chilly title track, Dust Lane. A spare, very autumnal-sounding intro sets the tone, with arrangements reminiscent of Tiersen's earlier work. A picked acoustic guitar is joined by strains of mandolin, accordion, and piano, while fragments of a woman's voice on a radio tell us something about "Dust Lane…Again…" In contrast to the clear crescendo-by-degrees progression in the previous track, Dust Lane's structure is a little more unpredictable. The intro eventually subsides into a sighing, ambient interlude, punctuated by stabs of Robert Fripp-esque guitar. It sounds as though the song keeps trying to pick itself back up, but is too weary to do more than lunge and falter in one direction or another.
Without warning, the last thing we could expect enters the scene: a rollicking, stomping drum beat. The other instruments join the fray one by one, using the same chords from before, now transformed from the reserved coldness of the intro into something wild and desperate. Then the lyrics proper appear: "We are boys and girls/Of the New World-Trade Union/We Just want to buy something/We just want to lose control/Of our thoughts, of our thoughts, of our thoughts…" Tiersen appears to be mourning the state of our world by uniting its dwellers in a twisted rallying call to the disaffected. This is repeated several times; the damaged generations holding their own failure aloft like a flag, finding equal disappointment in their planet and themselves. This is not the only time the album looks outside the pains of the individual and instead focuses on those of the world at large (There is a song later on called Palestine). The idea is that it's the same thing: everyone is lost and afraid, whether you view them on mass or one at a time.
But then a funny thing happens: the key changes. When the self-effacing mantra has ceased to be recited, the tone of the song abruptly becomes triumphant, even fun, as the thump of the drums becomes more erratic and synths take the place of the vocals with warm, rich harmonies. This oddly joyful coda lasts until the end of the track, leaving us with a satisfying conclusion to a song which appears to be primarily about social unrest and discontentment. It is one of the biggest mysteries of the album: how does such disillusionment lead so logically into such joyous abandon? The answer may be revealed later, as Dust Lane seems to comprise the album in miniature: a journey through light and dark, exploring both the distance between them, and the idea that when it comes down to it, they both come from the same place.
Dark Stuff

From the highs of the title track's puzzling coda, we now descend into the album's deepest trench. Living up to its title, Dark Stuff is a Gothic, lurching dirge for whatever happens to have been destroyed at any given time. This is as close to purely instrumental as the album gets: we get more of Tiersen's almost whispered vocals at first, but instead of the chorus later on that we've come to expect, we get…well, we'll get to that. The track starts in similar territory to the first half of the one before it: quiet, very non-rhythmic wandering, based around a pair of wheezing melodicas croaking at each other and echoing into the void. As we settle in for another slow build-up, we are again confounded: a jagged, oddly timed riff cuts into the mix, jerkily lead by a squealing, choked guitar line and some demented percussion to punctuate the music's unhinged feeling. The riff is gradually layered beneath the melodicas from before as well as Tiersen's cryptic mumbles, eventually finishing into a quiet swarm of white noise and ghostly swoops.
And then it starts. A spare piano line, a chiming guitar part, waltzing together in the darkness. The stumbling guitar and drums haphazardly join them, adding an edgy uneasiness to the proceedings. Then, starting with a single, piercing, female howl, a multitude of wordless voices begin to moan together, and the song is pushed into another dimension, the sound of a group of musicians united by a single, unexplainable emotion and a drive to express it using the only means available. It's a sadness that somehow soars the way only joyful music is usually able to, a shriek into oblivion not of nihilistic despair but simply of unbearable pain, divorced entirely from self-pity. The song doesn't so much end as run out of breath, expending every ounce of energy it has, climaxing in an abrupt silence of everything besides a string section which joined somewhere along the way, followed by a quiet finish. Dark Stuff is grief given a voice, the album's midnight, and while the worst is over, it's still a long way to the dawn.
Palestine
Taking Tiersen's minimalistic approach to lyrics to its logical extreme, the lyrics to Palestine are just that: the word "Palestine", spelled out letter by letter, repeated for four minutes. Not quite what you would call readable, but the lyrics aren't exactly the point. The real drive of the song comes from its music: a sinister, layered groove propelled by drums, two guitars, and glockenspiel. The track's minor chord progression and screeching guitar riff appear to answer the misery of Dark Stuff not with joy but with gallows humor: Palestine actually comes close to being fun at times, but still retains the stormy atmosphere of the songs before it. It's a bizarre marriage between catchiness and numbness, piling memorable phrase on top of memorable phrase, all in service of something which is still miles away from being "Accessible" in the traditional pop sense.
"P. A. L. E. S. T. I N E." Coming in the middle of an album on which the lyrics are already hard to wrestle meaning from, this is downright impenetrable. It almost defies any interpretation whatsoever: who's to say they have discovered the "Meaning" of the letters that spell the word "Palestine"? And yet…it's not really that simple. In the context of the album, and situated as it is against the cacophonous music, the meaning not only becomes understandable, but obvious. Tiersen is, by implication, comparing his own emotional state to one of the most chaotic locations on the face of the planet. Its boundaries are nebulous, it is constantly at war, often with itself, it makes alliances and terminates them all the time: this is a bold, yet perfect metaphor for a troubled heart and mind. At the same time, the dichotomy of the album is present here as well: Tiersen stated that one of his previous tours had ended in Gaza city, and he was shocked at the hope that was present in the middle of such violence and meaningless suffering. That persistent hope in the midst of chaos and darkness is what this entire album is concerned with.
Community Post: This article was submitted by a member of our community. The views expressed are the opinions of the designated author, and do not reflect the opinions of the Overmental as a whole or any other individual. We will gladly cooperate in the removal of plagiarism or any copyright infringement. Please contact us here.

Hey there music lover! You like new stuff? Great! You've stumbled into the perfect corner of the internet.  Each week all sorts of audiolicious goodies are unleashed onto the masses and this is where they come to be judged. I'll tell ya what's good, [...]

Hey there music lover! You like new stuff? Great! You've stumbled into the perfect corner of the internet. Each week all sorts of audiolicious goodies are unleashed onto the masses and this is where they come to be judged. I'll tell ya what's good, what's [...]

It's that time of year music lovers, time for the end of the year lists! First up, my top 10 or so songs of the year. Not strictly singles, mind you. Any song released on an album this year is eligible for a spot on this list. This is the sixth year of [...]