It's a Marvel movie, so it's a safe bet that Captain America: The Winter Soldier is jam packed with little details and connections to the rest of the MCU, as well as the original comics. Check out 21 of our favorites below (spoilers obviously)!
1. Stephen Strange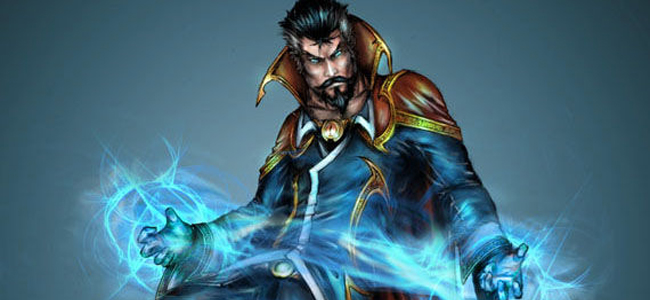 It was just a offhanded mention in a throwaway line, but the late Jasper Sitwell just gave the Sorcerer Supreme his official Marvel Cinematic Universe introduction. In the comics, Stephen Strange is the birth name of Doctor Strange, a powerful superhero with magical powers. Strange is apparently on Hydra's radar already, as he was one of the millions the organization planned to wipe off the face of the Earth.
Marvel head-honcho Kevin Feige has previously confirmed that a Doctor Strange movie is in development, and with his mention here, perhaps he'll find a spot in Phase Three.
2. Sharon Carter
It turns out that Captain America's neighbor was actually a SHIELD agent in disguise, and not just any old agent at that. The Winter Soldier revealed that Agent 13's real name is Sharon, as in, Sharon Carter. It's not clear right now how they're related, but she's almost certainly connected to Peggy Carter (who also has a small role in this movie), co-founder of SHIELD and Cap's former lady-friend.
In the comics, Sharon becomes Steve Roger's girlfriend (she was Peggy's sister, and later retconned to be her niece), and in the Civil War arc, inadvertently helped to kill him alongside…
3. Crossbones
In The Winter Soldier, Brock Rumlow (played by Frank Grillo) was part of the Hydra presence hidden inside SHIELD, carrying out Alexander Pierce's dirty work. While he appeared in perish while fighting The Falcon, the montage near the end reveals that he made it out, albeit with some major burns and injuries.
They never use his super-villain codename in the movie, but in the comics, Rumlow is known as Crossbones, and was a lackey to Captain America big baddie Red Skull. More importantly, in the Civil War arc, he and Sharon Carter successfully carried out the assassination of Captain America.
4. Stark
Iron Man himself was nowhere to be found in this movie, but his name makes several appearances. The first was a mention by Nick Fury that Stark had redesigned the Helicarrier engines after getting a "closer look at them," referencing a scene from Avengers where Stark is nearly torn apart inside one of them.
The second is the reveal that SHIELD co-founder Howard Stark's car accident was no accident at all, and that he had been assassinated by Hydra as part of their mission to take control of the covert organization. Finally, the montage at the end of the film shows that now that SHIELD is out of business, Maria Hill is interviewing for a position at Stark Industries. I'm guessing she'll get the job.
5. Avengers Tower
Speaking of Stark, in the scene where Hydra's targeting program takes aim at the millions worldwide it has deemed a threat, we get an ever-so-brief look at the new Stark Tower, now re-branded as the "Avengers" tower. Is this an open invitation from Tony Stark for the Avengers to meet up here when the world needs them?
6. Hulk Science!

Where was The Hulk during all of this? Apparently making some science, as Nick Fury mentions that the drug he took to slow his heart-beat down to a death-like one beat-a-minute was created by Banner.
7. Hawkeye + Black Widow?
We covered this one way back when the image first appeared online, but if you happen to watch this movie with a telescope, you might just notice that Black Widow is wearing an arrow necklace. Considering her past history with Hawkeye as mentioned in The Avengers, this probably isn't a coincidence. Are the two of them the Marvel Universe's first power couple? I hope Clint Barton doesn't get upset that Cap stole a kiss from his girl, because you know, he'd probably lose that fight.
8. Cap's List
It's not an Easter Egg per se, but the scene moves fast enough where you might've missed a few entries on Steve Roger's to-do list.
9. Colonel Chester Phillips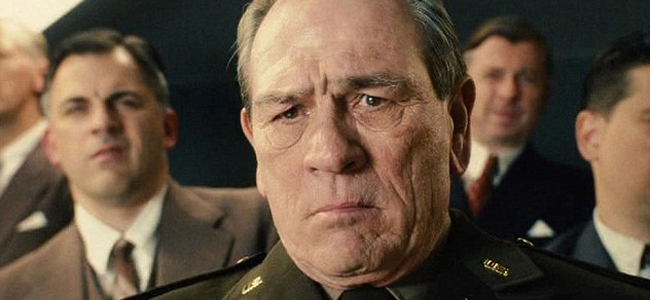 Blink and you'll miss it, but if you're aching for some Tommy Lee Jones, his character from the first film has a little portrait on the wall of the SHIELD bunker that Black Widow and Cap visit. He's featured alongside Peggy Carter and Howard Stark, perhaps implying that he had a pretty big role in the formation of SHIELD. Maybe we'll get to see a bit more of this side of the story whent hat Peggy Carter TV series gets off the ground.
10. Howling Commandos
Aside from Bucky, only one Howling Commando has appeared since Captain America: The First Avenger (in the Marvel One-Shot Agent Peggy Carter), but at least we get to see their costumes reunited at a museum exhibit that Cap visits. In the comics, the Commandos were led by none other than Nick Fury, and went up against Wolfgang von Strucker (who appears in the mid-credits stinger scene in The Winter Soldier) during WWII.
11. Stan Lee
If you missed this you should be ashamed of yourself, but Stan Lee unsurprisingly has a cameo in The Winter Soldier. He plays the night watchman at the museum with the Captain America exhibit, and likely just lost his job. Thanks Cap.
Lee didn't create the Captain America character, but he and Steve Rogers definitely have some history. Lee's first ever gig as a comic writer was for a text filler story in Captain America Comics #3, then published by Timely Comics. In addition to being his first step in a long, long career, it also introduced Captain America's trademark ricocheting shield throw. Nicely done Mr. Lee.
12. Ed Brubaker
Another comic book creator has a small cameo in the film as well. Ed Brubaker, the guy behind the original comic book version of The Winter Soldier, appears in the scene where Bucky Barnes is getting his memory wiped.
13. Spaghetti Sauce
Robert Redford's Alexander Pierce has a jar of Paul Newman's spaghetti sauce in his fridge, giving us a nice little Butch Cassidy and the Sundance Kid reunion. That, or Marvel is teasing a CGI-recreated Newman for Avengers 2.
14. Batroc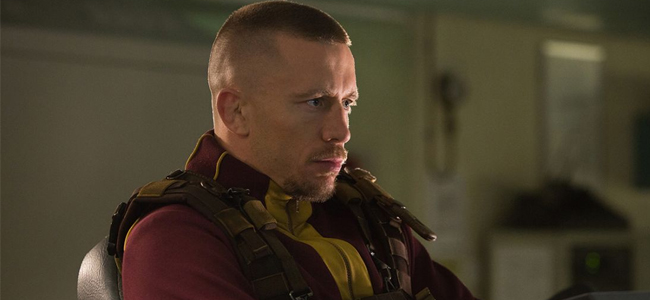 Batroc is a bit of a joke character in the comics, but former UFC champion Georges St-Pierre gave the character a bit of an edge in the film. The comic book version took the name Batroc the Leaper because he's good at jumping (no joke), and has no superpowers beyond being an above-average hand-to-hand fighter. St-Pierre definitely did some leaping in that fight scene with Cap, and is even wearing a top similar to Batroc's trademark purple and yellow jumpsuit.
15. Arnim Zola
Zola, who had a small role in the first Captain America movie, returned in The Winter Soldier digitized, having masterminded Hydra's Propject Insight plan. This isn't itself an Easter Egg, considering it'd be pretty hard to miss, but his appearance is likely a cheeky reference to the comic book version, wherin Zola is literally a giant, walking computer.
16. Community Connection
Danny Pudi's appearance in The Winter Soldier wasn't just by chance, the film's directors Anthony and Joe Russo were producers on Community, which features Pudi in a starring role. Will this become a meta Abed joke in the same vein as Cougar Town? I really hope so.
17. Pulp Fiction
Nick Fury is apparently a fan of Tarantino. On his tombstone near the end of the movie is the inscription, "The Path of the Righteous Man — (Ezekiel 25:17)," echoing one of the most iconic monologues in movie history.
18. Baron Wolfgang von Strucker
We got word a few months ago that Thomas Kretschmann had been cast as Von Strucker, a minor villain in Avengers: Age of Ultron, and now we know why. With Hydra outed as a huge threat and The Winter Soldier stinger scene featuring some big reveals in that Hydra base, it's no wonder why the Avengers are going to need to get the team back together.
19. The Loki Pokey Stick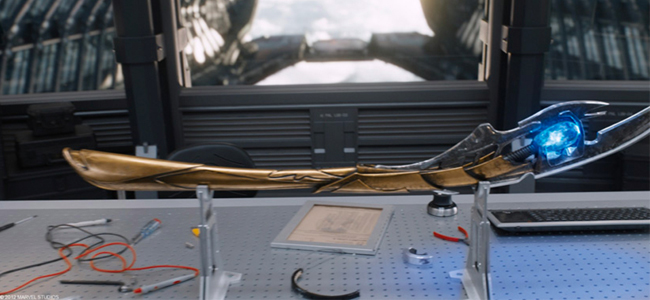 The staff Thanos gave Loki in Avengers makes a small appearance in the mid-credits scene. It's not clear what Hydra is doing with it (or if they even know how to make it work), but in any case, it's bad news for the good guys.
20. The Twins
It's not exactly an Easter Egg considering it was the entire point of the stinger scene, but Quicksilver and Scarlet Witch make their debuts in the mid-credits scene of The Winter Soldier. They aren't specifically named (Von Strucker calls them "the twins"), but it's definitely them. As evidenced in the scene, Quicksilver can move at superhuman speeds (he didn't seem too happy about that though), while Scarlet Witch can bend reality, defying gravity with those toy blocks (she seemed pretty happy about that).
Interestingly, Von Strucker referred to them as "miracles." In the comics, the pair are the children of Magneto, the primary antagonist of the X-Men. Fox owns the rights to the X-Men name and much of the surrounding material, so could "miracles" be Marvel's term for mutants? Either way, they'll be key figures in Avengers: Age of Ultron next year, so we'll be seeing plenty more of those two in the future.
21. The Next Captain America?
This one's a bit of a stretch, but could this frame be hinting towards the future of Captain America movies? In the comics, Steve Rogers is gunned down at the end of the Civil War arc. Picking up the mantle (and the shield) is none other than the now-reformed Bucky Barnes.
While this one image is hardly conclusive, it's interesting to note that Sebastian Stan, who plays Bucky's MCU equivalent, has a nine-picture deal with Marvel, while Chris Evans only has two more movies on his contract. Evans also recently expressed an interest in taking a break from acting. What do you think? Easter egg? Foreshadowing? Just a cool shot? All three?
Did we miss any Easter Eggs? If so, let us know in the comments section!

Funny Books is back, and ready to piggy back on that sweet, sweet Avengers gravy train. From now until the premiere of Avengers: Age of Ultron, Funny Books will take a look back at some of the Avengers' most important moments. This week, the Avenger's [...]

Captain America's new Winter Soldier costume has been revealed. In addition, Comic Book Movie, Cleveland.com, and photographer Bela Szucs have provided photos of Chris Evans and Sebastian Stan in action on the Cleveland set. Captain America:The [...]