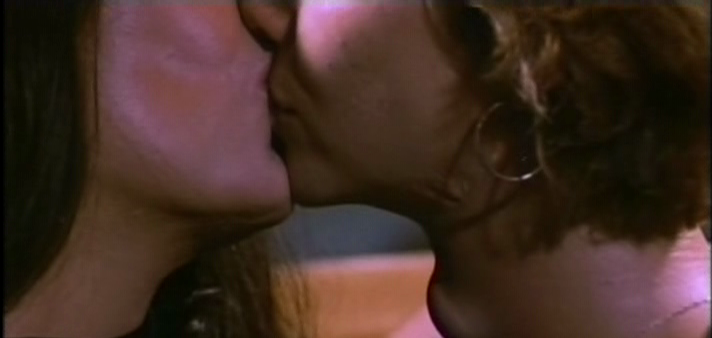 Horror movies featuring sex? Easy. Horror movies that make you fear sex? Challenge accepted. In honor of the wide release of critic-fave horror flick It Follows, we compiled a list of horror flicks guaranteed to retract the genitals into the abdomen.
As Cabin in the Woods taught us, there's a barrel of reasons why we love to see horny teenagers die in horror movies, why sex and terror go down so smoothly together, but maybe it boils down to this: we never feel more alive than during sex, so logically, the most consummate horror moment is when a sex act transmutes into a cold steel blade cutting up through the mattress. That's the basic ingredient, that 180 degree psychological turn.
Given that principle, it's no surprise that there's a certain breed of horror cinema that pushes this one button as far as it can go, until all things phallic are knives, and all things yonic are mouths of hell, and you just have to respect the craft behind that…
The recently widely-released horror flick It Follows, hailed as one of the smartest, most satisfying American horror films in years, follows in that very tradition. While it isn't quite as good as Cabin, thanks to a wandering second half, it still manages to ice hormonal teens in a completely refreshing way, which is why It Follows kicks off our list of the most celibacy-inducing horror movies ever. (Also, it should go without saying, but some of these videos are not only NSFW, but NSFLife).
1. It Follows
The premise of the film is simple, but the implications are manifold: a young twenty-something woman has sex on a date, and is told afterwards that something is now following her as a result, and she mustn't ever let it get to her. It's a sexually transmitted murder curse that neatly packages nearly every anxiety about sex that young people could ever experience, from pregnancy, to STDs, to slut-shaming—there's definitely a prevailing sense of shame throughout the whole film, as our protagonist basically has to broadcast her sexuality if she wants help from her friends, and resorts to sleeping around in order to stave off that mysterious Something. It's kind of like the Scarlet Letter, except instead of everyone slutshaming you for wearing an embroidered letter, everyone feels bad for you because you're going to die. Eventually, everything beautiful about sex is stripped away, and despite all efforts, there will always be a stain of horror, anxiety, and judgment marring the act.
2. Teeth
It's a bit conflicting writing about Teeth as a sex-destroying horror movie since, at its core, it's a very positive reclamation of sexual security for women. The film starts out as the vagina dentata urban legend tale that you'd expect, but then morphs into a bizarre, grindhouse-y vigilante story as our toothsome heroine comes to grips with her bodily atypicality. There is member dismemberment aplenty in Teeth, enough to make even the gamiest of penis-wielders flinch before the thrust. What I love most about Teeth is that it actually worked; male critics on message boards everywhere (just check out the IMDB message board) expressed their discomfort with the castration scenes, and wrote off the film as feminazi, man-hating propaganda–completely ignoring the fact that everyone castrated in the film was either a rapist or a creep. Now that's horror with a cause.
3. Shivers
Shivers is what a zombie movie could be if the zombies were not decomposing, and were thirsting for sex rather than brains. It's a movie that boasts both an erotic nurse strip scene and leaping fetus-maggots, one that dredges up everything socially frightening or unacceptable about sex, from incest to… well, other things. The final twenty minutes see the hero evade a parade of sex-zombie traps, that range from the surreal to the taboo, and ultimately provides a vision in which everyone is a potential rapist, or in which the 60s suburbanite nightmare of hippie free love came true. It's certainly burnt-looking around the edges, but regardless, it's a statement that director David Cronenberg (The Fly, Eastern Promises) just never took it easy, even early on.
4. Eraserhead
Like David Cronenberg, David Lynch's entire filmography could find a spot on this list (Dune included) but I settled on Eraserhead, simply because so many comments have been made regarding its strangeness that the basic tension is often drowned out. It's just a pregnancy story is all, but one that'll have you rushing to get your tubes tied, maybe three times just to be safe. It's about a man named Jack Nance who suddenly finds himself saddled with responsibilities he can't understand, and his failures take on nightmarish proportions; he dreams of worm-like spermatozoa burrowing into space; his elderly mother-in-law-to-be forces herself upon him before informing him that he's now a father; the mother flees the crying child (which resembles a fetal sandworm from Dune, actually) in hysterics; and in Jack's efforts to soothe the newborn worm, he accidentally disembowels it… So how 'bout that doctor's appointment?
5. Antichrist
Now we've talked a lot about destroying sex on this list, but it's safe to say that few films pursued the subject with such gleeful vengeance as Lars von Trier's now-infamous Antichrist, in which a couple retreats to a forest cabin for psychological therapy, following the accidental death of their son. If I had the time to devise a scorecard for sex-destroying horror, Antichrist bowls the 300, and not even just for destroying both the clitoris and the penis at some point (bonus points for blood ejaculate). The act of procreation is just so abjectly defecated upon, especially with an early shot of a dead deer-fetus, half-hanging from its mother's womb. The mounting hysteria takes new dimension from the unhinged mother's research on the topic of witchcraft and gynocide, and culminates as one of the darkest visions of sexuality every committed to celluloid.
6. Begotten
(I haven't felt the need to include a disclaimer, until now, but this is different; your life really is complete without you having to watch any of Begotten. But, well, here it is.)
So what could possibly, possibly follow up Antichrist, you might ask? What could more effectively shrivel the 'nads into little raisins frightened of the sun than Lars von Trier? I'd say that Begotten not only trumps Antichrist in terms sheer, sex-destroying fright, it towers over every film on this list, like a Galactus amongst mortals.
I had a long debate with myself whether the film even constitutes a fear of being a sexually active individual, since it's really about the horror of being anything at all: it's a deeply surreal, deeply disturbing re-imagining of the Book of Genesis, where everything is black and white and everyone is bleeding. But I do think it belongs, because if you destroy the beauty of procreation, I'd say you've destroyed sex quite definitively, and Begotten dispatches birth with cold leather gloves. God murders himself and begets screaming man, nature is violated and murdered by man, man is murdered by man, and so forth. Every disturbing frame gives birth to new life, sometimes in the form of a new being (a new receptacle for pain) or maybe a spray of flowers over a grave, which is really just as disturbing, because it tells us that beauty has no correlation with human comfort–nature would be just as lovely decorated in our anguish and blood. Life and creation keep rolling in, oblivious to our screaming nerves and minds.
And so, if there's anything we can learn from today, it's that you don't have to home-school your kid to keep'em away from sex–rent a movie instead.

The Toronto International Film Festival isn't generally known for its genre fare (it's more recognized for its ability to predict Oscar winners), but that doesn't mean there isn't plenty to check out if you're something a [...]

"Made for TV" is not a badge of honor as far as movies are concerned, but these six horror films made it work (and scared the pants off of me in the process).