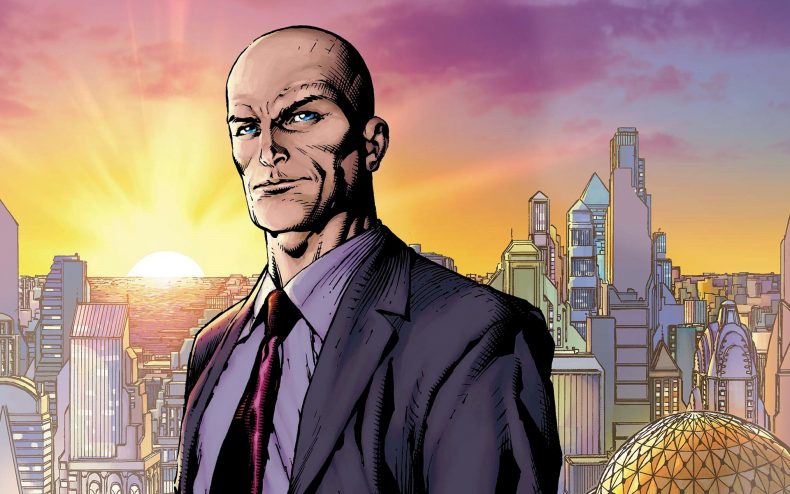 Jesse Eisenberg as Lex Luthor was a bit of casting no one saw coming.
After all, Lex is supposed to be an intense, intimidating character, and Eisenberg could easily pass for a high schooler if he wanted to. That's left a lot of fans wondering just how in the heck he's going to pull it off? Is it a radically different take on the character? Will it be a younger version of Lex Luthor? Will he even be bald?
We won't really know until we see him in action, but at the very least, we do have an answer on that last question.
This image debuted at Entertainment Weekly earlier today:
So full on bald, eh?
It seems that Eisenberg has managed to hide his current lack of hair by wearing hats in public for the past couple of months.
I'll also admit that it's definitely contributing to a much stronger "Lex Luthor" look in my mind. Eisenberg looks surprisingly intense, and I really dig it.
Will this be the same ol' Lex, or a much different take on the character?
Here's how director Zack Snyder is describing Eisenberg's version:
He's not any of the Lexes that you've seen, that's for sure. Other than him being a captain of industry and one person to the world and another person to himself. And bald, of course.

…

Our Lex is disarming and he's not fake. He says what he believes and he says what's on his mind. If you can unravel the string and decipher what he means, it's all there.
That's not saying a whole lot, but it does sound like Batman V. Superman's Lex Luthor will not be the classic version of character we're all used to, at least not in full. That's not necessarily a bad thing though, especially since Snyder is shaking up the DC movie universe anyways with an older Batman.
If anything, after 80 billion different Superman and Batman movies, anything they can do to keep things fresh and surprising would be welcome.
When is Batman V. Superman hitting theaters?
We'll be seeing this one on March 25, 2016, exactly one year from today. A trailer/teaser is rumored to be debuting as early as next month though, but that's entirely unconfirmed.
A near final cut Batman v Superman: Dawn of Justice just screened for a group of WB executives to what was a reportedly a standing ovation. A major factor that contributed to the film winning the WB bosses over was apparently Ben Affleck's Batman, [...]


Empire Magazine has given us a bunch of Batman V. Superman stills to mull over, including some great shots of the two titular heroes in costume, Diana Prince, and Lex Luthor's… basketball court?