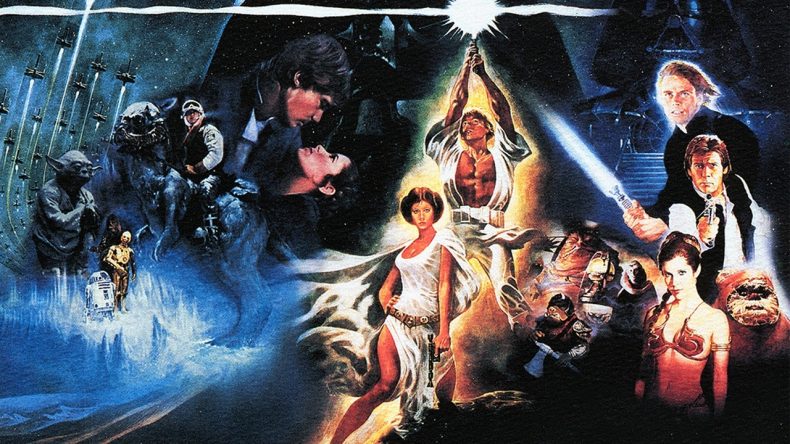 It's been nearly 20 years since the original Star Wars trilogy got the "special edition" treatment, and fans haven't stopped demanding the theatrical cuts ever since. 
Despite the apparent demand though, the original theatrical versions haven't been available on home video since 1993, a version that was released on LaserDisc of all things. The original versions, to date, have never been available in any HD format.
Why not?
The biggest contributing factor has been George Lucas, who has been very adamant that the special edition cuts are his "definitive" versions of the films. In the past, he's even gone as far as saying that the masters for the original cuts no longer exist.
That probably isn't true, but either way, Lucas has so far blocked all efforts to get those originals out there again.
With Disney in control now, why haven't we gotten them?
Well, Lucas wasn't the only roadblock standing in the way of a re-release. Weirdly enough, Disney doesn't actually own the rights to the home video releases of any of the six Star Wars films. 20th Century Fox will hold those through 2020, and in an odd arrangement, also hold the rights to A New Hope, "in perpetuity in all media worldwide."
In plain English, that means Fox will own the home video rights to Episode IV always and forever (unless Disney manages to broker a deal of course).
That's a tricky situation that Disney now finds themselves in, and if a theatrical cut re-release ever happens, it will need to be done as a partnership between the two studios. Tricky, but not impossible.
So what's the latest word?
To preface things, we've been treated to a near non-stop flow of rumors about alleged re-release plans since… basically forever. To date, none of these have proven accurate, so take any new, unofficial information with a dump truck full of salt
That being said, this latest report actually holds some water.
John Landis, the director of films like An American Werewolf in London and The Blues Brothers (and a good friend of George Lucas), recently gave a Q&A. Empire Magazine reports that at the event, Landis revealed that Disney is going to re-release the theatrical cuts of the original Star Wars trilogy, and that Landis has heard this info from Lucas himself.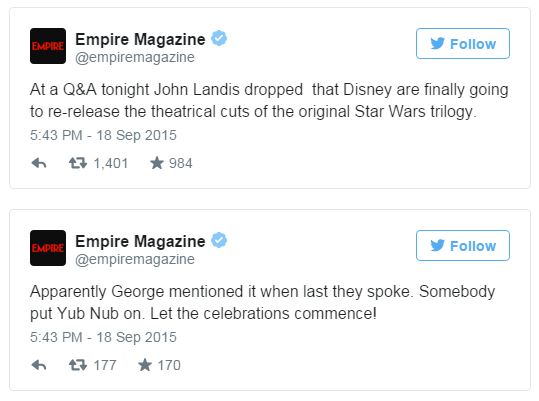 How credible is this?
Both John Landis and Empire Magazine are pretty credible sources, but before you get your hopes too high up, nothing is certain until Disney announces it. These plans could change, a deal with Fox could fall through, or perhaps Landis misunderstood, and Lucas was referring to a theatrical run of the original trilogy, and not a home video release.
Either way, if you've been holding out for original cut Blu-rays, this is probably the most likely report we've heard in the past few years. Fingers crossed!

The animated dino-adventure, The Land Before Time, was a big part of many a childhood, but until now, it's never been available to re-watch in HD.

Avengers: Age of Ultron is out on Blu-ray this weekend, should you get it?

Stocking up on some movies for when those temperatures start dropping? Here's what we'll be checking out on Blu-ray this month.