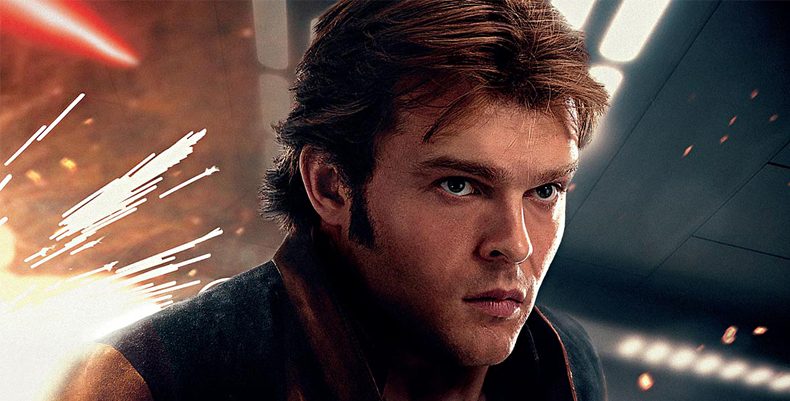 It's Solo month! This page will track all of the upcoming additions to the Star Wars canon across movies, TV, comics, novels, and other media, for the month of May, 2018.
If you see any mistakes or omissions, or have any feedback on how to make this page more useful, please feel free to get in touch via Twitter, @RyanMatsu.
May 2018
Star Wars: Adventures – Free Comic Book Day 2018 (Comic)

This special issue in the Star Wars: Adventures series will kick off a three-part story centered around Han and Chewie.
May 5, 2018
Star Wars Adventures 10 (Comic)

"Powered Down" Part 1 of 2. Han and Chewie are on the run from bounty hunters and take refuge on a planet that mysteriously shuts down all electronics. With no way off the planet, will our favorite scruffy duo be able to evade their pursuers and save themselves?
May 9, 2018
Most Wanted (YA Novel)

This story will center on Han Solo and Qi'ra as teenagers surviving on the streets of Corellia.
May 25, 2018
The Mighty Chewbacca: Forest of Fear (Junior Novel)

While aimed at a younger audience, this story will feature an interesting sounding meet up between Chewbacca and Han, and K-2SO undertaking a mission for Cassian Andor. It will also introduce a new character, Mayv Trillick, a so-called "librarian bounty hunter."
May 25, 2018
Solo: A Star Wars Story (Movie)

The second Star Wars "anthology" film will follow Han Solo before the events of Episode IV, including an early adventure with Chewbacca and his first meeting with Lando Calrissian. The film stars Alden Ehrenreich as Han, Woody Harrelson as Beckett, Han's mentor, Donald Glover as Lando, and Emilia Clarke as a mysterious character named Kira.
May 25, 2018
Lando: Double or Nothing (Comic)

This five issue comic book miniseries will follow Lando and L3-37 right before the events of Solo.
May 30, 2018
Additional Media
This section includes compilations and adaptations of previous material, reference titles, and non-canon/Legends stories.
| | | |
| --- | --- | --- |
|  Star Wars: Han Solo (Hardcover Comic) |   |  May 15, 2018 |
|  Poe Dameron Volume 4: Legend Found (TPB) |   |  May 15, 2018 |
|  Star Wars Rebels: Grand Admiral Thrawn (Cinestory Comic) |   |  May 15, 2018 |
| Solo: The Official Guide (Sourcebook) |   |  May 25, 2018 |

When the current era of the Marvel Cinematic Universe wraps up with the followup to Avengers: Infinity War in 2019, it will have been over a decade since Tony Stark first donned a suit of armor, and kick started the most expansive superhero story [...]

In 2014, the Star Wars Expanded Universe was decanonized, paving the way for an entirely new generation of stories. Three years later, and the new Star Wars canon contains over 50 films, TV shows, comics, novels, and more, quickly rebuilding one of the [...]

From Altair to Bayek, we have you covered.