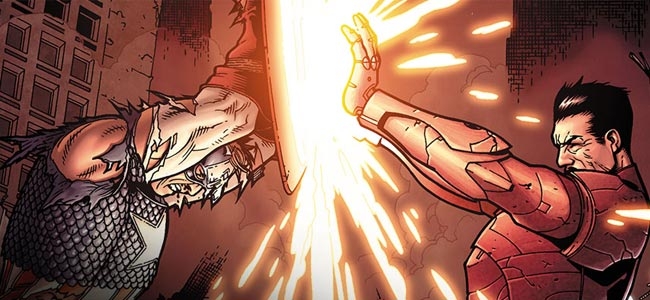 Community Post: This article was submitted by a member of our community. Find out how you can publish your own writing here!

Marvel has announced a new documentary series titled Tales to Astonish. The show will tie real-world events into Marvel Comics storylines.
"So many of Marvel's stories and characters were created by storytellers — editors, writers, pencilers — who like all great artists are often influenced by events happening in the real world," wrote Marvel VP of Content and Programming John Cerilli. "In Tales to Astonish, we now have the opportunity to explore all of these influences and, in turn, entertain a wider swath people who may or may not have known about these things, but are interested in entertainment with really compelling narratives."
The series will premiere with an episode centering around the "Civil War" story arc.
"[Civil War] leapt to the top of the pile when we realized that it really had everything in it that we were looking to accomplish, plus it featured two of Marvel's biggest superheroes on opposite sides and at each other's throats," Cerilli added. "Extremely compelling stuff."
"The whole concept of the super hero registration act was something that was clearly influenced by the Patriot Act that was in the news constantly while this story was being created and ultimately being published in 2006. Then what happened was completely unpredictable. While we started working on the documentary [with] Eric Drath of Livestar Entertainment being our chosen director for this, the NSA spying scandal broke. All of the sudden, Civil War seemed more prophetic than ever."
There's no release date yet, but in the meantime, you can watch a trailer for Tales to Astonish,featuring Joss Whedon, Clark Gregg, and Stan Lee below.
Community Post: This article was submitted by a member of our community. The views expressed are the opinions of the designated author, and do not reflect the opinions of the Overmental as a whole or any other individual. We will gladly cooperate in the removal of plagiarism or any copyright infringement. Please contact us here.

Community Post: This article was submitted by a member of our community. Find out how you can publish your own writing here!Yet another week comes to a close which means it's time for new music!! Each week a whole slew of new stuff is splooged onto the [...]

Community Post: This article was submitted by a member of our community. Find out how you can publish your own writing here!Hey kid! Like new music? Great! You've stumbled into the right rabbit hole. I'll tell ya what's good, what's bad, and what's a [...]

Community Post: This article was submitted by a member of our community. Find out how you can publish your own writing here!2013 winner of NMW's best album of the year, Neko Case, returns from a five year vacation from solo work next week, offering [...]