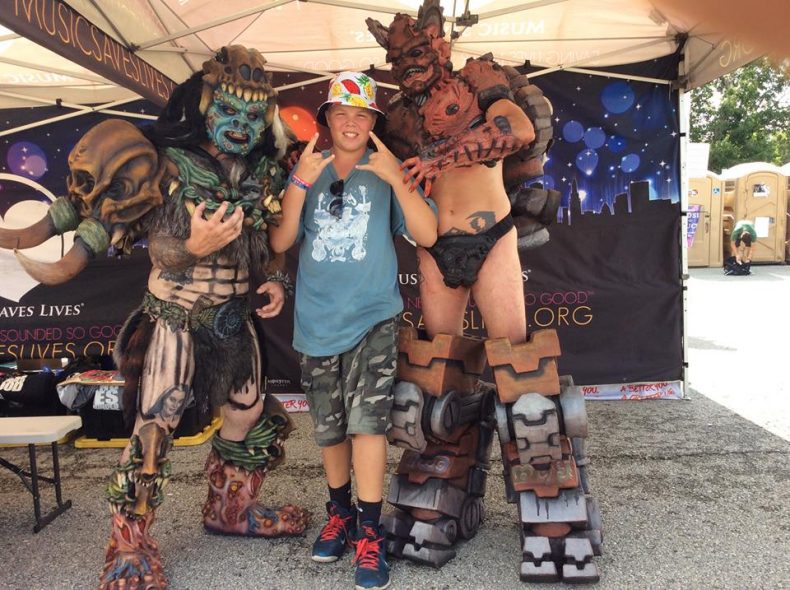 Community Post: This article was submitted by a member of our community. Find out how you can publish your own writing here!

Earlier I posted a whole creepy slew of weirdo songs for the upcoming Halloween holiday. It was made up of a variety of artists, from fiddle pickin' country legends to avant metal maniacs, but, honestly, if you want creepy Halloween themed music there are certain artists that always deliver. Last year we highlighted metal god, Ozzy Ozbourne, the year before that Austin, TX psychedelic horror rocker Rocky Erickson. This year we turn to another group of horror master: GWAR!! The costume clad alien overlords of the snake pit and scu dogs!
*Ed note: Photo provided by author, shows his son with GWAR at Warped Tour 2017
ALSO: THIS POST CONTAINS VERY OFFENSIVE MATERIAL. PLEASE DO NOT READ IF YOU ARE NOT PREPARED TO BE OFFENDED.
"Vlad the Impaler" , Scumdogs of the universe,1992
Nothing scarier than a song about a dude known for impaling thousands of people at a time!
"Pure as Arctic Snow" Hell/-O, 1988
From the ultra rare GWAR debut! "Drown in a sea of pus!!"
"Abyss of Woe" , Violence has arrived, 2001
"Fuck this place", The blood of Gods, 2017
From the new album!!!
"Let us Slay", Lust in Space, 2009
"Carry on My Wayward Son"
Kansas covers are always scary.
X-Cops, "Welcome to New Jersey", You Have the Right to Remain Silent…
The most well known and sorely missed of the myriad of GWAR side projects. And it's about New Jersey, a truly scary place!!!
"Gor-Gor", America Must Be Destroyed", 1991
"Maggots", Scum Dogs of the Universe, 1992
It's raining maggots!!!!!
Alright, Alright some of these songs arent scary. Ok none of them are scary. In fact, some of them are just down right offensive. But they are a lot of fun! HAPPY HALLOWEEN MAGGOTS!!!
Community Post: This article was submitted by a member of our community. The views expressed are the opinions of the designated author, and do not reflect the opinions of the Overmental as a whole or any other individual. We will gladly cooperate in the removal of plagiarism or any copyright infringement. Please contact us here.

Community Post: This article was submitted by a member of our community. Find out how you can publish your own writing here!No holiday is complete without the proper music. Christmas has Bing Crosby and his silver balls and mistletoe. Independence Day has [...]

Community Post: This article was submitted by a member of our community. Find out how you can publish your own writing here!Earlier I posted a whole creepy slew of weirdo songs about murder, murder, and, well, more murder for the upcoming Halloween [...]

Community Post: This article was submitted by a member of our community. Find out how you can publish your own writing here!No holiday is complete without the proper music. Christmas has Bing Crosby and his silver balls and mistletoe. Independence Day has [...]