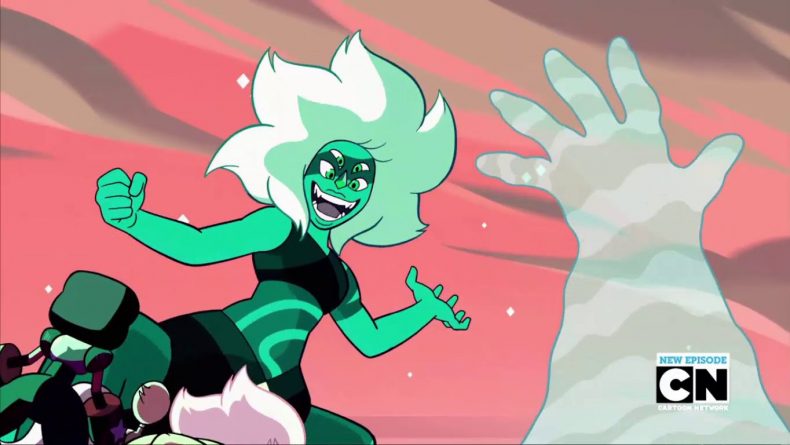 Community Post: This article was submitted by a member of our community. Find out how you can publish your own writing here!

Garnet is a permanent fusion between two gems! Now that that's out of the way, let's actually talk about this episode.
Jail Break's title card tells us right away that we're in for something different. Rather than the image of several Steven Star shirts drying on a clothesline hanging from the fingers of the giant statue housing the temple, we get something weird: space. The title of the episode starkly situated against starry sky, nothing else. Even the familiar music cue is gone, replaced with an ominous, barely audible ambiance. It's jarring, to say the least; it's like tuning in to an episode of The Simpsons only to find that the iconic opening has been replaced with the title sequence of Lost. The shift in tone it represents pervades the episode as a whole, even if on some level, this is still the Steven Universe we know and love.
We open, appropriately enough, in a futuristic jail cell. Steven wakes up alone, wondering where everybody is. He hears a distant sound of singing, but nothing else. And…he walks out. Pretty much immediately. This will end up being a running theme: Steven is seemingly unaffected by most of the Gems' technology, presumably because it was only designed to work on Gems. Steven, being only half Gem, is able to move through the solid-light field without too much trouble. Admirably assessing the situation, he realizes that he and our Gems must have been captured by Peridot's boss Jasper, and that the thing to do is find the others.
The first person he finds is Ruby, the more aggressive half of Garnet's personality. He doesn't realize this, of course, and frees her out of the goodness of his heart. At least, it might be a her. All of the Gems certainly appear to be what we would consider female, but some of them are undeniably masculine, especially Jasper. And Garnet's other half, Sapphire, is more typically feminine than Ruby, so there's a lot of mystery surrounding that dynamic, wrapped up in how little we know about the Gems as a race. All we know for sure is that Ruby and Sapphire love each other so much that they literally cannot stand to be separated, so after a touching reunion, they transform before Steven's astonished eyes into everybody's favorite big red question mark, Garnet.
First, though, we have a crucial scene with Lapis Lazuli, who is also being held captive. Lapis refuses Steven's offer of rescue, and we get a glimpse of the damage the other Gems have truly done: Lapis is a good person who can simply not see any possibility of overcoming the Homeworld Gems. Whatever power they have, it's great enough that they were able to make their enemies swallow that idea which so few good guys ever do: resistance is futile. Lapis is willing to go along with whatever the other Gems have in store for her, hoping her punishment for warning a child that a military force was coming to get him for no good reason won't be too severe. Lapis is jaded (Heh), but Steven isn't. Steven is optimistic to the bitter end, and sees it as a matter of course that they should stand up to the Homeworld Gems "Because…they're mean!" This is followed by an exchange which, it could be argued, perfectly sums up both characters in a nutshell, at least in that moment.  As Steven rants about the Homeworld Gems' unchecked bullying, Lapis replies "That's why we can't fight them." To which Steven counters "That's why we have to fight them!"
Lapis has no answer, not right now. Steven promises to come back for her, and he and Ruby go and find Sapphire, who was the one singing earlier. The aforementioned fusion occurs, which is rather glorious to behold. Garnet has always been very reserved, even in her more light-hearted moments, so it's gratifying to see her openly laughing with joy. She is whole again, for which she sincerely thanks Steven. Steven is shocked, but only momentarily. He encounters amazing new things every day, so this whole thing isn't really too much for him to swallow. He took longer reacting to the fact that Mayor Dewey thought the Crystal Gems were his sisters a few weeks back; this is just another thing to go in the "Cool Gem Stuff" drawer in Steven's brain (Adjacent to the "Weird Dad Stuff" drawer and the "Connie Book Stuff" drawer).
After another very sweet reunion, he and Garnet split up to carry out their slap-dash plan. It's worth noting how much Garnet trusts Steven: he's come a long way  from being the helpless little boy he was at the outset of this long, long season. With only a touch of Garnet's future vision, she lets him go and try to save Pearl and Amethyst, knowing he is very capable of accomplishing that. He does, and those three take out Peridot and take control of the ship while Garnet brawls with Jasper while singing a kickass song.
Jasper's disdain for Garnet's permanent fusion lifestyle, coupled with her remarks from the previous episode referring to Pearl and Amethyst as "..lost, defective.." and an "..overcooked runt.." respectively, hints at more history between our freedom-fighter Gems and their sinister counterparts: We know they were going to do something terrible to the earth, which Rose and her followers wouldn't stand for, but there may have been an additional motive to the rebellion: the Crystal Gems, it would seem, are all very abnormal by Gem standards. It may not have been just the freedom of the earth Rose Quartz was fighting for, but the freedom of her friends, freedom to be the way they are without being forced into conformity by the other Gems.
The episode climaxes in a very Adventure Time-style finale, where everything sorta works out, but with a host of loose ends which will most certainly come back to haunt our protagonists. The ship is successfully taken over, but Peridot escapes. Pearl manages to steer them back to beach city, but the ship crashes and is destroyed. And, in the episode's final scene, Jasper forcefully fuses with Lapis in order to overcome our Gems on the Beach. But Lapis has had enough. It turns out the Homeworld Gems were imprisoning a will of iron inside all that fear and intimidation, and this ultimate violation of herself is the last straw. Lapis' personality overwhelms Jasper's, but all is still not well. Lapis is so consumed with rage that she drags Jasper and herself, still fused, down into the ocean, vowing to keep Jasper as her prisoner and never let her go. There's your happy ending, folks!
There's really no way to sum this episode up. It's a clash between everything Steven Universe has been, and hints at the incredible things it may become. It's not the most character driven of episodes, but it does more in terms of story than any other episode this show has ever aired. It's shockingly ambitious, it goes through every tone and emotion on the spectrum, it's a revelation of the magnificent potential this already great show possesses. Normally I would doubt that they would ever be able to top it. But after seeing this episode, I think this show might be able to do anything.
Final Rating: Utterly Fantastic/Mind-Blowingly Amazing
Community Post: This article was submitted by a member of our community. The views expressed are the opinions of the designated author, and do not reflect the opinions of the Overmental as a whole or any other individual. We will gladly cooperate in the removal of plagiarism or any copyright infringement. Please contact us here.

This summer has been quite the ride for us Steven Universe fans. First we had the show's hiatus starting in late April, which drove the fandom to madness and even led us to jump on the fan theory bandwagon. Luckily that only lasted about a month and a [...]

The summer hiatus is upon us! If you're a fan of animated series like Regular Show, Gravity Falls or Amazing World of Gumball, you're probably crying in a corner right now waiting for new episodes of your favorite shows to resume. As fate would have it, [...]

Community Post: This article was submitted by a member of our community. Find out how you can publish your own writing here!On the last episode of Steven Universe, Jamie the mailman fell in love with Garnet. Sort of. But not really. And that was kind of [...]