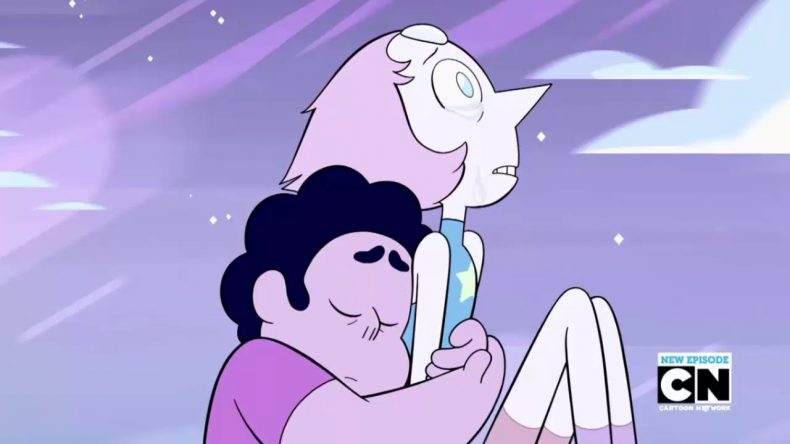 Community Post: This article was submitted by a member of our community. Find out how you can publish your own writing here!

Okay boys, here we go. Last week, six new episodes of Steven Universe aired, essentially comprising a six-part season finale, Justice League Unlimited style. It was big, it was epic, it was tear-jerking, it was hilarious, dogs and cats living together, mass hysteria. And my job–let me rephrase that: my hobby is to condense all that into some readable, nerdy analysis. I'm going to try and recap all of them over the next two or three days, but I make no promises. So, let's get started with Rose's Scabbard.
A possibly apocryphal story goes thusly wise: Orson Welles once played a character in a theatrical play who is talked about but never seen throughout the entire first act. He only shows up very briefly, right before the intermission. During the intermission, the audience could be heard discussing the first act, and almost everyone said something to the effect of "Wasn't Orson Welles amazing?"
Steven Universe has a similar effect, except that the character in question, Rose Quartz, mother of Steven and leader of the Gem rebellion, is gone before the show even starts. Steven, like us, has to learn about his mother from other people, but Rose was a complicated person, so the accounts tend to differ. Greg remembers her as the strange, beautiful creature he fell in love with, Amethyst remembers her as a kind parent figure, and Pearl remembers her as a brilliant, courageous leader who inspired a small group of Gems to make a stand against their entire race.
But none of them have the complete picture. Even if the journalists knew what Rosebud meant, it still wouldn't explain totally who Charles Foster Kane was, and no matter how close Pearl was with Rose, there were some things she couldn't have known about. Like, apparently she had a lion. Most of the show's viewers put together the fact that Steven's lion had something to do with Rose (As well as Garnet, because of course), but Pearl ruled it out immediately: if Rose had a lion, she would have known about it. After all, she was the only one who knew about Rose's secret armory, right?
Pearl is perhaps the most complex person on the show in terms of character. She's motherly, sometimes overly so, towards Steven, and is less willing to trust him to hold his own than Garnet or Amethyst. She has also always been somewhat in awe of Steven, waiting to see what will come of this singular event, the only Gem hybrid in history. She's a bit controlling, always trying have everything ordered and just so. She's also a fearsome fighter, gracefully and precisely slicing apart her enemies, in contrast to Amethyst's rougher style and Garnet's sheer force. She is constantly trying to keep herself composed, but is emotional and distressed far more often than her two comrades. She often takes charge, yet humbly defers to Garnet in all matters. Later in the week, another character referred to her as "Defective", which, whatever it means, makes sense: Pearl appears to be much less at home with both herself and the rest of the world than most of Beach City's other inhabitants.
This uneasiness which colors all of Pearl's actions comes to a head when Steven reveals that the lion already showed him the aforementioned armory, simultaneously making the armory no longer Pearl and Rose's special secret, and proving that there were things (Like Lion) that Rose did not even share with Pearl. Or worse: perhaps shared with others, and not Pearl. Pearl is crushed by this revelation. To her, her seemingly special bond with Rose now seems meaningless, and it can never be repaired, as she will never know Rose's mind or heart completely, now that she's gone. This seeming betrayal is enough to break through Pearl's complete love for Steven, and finally force out a moment of the resentment she had done so well at avoiding."She probably just wanted to protect you, like everyone else," offers Steven, ever the attempted peace-keeper. "What do you know?" cries Pearl, slamming her fist against the wall in her anger. "You've never even met her!"
The force from that impact knocks the portrait of Rose from the wall, almost shattering it. Garnet catches it, but Pearl is still in huge amounts of pain, and she flees the house. Steven follows her to a secluded place by a battlefield from earlier in the episode; the place where the earth Gems and their allies stood against the Homeworld Gems, fighting a war which they would ultimately win, but would leave them stranded on a single, tiny planet, with no hope for ever returning to the stars they used to live amongst. Pearl sits alone, but with the aid of her powers, conjures up an image of her fallen leader and friend, remembering the moment she pledged to stay by Rose's side throughout the grand, foolish endeavor that was the rebellion. It's a wonderfull scene, showing the true hurt that Rose's absence has caused: if Pearl did all this for Rose, what purpose does she have now that Rose is gone?
But it's almost immediately overshadowed by the next and final scene. Pearl wonders whether Rose still exists in some way, watching her through Steven's eyes. And she is instantly answered, as Steven hugs her, and says "Well, I think you're pretty great." Rose isn't truly gone; not as long as Steven continues to miraculously avoid getting killed, and tears fill Pearl's eyes as she realizes this. Some reflection of Rose lives on in Steven's slowly appearing greatness, it just took a while to come out, and longer for Pearl to see it. In a stunningly beautiful sequence set only to music, Pearl and Steven walk back to Lion, and spend some time together. First, Steven retrieves a hat and some handkerchiefs from the pocket universe which seems to lie within the Lion's fur, magician-style. As with most of Steven's antics, this confuses Pearl slightly, but nevertheless pleases her. But her mood changes when Steven reaches in again, and pulls out an earth Gem banner from the war, offering it to Pearl. Pearl takes it, and Steven watches as she presumably tells of the great and terrible things that were done in the battle fought at that very spot. A new sense of purpose is in her face, and as Pearl and Steven ride home on Lion, she is not quite smiling, yet, but has no more tears. Peridot and company are on their way, and Rose would want her to stand strong in preparation for that ordeal.
It's a truly touching, heart-breaking portrait of someone missing a lost loved one. But it's only the beginning.
Final Rating: Really Great/Mind-Blowingly Amazing
Community Post: This article was submitted by a member of our community. The views expressed are the opinions of the designated author, and do not reflect the opinions of the Overmental as a whole or any other individual. We will gladly cooperate in the removal of plagiarism or any copyright infringement. Please contact us here.

This summer has been quite the ride for us Steven Universe fans. First we had the show's hiatus starting in late April, which drove the fandom to madness and even led us to jump on the fan theory bandwagon. Luckily that only lasted about a month and a [...]

The summer hiatus is upon us! If you're a fan of animated series like Regular Show, Gravity Falls or Amazing World of Gumball, you're probably crying in a corner right now waiting for new episodes of your favorite shows to resume. As fate would have it, [...]

Community Post: This article was submitted by a member of our community. Find out how you can publish your own writing here!On the last episode of Steven Universe, Jamie the mailman fell in love with Garnet. Sort of. But not really. And that was kind of [...]