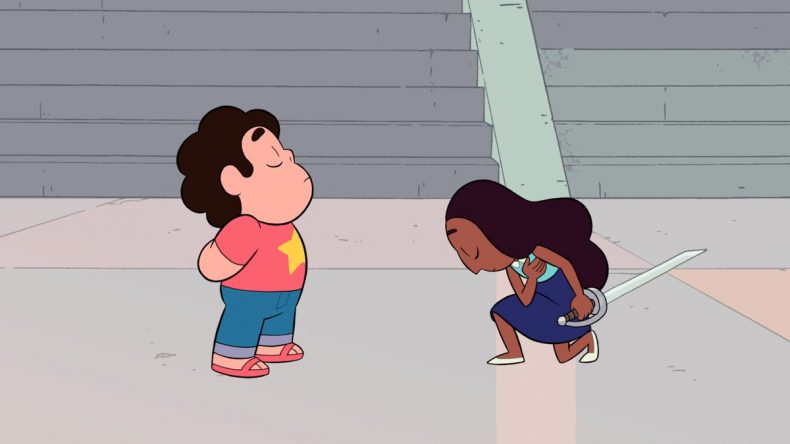 Community Post: This article was submitted by a member of our community. Find out how you can publish your own writing here!

We're back folks! A few weeks with no Steven Universe is quite enough: it's back, and I'm back to make witty remarks at it. IN our first offering this week, we got sword-fighting, character development, a bitchin' new title sequence, and yet more masculine tears brought on by a children's cartoon. Also, jam.
With all due apologies to the legions of Garnet fans out there (Myself among them), it's official: my favorite character on this show is Pearl. Amethyst is a compelling delight, Garnet is an adorable enigma, Greg is a great man and also a bit of a loser, Connie's nerdyness is directly linked to her bravery and it's wonderful, and Steven's innocent wisdom is the heart of the show. But Pearl stands alone. It's rare in children's television to see a character quite this broken, and it's rare in "Adult's" television to see a broken character who is this whole. Pearl dedicated herself so completely to Rose Quartz during the Gem rebellion that she feels as though a part of herself was removed the day Steven was born. But Pearl, strong, steadfast Pearl, worked through it. She doesn't wallow in self-pity, she focuses on honoring Rose by raising Steven. She laughs, she smiles, she becomes obsessed with quirky little pursuits; she is not a character whose default setting is "Sad". With a complicated set of neuroses propping her up in the absence of Rose, she functions, and is usually able to live firmly in the present and celebrate it with joy.
Usually. But Pearl's memory of everything she lost is still very much intact, and reminders if those things can send her over the edge. Steven is a living remnant of Rose herself, the other Crystal Gems are fellow survivors, and this week, a new element is introduced into Pearl's life: Connie. Connie has been eased out of a supporting role and into being a main character throughout season 2, which is reflected in her place on the beach beside the Gems and the Universes in the title sequence. Since this show is defined by the relationships between its characters, there is no room for separate circles among the cast: Connie is important now, so the show has to go about explaining how everybody else feels about her.
Connie initiates this by deciding to improve her sword-fighting. Back in the season premier, Connie promised Steven that she would be by his side no matter what came their way. The ever-present threat of the Homeworld Gems hangs over the show now, and Connie knows that some difficult times are likely ahead. Her devotion to Steven inspires her to improve herself, and give herself more agency. Awesome, right?
But there's one problem: Pearl. Pearl is the natural choice to teach Connie the sword, but her baggage very quickly begins to get in the way. Pearl is not all of the person she was before Rose left, so in her mind, love necessitates a negation of the self. As she helps Connie master the sword, she also teaches her to develop an almost slavish devotion to Steven, echoing Pearl's fanaticism for Rose. Pearl dedicated her entire existence to protecting Rose, but in the end, was unable to save her. So, Pearl modifies her devotion to be towards Steven, and attempt to indoctrinate Connie, which would prevent them from having a real relationship, but would keep Steven safe.
Steven isn't really the "Shield me with your life, my slaves" type though. He confronts Pearl, and Connie reverts back to her "Team Stevonnie" mindset as Steven swears to fight alongside her, exactly as she did a few months back. Loyalty is a two-way street, just like friendship, and Steven and Connie are just innocent enough to understand that. At first, Pearl can't accept this. She's been living vicariously through Connie, and her shout-off with Steven ends with an anguished "Why can't you just let me do this for you Rose?!"
Pearl realizes what she's done, and retreats, as she usually does in times of stress, to sit by herself. Steven, our great mediator, comforts her, and asks her if Rose made her feel like she was nothing. Pearl replies through a tearful smile "Rose made me feel like I was everything," And with that, Pearl is restored to equilibrium, as she remembers what all that devotion is really to: a person, not an abstract idea. She agrees to train both children to defend themselves, and the customary iris-out closes on three happy people, even the one who lost everything.
Final Rating: Really Great/Mindblowingly Amazing
Community Post: This article was submitted by a member of our community. The views expressed are the opinions of the designated author, and do not reflect the opinions of the Overmental as a whole or any other individual. We will gladly cooperate in the removal of plagiarism or any copyright infringement. Please contact us here.

When the current era of the Marvel Cinematic Universe wraps up with the followup to Avengers: Infinity War in 2019, it will have been over a decade since Tony Stark first donned a suit of armor, and kick started the most expansive superhero story [...]

Just in case you wanted to rewatch all 12 movies and 6 TV series a little differently this time, we've got you covered.

Despite the Expanded Universe's move into the non-canonical "Legends" category, the Star Wars galaxy already feels pretty vast again, and rapidly expanding, with multiple new stories released just about every single month.