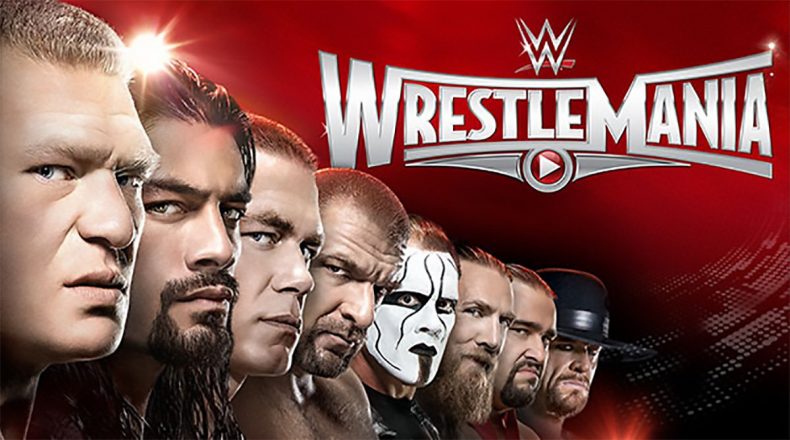 Community Post: This article was submitted by a member of our community. Find out how you can publish your own writing here!

Wrestlemania 31 has been in the books since Sunday (or Monday night if you count the Post Mania Raw) and I'm still reeling from the excitement of it. WWE at long last finally put out a PPV guaranteed to not cause major uproar among its core fans. The event was entertaining from start to finish and mixed the best of the new school along with the best of the old school. I've got a lot of thoughts on the Wrestlemania main card so let's dive right in (Sorry Pre-Show fans)
Intercontinental Championship Ladder Match
While this may have been the first match on the card I felt this had the most potential to steal the show. It featured the company's most popular wrestler in Daniel Bryan alongside other fan favorite performers in Dean Ambrose and Dolph Ziggler so it was certain the crowd would be responsive to the the match. WWE knew this going in and made for an exciting start to the whole event with Bryan coming out with the victory.
In my pre match prediction I had picked Bad News Barrett to retain the title but in hindsight that wasn't a very smart choice. Daniel Bryan needed his "Yes!" moment especially considering the record breaking capacity crowd. His loss would have put a bad stir in the air and would definitely not be good considering Big Show had just won the Andre the Giant Battle Royal.
Great first match with exciting bumps and an exciting finish. I look forward to see how WWE handles its treatment of the Intercontinental Championship and with a huge star like Bryan holding the belt things can only go upwards.
Randy Orton vs. Seth Rollins
Strong showing for two of the company's most talented wrestlers. And my god that ending! RKO outta nowhere! We've seen Orton hit so many impressive midair RKOs that it was hard to see how they could possibly improve upon that. I can honestly say I did not see that coming and when long time fans like myself can still get surprised and jump out of their seats then you know the match was booked well.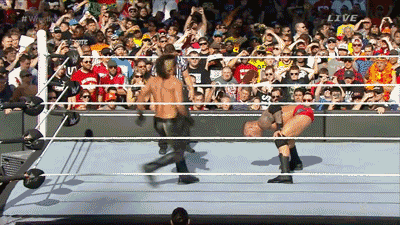 Of course despite the loss here there was always the possibility of Rollins cashing in his MITB briefcase. We'd have to wait and see.
Sting vs. Triple H
This was a match I was very intrigued by. Not because it was Sting's first match in WWE but because I was curious to see how well Sting could perform. The man is 56 after all and although Triple H is a mere 45 he previously did express his concerns on being able to put on a good match.
And how was the match you say? It was great! Sting showed up in great shape showing quickness and agility in his older age. That being said much of the first half of the match was slower paced playing to both men's age. Business really picked up when DX showed up and even more so when NWO showed up! WWE really threw us fans a bone of nostalgia seeing the two most popular factions of WWE and WCW at the height of the Monday night wars respectively face to face.
Then wow…Sting gets dropped by a sledgehammer shot and pinned for the win. Out of the whole card I was certain he was going to win his match but I understand why it had to go the other way. Once it became a WCW vs. WWE thing there was no way team WWE could lose. And while I was somewhat disappointed in Sting's defeat I was ultimately happy at what I just witnessed. A Superkick to Sting! Sting breaking Triple H's sledgehammer! Hell, DX AGAINST NWO FOR CHRIST SAKES! Satisfying match
AJ Lee and Paige vs. The Bella Twins
WWE listened to #GiveDivasAChance and provided the ladies of WWE with their best showing at Wrestlemania in a long time. I've always been a fan of AJ and Paige but the Bellas have been impressive in their own right over their recent showings. The match was your standard wrestling match but a great showing and I'm glad team Freaks and Geeks got a clean win.
Rusev vs. John Cena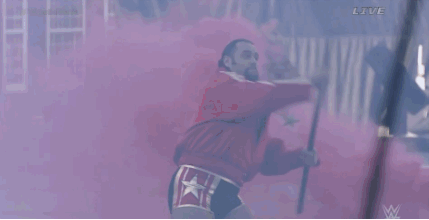 Rusev's entrance is a main talking point about this match. Russian soldiers, Lana, A DAMN TANK! Yes it was awesome but I really am not a big fan the open arena. It really takes away a lot of the mystique and atmosphere of the entrances.
The match went pretty much how I expected it to go. Lana tries to interfere, fails, then Cena hits Rusev with an AA to get the win. Contrary to popular opinion, I really like John Cena. I'm one of the only people at live shows who cheers for him that aren't 13 and younger. And as long as he puts on suspenseful matches like the AMAZING triple threat match at the Royal Rumble I will always cheer for him. But part of me wishes WWE would do the right thing and give him the Hollywood Hulk Hogan treatment though that doesn't seem to be coming any time soon.
I do hope they continue the Cena and Rusev rivalry. It plays to both characters strengths and Rusev really needs to get a clean win over Cena before this can elevate to Iron Sheik vs. Hulk Hogan levels if they want to keep going this route.
The Rock and Ronda Rousey segment
I almost wasn't going to write about this but it took up a significant amount of time in the show. Whenever the Rock crashes the show its always a fun time. I'm just a little disappointed that he never said "Finally…" because I was itching to hear it.
Fun segment where we got to see Ronda hip throw Triple H and tangle with Stephanie a bit. Sure, an armbar would've be the icing on the cake but on Stephanie McMahon it would just look cruel. I'm interested to see if Rousey does decide to suit up in the squared circle in the future although WWE would have their work cut out for them realistically building up one of their Divas as a legit threat to the most dangerous woman in the world.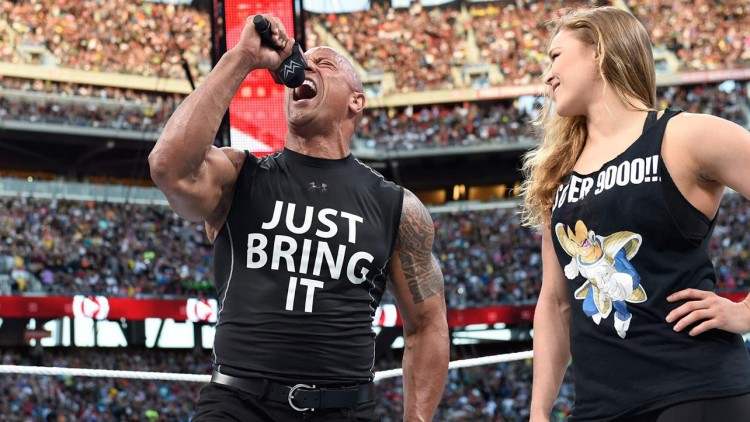 And can we get some love for Ronda Rousey's shirt? I already was a fan of hers but man. An It's Over 9000 shirt? She might have won me over for life.
The Undertaker vs. Bray Wyatt
Earlier I mentioned how having an open arena takes the atmosphere out of an entrance. That was most evident during this match. This match was being billed as a resurrection of the Undertaker and I was expecting some grand entrance with druids, fire, lightning, caskets, and all things associated with the Dead Man. Alas the sun was out so none of that. Even Bray's entrance could have had more pizazz. Nope. Just some zombie-like creatures following him to the ring (which were actually really cool). The match could've been epic just on the entrances alone.
That's as far as my complaints go for this match. It was already a win seeing the Undertaker return from a concussion last year and to perform his signature spots and put on a good match overall. Taker even got a "You still got it" chant which makes me feel all nice inside.
WWE had a really big chance of putting Bray over as their new supernatural character with a win here. I'm glad they didn't. I don't think I or the crowd could deal with the heartbreak of another Undertaker loss.
Brock Lesnar vs. Roman Reigns
Suplex City Bitch!
I'm really glad they still kept Brock looking stronger than ever in this match. The buildup to this match didn't quite convince me that Roman Reigns had a realistic chance at beating Lesnar and my beliefs held true. All the Roman Reigns haters really got a kick out of seeing Reigns get the crap kicked out of him for the majority of the match. Roman did get his chance to look strong with the kick outs of multiple suplexes and F-5's, all with a smile on his face. Throw in a few Superman Punches and Spears to add to the drama when…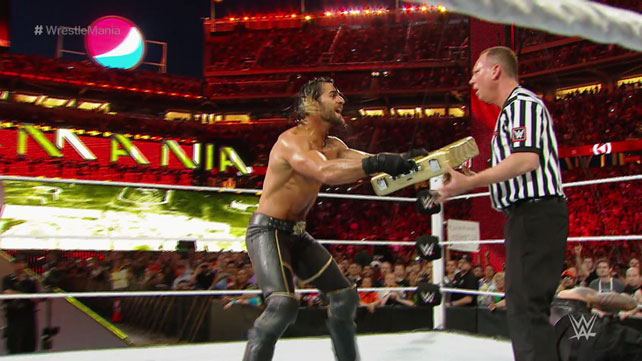 Mr. Money in the Bank Seth Rollins comes and cashes in! What a turn of events! Curb Stomp to Brock! Another Curb Stomp to Bro-WAIT! Brock catches Rollins into an F-5! Then Spear from Reigns to Brock to save Rollins! Curb Stomp to Reigns and its over! Seth Rollins is the new WWE Heavyweight Champion! Oh what a night!
Last Thoughts
The 31st installment of the Showcase of the Immortals delivered on all cylinders. The event was successful in keeping the audience engaged and entertained throughout the show. Excellent performance by all the wrestlers and smart booking. Bravo WWE
My Rating: It's $9.99 worthy!
Community Post: This article was submitted by a member of our community. The views expressed are the opinions of the designated author, and do not reflect the opinions of the Overmental as a whole or any other individual. We will gladly cooperate in the removal of plagiarism or any copyright infringement. Please contact us here.

Community Post: This article was submitted by a member of our community. Find out how you can publish your own writing here!Yet another week comes to a close which means it's time for new music!! Each week a whole slew of new stuff is splooged onto the [...]

Community Post: This article was submitted by a member of our community. Find out how you can publish your own writing here!Hey kid! Like new music? Great! You've stumbled into the right rabbit hole. I'll tell ya what's good, what's bad, and what's a [...]

Community Post: This article was submitted by a member of our community. Find out how you can publish your own writing here!2013 winner of NMW's best album of the year, Neko Case, returns from a five year vacation from solo work next week, offering [...]