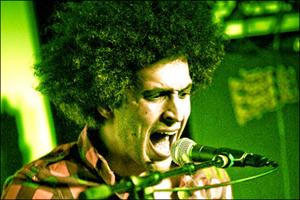 Community Post: This article was submitted by a member of our community. Find out how you can publish your own writing here!

Hey music maniacs! I'm taking a week off from New Music Monday to recover from a good old fashioned festival hangover. Last month everyone in the music lovin' world converged on Austin, TX to pretend they were having fun at SXSW. Me? Not so much. I delved deep and trudged my ass to Keetonville, OK to uncover the best that the rich Tulsa, OK scene has to offer at the Easter Island Festival, and this week I'm gonna post about the bands that stood out the most. Andy Frasco, the leader of Andy Frasco and the UN, is not a Tulsa boy but he was the overall headliner of the festival, and I'll tell ya right now, he's a real life, genuine rock star waiting to happen. Seriously, this motherfucker has been blowing up festivals and venues for a few years now and, if there's any justice, will be annihilating massive audiences soon. His show is a blissfully scatterbrained exaltation of funky time, get down, party like there's nothing left masterpiece.
Community Post: This article was submitted by a member of our community. The views expressed are the opinions of the designated author, and do not reflect the opinions of the Overmental as a whole or any other individual. We will gladly cooperate in the removal of plagiarism or any copyright infringement. Please contact us here.

This film's predecessor was lauded for its prominent soundtrack featuring a mix of classic songs. How does this one stack up in comparison?

Time for your weekly update on the wonderful world of new music! I'll tell ya what's good, what's bad, and what's a waste of your time! Strap on your headphones and let's got for a ride. The Big News 'Tis the new Snoop [...]
In the late 1980s, McDonald's ran a peculiar ad campaign featuring flexi-records, a song about their menu, and a chance to win $1,000,000.