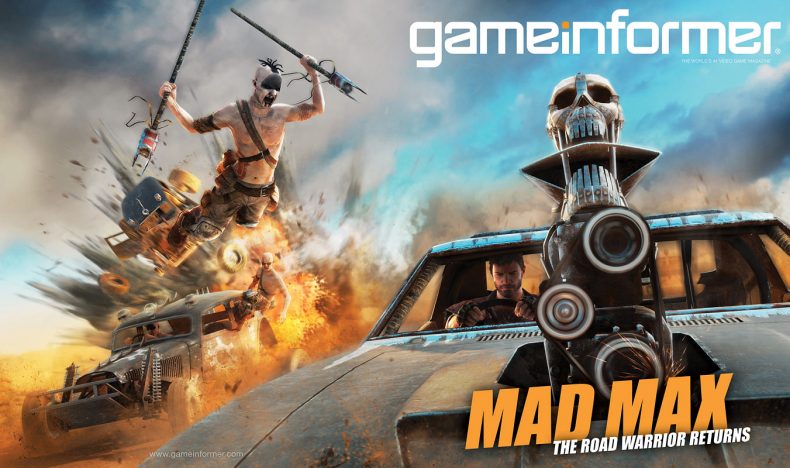 Game Informer recently got their hands on an extended preview of Mad Max for its April issue, and oh man, there are so many new details on the upcoming game.
A NeoGaf thread has been collecting all of the new information. Here are 15 things we learned about the game:
1. The game takes place before the upcoming movie Mad Max: Fury Road.
Game Informer is quick to clarify that this is still Avalanche's take on the character and the Wasteland though, so don't expect to see a lot of tie-in stuff with any of the movies.
2. George Miller, the director of all four of the Mad Max movies, was involved in the game's development.
Miller was "directly" involved with the game's early development, until he had to leave to focus on filming Fury Road. It's not clear what kind of consulting he did, but Avalanche has reportedly kept him up to date on their progress throughout the development process.
3. The big baddie is named Scrotus.
Heh, Scrotus. His gang attack Max at the start of the game, stealing his beloved Interceptor. The main goal of the game is to track down Scrotus, kill him, and take back your car.
4. You'll have a dog friend.
He'll travel with you, and will be able to sniff out water and supplies.
5. You will require food and water to survive.
Speaking of supplies, Max will needs food and water to replenish his health. Both resources are very scarce, but if you spot circling carrion, you can find rotting corpses and eat the maggots off of them. Gross, but protein rich apparently. You can also find and eat rats.
6. Food and water is hard to come by, but fuel is everywhere.
In a concession to gameplay over world-building, you won't have a problem finding fuel for your car.
"We want resources to be scarce, but we also want a car game, we want to drive a lot and so on. So gas can't be super scarce, because otherwise it would be a walking game instead of a driving game," said senior game designer Emil Krafting.
7. There's an extra area outside of the game world.
Instead of having invisible walls to close off the open world, there will instead just be an area beyond the borders called "The Big Nothing." It will be nearly impossible to survive here for long, given there's no food or water, and the constant presence of huge sandstorms. So basically, it's an organic sort of way to seal off the edge of the game world.
Interestingly though, there is an incentive to be there. If you can manage to survive for a few seconds in The Big Nothing, you may find  rare parts for your car, which get thrown around by the storms.
8. The melee combat is being compared to Batman: Arkham.
On foot, the hand-to-hand combat system apparently feels a lot like Rocksteady's Batman games, with rhythmic button pressing, counter-attacks, and dodging.
9. You can upgrade your car on the fly.
The game originally had garages you had to find to upgrade your car, but Avalanche changed their mind. Now you can access your "garage" from the pause menu, letting you install upgrades at any time.
10. Liberating strongholds is a big part of the game.
Throughout the game, you'll be looking to clear out Scrotus's strongholds to weaken his influence in the Wasteland. If you do, friendly Wastelanders will also be able to move in. At least one friendly stronghold in the game will have an armory for you to use, as well as a way to upgrade it to generate scrap, food, and water while the game is off.
You can also find and destroy the scarecrows Scrotus set up as a warning to other Wastelanders. This will also diminish his influence.
11. Your other companion is named Chumbucket.
You'll meet him very early on, and he'll ride along in your car with you with a harpoon gun. The harpoon gun can be used to rip the tires off of other cars, pull enemies out of their vehicles, and kill enemies on foot. One of the upgrades to the harpoon is called the Thunderpoon, no joke.
Chumbucket himself is upgradeable as well. If you find new tools, goggles, or a head lamp, he'll be able to better fix your vehicle after it takes damage. Finally, he'll point out interesting landmarks when you're near them.
12. Find Vantage Points to add locations to your map.
Vantage Points, tethered hot air balloons, are scattered across the wasteland. Going up in one will let you use binoculars to scout the region for supplies, landmarks, and enemies; and add them to your map. Some of these balloons will be chained up though, necessitating the harpoon gun on your car, or may require fuel to use.
13. The respawn system is very forgiving.
If you die, you'll respawn at the nearest Vantage Point or liberated stronghold. You won't lose any scrap or collectibles you collected before kicking it.
14. You're not limited to only one car.
You'll have one main, upgradeable car in the game (called the Magnum Opus), but you can drive any vehicle you come accross, as long as it's functional and not destroyed of course. At any time, you can summon Chumbucket and the Magnum Opus to you by using a flare.
15. There's no multiplayer.
There is the ability to check out other player's cars though called Opus Wars. That sounds like the name of a real multiplayer mode, but whatever.

What lies beyond Fury Road?

September is here, which means summer is finally drawing to a close. Don't be sad about the lack of sun though, there are more than a few reasons to stay inside as those temperatures begin to drop.

Is there any way we can get both films?