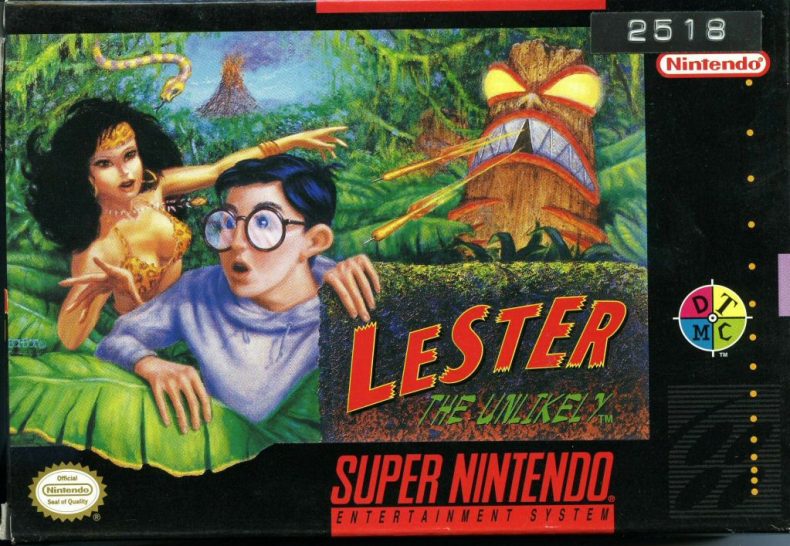 There are a few things in life that just suck. And I'm a man of simple taste. There isn't a lot that I can't handle with a positive outlook and the benefit of the doubt. Lester the Unlikely is not one of those things.
This isn't the type of game you expect that much from. You pop the cartridge into your Super Nintendo and you see a generic looking guy swinging through a jungle on a vine, a scene so magnificently unique that I can't recall ever seeing that in any other type of jungle-based entertainment scenario in the history of ever.
You hit start and the game begins. Right away, this game began killing my brain cells. It starts with that horrendous music.
Yes, the wonderfully melodious rapture of your third grade English teacher cleaning her blackboard with the tears of orphans. That's an overly cynical way of explaining that the soundtrack of the game is exceptionally unexceptional. The boring "jungle-adventure" themed music plays over a text overlay that explains who the hero of the game is.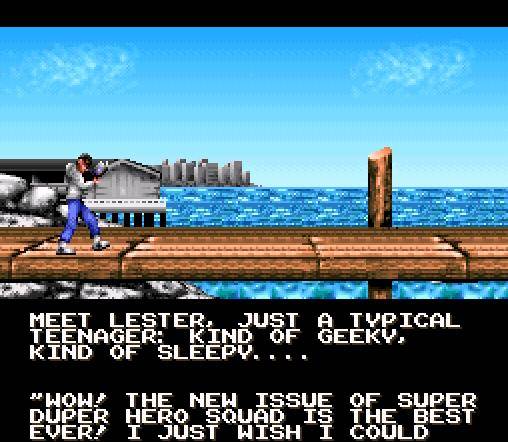 Given that the protagonist is one of the most essential parts of the game (because if you hate the hero, the chances of you liking the overall gameplay experience are drastically reduced), you'd think the developers [might] have tried to create a character that was least somewhat admirable. Or at least tolerable.
What we find out instead is that we're controlling Lester, a comic book geek that weighs 90 pounds soaking wet with cement in both pockets who is also staggeringly, shockingly incompetent. How did I come to that conclusion before ever beginning the game? Because the guy falls asleep…on a cargo platform…reading a comic book out loud to himself…on a Wednesday. (I'm assuming this was on a Wednesday, because that would fit in with the game's woefully underachieving narrative.)
The ship gets attacked by some random pirates because the developers had just watched the first Pirates of the Caribbean movie and thought it would be a good idea and Lester swims to a conveniently placed island.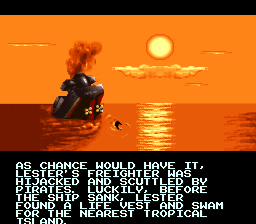 When the game begins, nothing improves. And I mean that literally. Lester is every bit the useless twit that we're led to believe. While the animation is decent and rotoscoped, that's where the buck stops. Lester possesses the single, wimpiest, most pathetic looking walk cycle I have ever seen in a game, so already, there's zero payoff for immersing yourself in his character or story.
His jumps are awkward and clunky, staying true to his character I suppose, and he has no ability to withstand falls. And I'm not talking Super Mario 30 foot drops either. If Lester drops more than a foot or two, he takes damage. It's as though gravity itself takes the place of the high school bully punching Lester in the kidneys.
If you can manage to handle the ridiculous walk cycle and crappy jumping, you can start to progress on the island. You'll make it about 15 feet before you encounter a crab. Not a jumbo sized crab or a mutant crab monster lunging for your gonads with gnashing pincers of death. Just a crab. The kind you eat at Chinese buffets.
This is the first enemy in the game. As though Lester isn't satisfied merely possessing the masculinity of Hello Kitty's My Little Pony collection, he further destroys any chance of redemption by unleashing his attack. A shin kick.
Well, if crabs had shins, that would be what he would kick. It's just a cute little tap. The kind of tap you'd give a soccer ball, except that a guy like Lester would have learned the maneuver watching from the window of the Chess Club room after school. You can almost hear Shaq-Fu laughing at this game.
Thankfully, the Magikarp kick is super effective against the crab and you can continue. Four feet. Until you see a turtle.
The turtle causes Lester to run away screaming like a coward. You have no control over this. You're just walking along and then the game takes the control away from you and has you run away from a turtle. Not a teenage mutant ninja turtle, not a Koopa Troopa. You guessed it. Just a turtle.
Just use the Magikarp kick and continue on. Now we get to the platforming sections. Yes, this is a platforming game. You may have forgotten that in the midst of everything the game has done up to this point to get you to absolutely hate its guts.
Navigating platforms in this game is every bit as awful as it sounds. Using the grace and poise of a 400 pound NFL linebacker and possessing the girth and athleticism of Bill Nye the Science Guy, platforms are basically what seal the entire experience. The entire game is filled with extremely awkward and cheap jumps that rely solely on broken jumping mechanics for their difficulty and, naturally, you can't take any chances with your jumps. In this platforming game. Which is all about jumping across platforms.
You have to gently lower yourself down by facing the opposite direction at the edge of a platform and pressing down on the D-pad.
Did you get all that? Now just collect a few random items, toss a couple of rocks with all the strength of Hal Emmerich, make it to the completely broken jungle vine swinging section that you need a Game Genie to pass, save a random island chick and surf home on a stationary tidal wave created by a nuclear explosion.
You know, I thought maybe things would get better as games got more advanced. We could try this again with better graphics. Crafting things. Maybe actually incorporating the jungle. Getting to kill a bunch of guys with a machete.
Then I played Far Cry 3.
Mr. Quinn Gammon is a fan of retro video games and owns an ever growing collection of obsolete game consoles. 
Have a suggestion for an honest review? Send it my way to [email protected] Yes, I dissed Far Cry 3. No, I'm not going to apologize for it. If you're still lingering around here, go check out Sam Saunders' equally polarizing article about why he thinks Skyrim is overrated.
What would you say if I told you that all of the Far Cry games could be linked to one another through one main character? You'd probably call me crazy and tell me to piss off, right?

Have you ever met someone that you just didn't like? Someone that made you think, "Gee, I hope this guy gets punched in the face in the near future." Well, it turns out that these same kinds of people exist in the world of video games! These 10 characters [...]