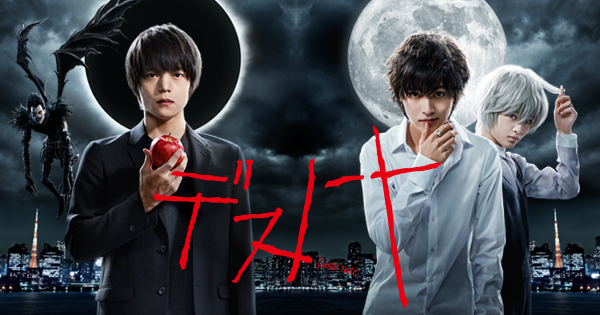 Community Post: This article was submitted by a member of our community. Find out how you can publish your own writing here!

On last week's episode, it ended on a note where Light Yagami was ready to seriously take on the world's greatest detective, L, in order to create his peaceful work. It also opened up a lot of questions for the future of Death Note, such as why there is a stalker following Light, Soichiro's involvement with L and the Kira case, and the significance of the pop idol Misa Amane. While we are given a lot of answers this week, it raises a lot of questions for what will happen in the future.
SPOILERS BELOW!!
We start off outside an Ichigo Berry concert, where Light and his friend discuss who Misa talked about when she said someone made her happy. Ryuk boasts that Light did it, to which Light says "I didn't do that. Kira did". As this happens, Misa is harassed by a photographer and is rushed away from the fans. On his walk home, Light wonders if the man following him is connected to L. He comes to the realization that changing the times of death only makes him more suspicious in L's eyes.  At L's headquarters, L tells Soichiro that if anyone acts suspicious while being followed by the FBI, the chances of them being Kira are pretty high, and that his prime suspects are the Yagami family. Soichiro doesn't approve of L's methods at all, and says he's reporting the FBI activity to his higher ups.
Why does L Suspect Sayu and Light?
For one thing, they are both students, which fits well into the original theory of Kira being a student. And, as discussed in the previous episode, there was a leak of information that resulted in Kira setting deaths throughout the day. This means that Kira can get police information. To be fair, the entire case squad and their families are suspects, but the Yagami kids seem to perfectly match L's profile of Kira. In the original manga, Light actually wishes for this to happen, but under the assumption that it would also force the police to investigate who L is, and he'd use that information to discover L's name and face.
At home, Light asks Ryuk exactly how much control the Death Note has over someone, but he can't give a clear answer. Light decides to test the notebook, in which he has a criminal draw an apple on his cell wall with blood before his death; and this is done perfectly. Light wants to run more tests in order to see how he can use it to get rid of his stalker and L. He is determined, saying "I'm going to fight the enemy known as L. And if anyone gets in my way…I'll erase them". At the police headquarters, they discuss two more strange deaths, in which a man yelled out "Eiffel Tower" and another ran to a staff bathroom before they died. L urges the police to only report these kinds of deaths with the only detail being that they died of "heart attacks", seeing that Kira may be testing something. When he is questioned about it, L believes that these tests are done as preparation to eliminate L and the case squad.
Light discusses the test results with Ryuk, and notes that the only one that "failed" was where he put the criminal in jail would die in front of the Eiffel Tower, which would be physically impossible. As well, Soichiro reports that the FBI are in Japan to his higher ups, and is told not to say anything to the rest of the case squad. When he leaves, one of the higher ups suggests separating L from the rest of the police. Returning to Light, he knows not to do anything suspicious, and the audience sees that the FBI agent following him finds nothing out of the ordinary with his activities, but that makes L question if Light has figured out his plan.
Why is there a strong suspicion of Light now?
Honestly, it doesn't make too much sense here. It could be that L decided to just target on him, but that doesn't feel very much like L's sort of behavior. It could also be that Light appears to be "too ordinary", but that's hardly any grounds for suspicion either if the person is not Kira. It seems it was put in there to add a bit of drama, but doesn't make a lot of sense with everything going on thus far.
At home, Ryuk lets slip that Misa Amane doesn't have a lot of time to live. Ryuk knows this because he has the ability to see anyone's name and lifespan. Her death would occur in 43 hours, and it could be anything from sickness to an accidental death. There is a cut to Misa, where the same camera guy from before is seen to be taking pictures. Light feels powerless in being able to save Misa's life, but he feels he has to try without using Kira's power. Back at the police headquarters, Soichiro is assigned to the head of the Kira Countermeasures Office, which is separate from the case squad. He goes to see L alone, but is followed by some of his fellow cops: Mogi, Himura, Aizawa, and Matsuda. Soichiro reveals to them that their families are being investigated, followed by L getting a phone call from Light's stalker, saying that he snuck out of work.
If Ryuk can see people's names, why doesn't he reveal the stalker's name to Light?
While Ryuk seems to be enthused by what Light is doing, he is not necessarily on his side. In the first episode, he only reveals that there is a stalker because it creeped him out personally, not because he wanted to help Light. In the manga as well, this is the same case, where Ryuk is just an observer. There are also several extra rules that were published with manga-chapters and were shown between commercial breaks in the anime. For this particular case, the rules say: "Gods of Death, the original owners of the Death Note, do not do, in principle, anything which will help or prevent the deaths in the note". Seeing as that this would affect certain deaths in the Death Note, Ryuk wouldn't be allowed to reveal this information, even if he wanted to.
It turns out that Light is among a group of fans that follow Misa Amane and tries to give her a letter, but is stopped by security and ends up yelling that the next day her life will be in danger. One of her security guards, Tsutomu Yukida, asks Light about the warning, in which he claims that he heard this from aa fortune teller. Yukida assumes that the strange photographer that has been following Misa might kill her, and there would be a meet-and-greet with her idol group around the time she would die. When Light gets home, he sees his father there, and he asks what he did today. Light says that he skipped out on work to study with a friend, and asks his dad about to the Kira case, as a worried son, in which he says there's nothing to worry about. Light feels that his father knows he skipped out on work, which means L also knows this.
Do you think Soichiro suspects Light?
It's very much a possibility. It's clear that he doesn't want to believe it, but the idea cannot leave his mind. This is different from the original manga, where Soichiro is outraged by this possibility and denies it from the very beginning. There were times where he questioned it, but he always believed his son's innocence. Here, it feels like Soichiro wants to believe Light is not Kira, but he can't ignore L's evidence against him. At this point, if it came out that Light was Kira, it would definitely hit Soichiro, but he would accept it.
The next day, L is on the phone with Near, in which Near refers to the criminal deaths as "It's almost like their souls are being stolen by a Shinigami". When the puppet personality shows up, L tells it to shut up and not to interfere with Near. Off the phone, the puppet knows that Near believes he's smarter than L, in which he responds, "I think you're projecting, Mello". At the same time, Light is getting an update on his latest test, where he was able to get a criminal to rob a store and then stab himself in the stomach. Light goes on the bus, where he is joined by his stalker and an escaped bank robber, Kiichiro Osoreda, who tries to rob the bus. Light says he thinks that his stalker is Osoreda's accomplice, in which he shows a business card, but Light guesses it's a fake. Osoreda order's Light to get everyone's belongings, but drops the bag to see a picture of his stalker with a girl, which is signed signed "Cathy Campbell".  Forced by Osoreda to search pockets, the stalker shows his FBI ID with the name Raye Penber. Raye attacks Osoreda, but the robber ends up shooting himself in the stomach. Light rushes to the rooftop from the first episode to write down Raye's name, saying he'll die of a heart attack after arguing with L and shooting him. There is even a quick cut to Raye meeting with L and pulling out his gun.
Light is able to make it to the Ichigo Berry meet-and-greet, but sees no sign of Misa. Calling Yukida, he says that suspects Light of being the stalker and that "Misa-Misa is mine". The phone call ends, and Light realizes that the security guard may have been the potential killer all along. Yukida meets with Misa, saying he protected her from a stalker. He forces himself onto her, in which she slaps him, and causes hi to push her down the stairs. Unconscious for some time, she awakens to see Yukida's body on the floor. At first, she believes it was Kira, but then a pink notebook falls behind her, along with a white feather. Upon touching it, a Shinigami appears in front of her, introducing itself as Rem. At the end of the episode, Light is sulking, believing he didn't save Misa when he receives a phone call from L, saying that Raye informed him about his "busy day" on the bus and confesses that "Raye" is not the agent's real name. It ends with L saying "Oh, and I had a thought…Are you Kira? You are Kira, aren't you Light Yagami?"
Misa has a Death Note now?
It would appear so, since it came to her in a similar fashion that it came to Light. It does make one that has not seen the series why it dropped in front of her. And while these events do happen in the manga, they happen much later on in the series. In the original story, her life is saved by a Shinigami named Gelus. He fell in love with her, and because he saved her life, it goes against what a Shinigami is supposed to do, and died by turning to rust. Because her life was saved, her lifespan is extended, and Rem follows Misa, along with Gelus's Death Note, believing that's what he would've wanted.
Why isn't Light smarter?
The original series really played on the "genius vs genius" angle between Light and L, making it clear that Light is probably the smartest student in Japan. Here, it's clear that he is smart, in terms of schooling, but he seems to be making a lot of obvious mistakes. Of course changing things the very next day that they are theorized will only make you more of a suspect. With this version of Light, he seems to be more driven by his emotions. In the manga, Light is a very cold person, idealistic, and calculated. It seems that the people behind this version want to tell a very different story with a different kind of Light Yagami. We do see Light slowly becoming darker, saying he'll kill anyone trying to stop him, not just criminals. While we can sympathize with his cause, he is still a killer. This feels very similar to the characterization of those like Walter White from Breaking Bad by having an innocent person slowly being corrupt by power and their own ego.
Would Light's plan for Raye even have worked?
If Raye Penber was the agent's real name, like in the original manga, I doubt the plan would still have worked. For one thing, it does not recognize aliases as actual names. With Osoreda, he wrote that the robber would force a college student to take everyone's belongings. Since Light was in on all of this, and it was more of a description than an alias, it worked in this particular case. And, say that putting "he kills L" was enough to actually have Raye kill him; it wouldn't have worked if we're assuming that all the original rules of the Death Note are still in place. Another rule reads: "Whether the cause of the individual's death is either a suicide or accident, if the death leads to the death of more than the intended, the person will simply die of a heart attack. This is to ensure that other lives are not influenced". This would mean that Raye probably would have died at the time Light specified and nothing more.
What do you think of the changes?
While it seems they are following a lot of the original storyline, the changes here are helping progress the story further. The changes are slight, but they are starting to divert the series into its own beast, more using the original story as an outline rather than following it note-for-note. A strength for this version of Death Note is how much misdirection there is for the original fans. While in the original series, the agent's name was really Raye Penber, having it be a fake name opens up the possibilities for his character as well as where the story may go. It does feel a bit odd that Misa receives her notebook so early on in the series, which may call into question the pacing of the story later on.
Any predictions for the next episode?
The preview at episode three clearly shows that many of the FBI agents in Japan will die, but it remains unclear if it'll be similar to the anime. We know that Raye Penber is not the FBI agents real name, so it's pretty much up in the air if Light will still try to use him. There was a shot at the end where Raye was holding the gun to Light's head, but it feels very much like a misdirection. Misa's story looks like it may get interesting, with her holding up the napkin that reads "Light Yagami".  It's easy to presume that Misa would want to find out who Kira is, so it would be interesting to see this scene in context of all of this. There is also the case of Cathy Campbell; Light knows the name and face of a woman who seems to be very close to Raye. It seems that there's a possibility that Light could use her, but that could be a conflict of his own moral interest. For all he knows, she is an innocent bystander in all of this, and using her would be against Kira's ideals. Using her to get to Raye would put Light on a clear path down a much darker road. It is also possible that she is a surrogate for the manga's Naomi Misora, Raye's fiancé who is a retired FBI agent. If that's the case, and Raye lives longer than he's expected to, this could really put Light in a corner, where he might have to sacrifice his ideals for his "peaceful world".
Community Post: This article was submitted by a member of our community. The views expressed are the opinions of the designated author, and do not reflect the opinions of the Overmental as a whole or any other individual. We will gladly cooperate in the removal of plagiarism or any copyright infringement. Please contact us here.

Community Post: This article was submitted by a member of our community. Find out how you can publish your own writing here!With this episode of Death Note, a lot of things happened in what feels like a short period of time. There seems to be a lot of [...]

Community Post: This article was submitted by a member of our community. Find out how you can publish your own writing here!It feels rather odd to say that this is the most humorous episode of the Death Note drama thus far. Tensions are definitely growing [...]

Community Post: This article was submitted by a member of our community. Find out how you can publish your own writing here!At the end of last week, we saw L in a very defeated state with all the FBI agents in Japan dead. As well, Light is faced with the [...]