Despite skipping an entire console generation after the release of Kingdom Hearts 2 in 2005, the Kingdom Hearts franchise remains as strong as ever. Spin-off and prequel releases have managed to keep the ravenous fanbase satiated so far. But now, our extreme patience has paid off, as Square Enix and Disney have finally released a Kingdom Hearts 3 trailer. Here's our analysis.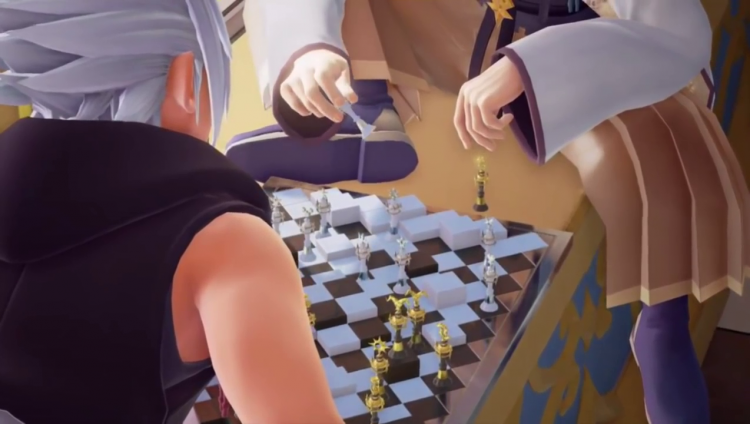 The trailer opens with a message stating that the game is still in development. So expect a few changes from the trailer. Right off the bat, you'll notice that Square Enix has decided to keep the quasi-simplistic/cartoonish art style of the previous games. The two boys playing chess and discussing the "Keyblade War," are most likely the original Xehanort and a younger Eraqus. These two are both Keyblade Masters that debuted in Kingdom Hearts: Birth By Sleep. Representing Darkeness and Light (as shown by the chess pieces), these two will be responsible for the new Keyblade War alluded to in their discussion.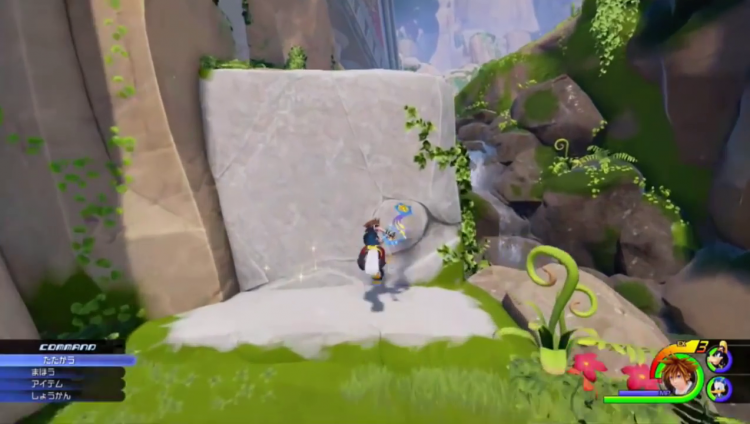 Next, we get some gameplay. The graphics have definitely been given an upgrade, at least in terms of quality, not style. Everything just looks more vibrant. The command menu us still in use, as is the standard health/MP/Ex gauge.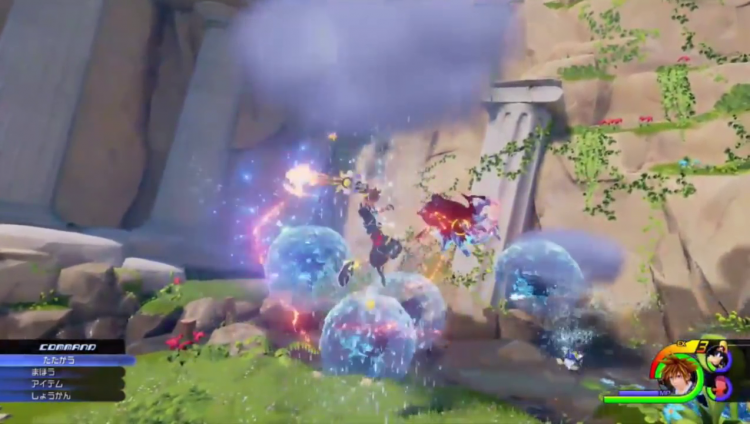 What follows is a brief combat scene that shows off the new magic animations. The magic system in this game seems to incorporate movement from Kingdom Heart 2's Wisdom Form, specifically the ability to briefly glide while performing a spell. The Fire Spell also seems to be a able to home in on enemies, similar to Kingdom Hearts 1, but in a more dynamic way.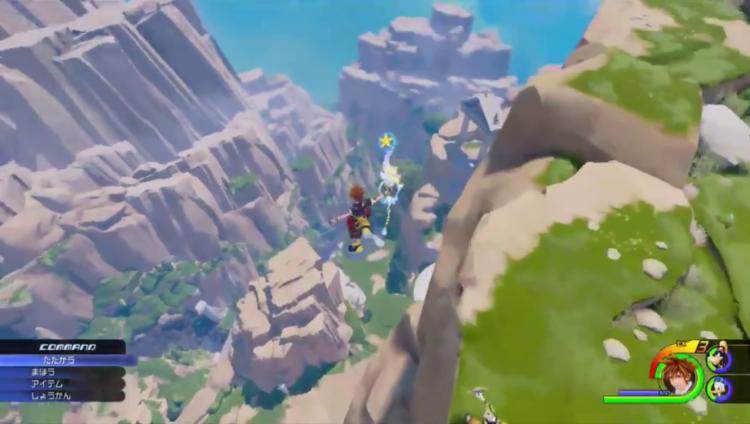 This is new. It appears that the maps in Kingdom Hearts 3 will be bigger than the first, as Sora is seen leaping off a cliff to a lower level. In all previous games, such a thing was impossible as each level was sectioned and bordered with invisible walls.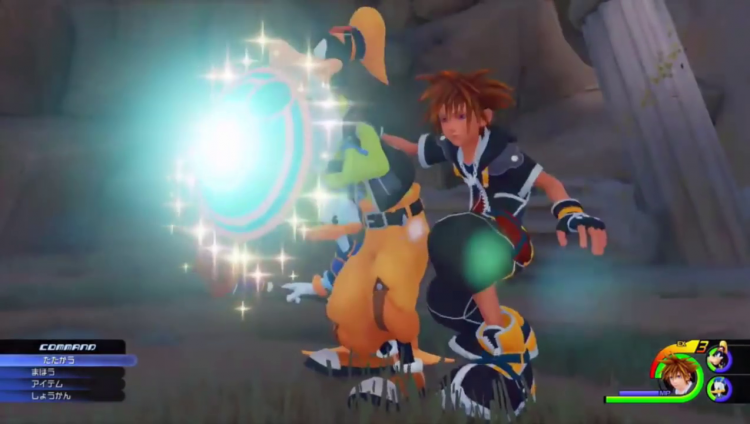 Teams attacks also make a return. In this one, we see Goofy's new aim and charge attack.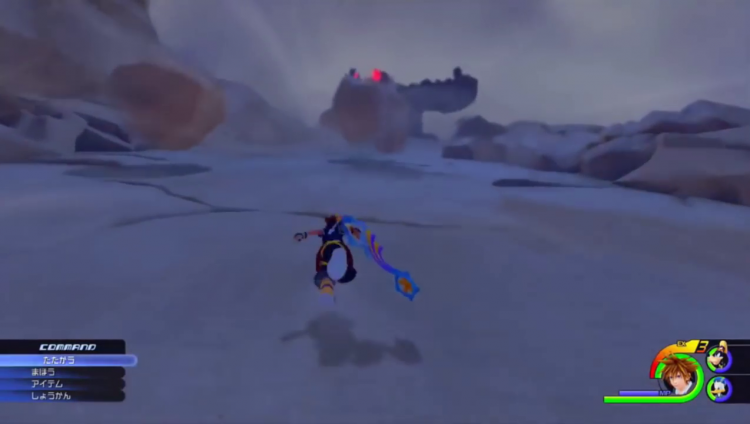 On the background we see the Earth Titan from Disney's Hercules. He was the final boss in Kingdom Heart 1's Colosseum side mission. We are clearly in a Hercules themed level, probably taking place during the Hades' and the Titan's siege on Mt. Olympus.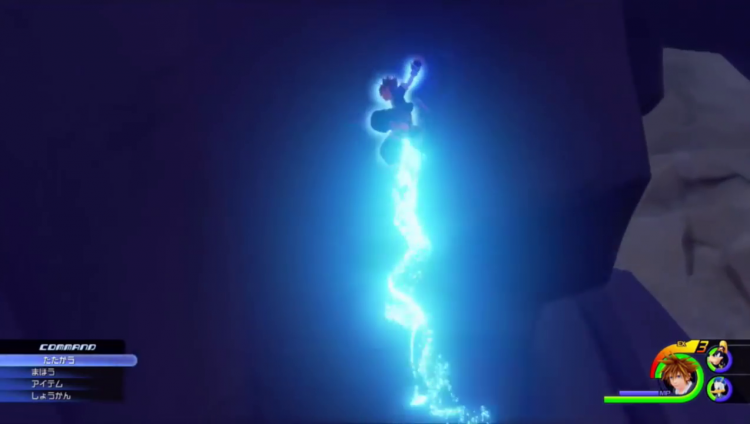 Sora is seen leaping up the Titan, but this is probably the Reaction Command seen in other games.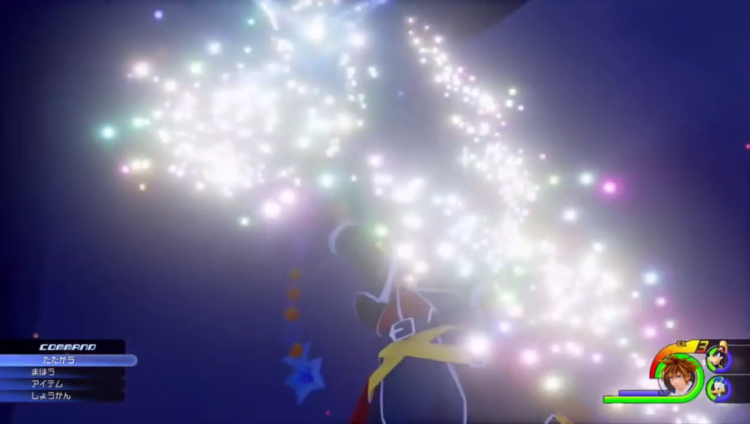 Next, Sora does some sort of combo/summon…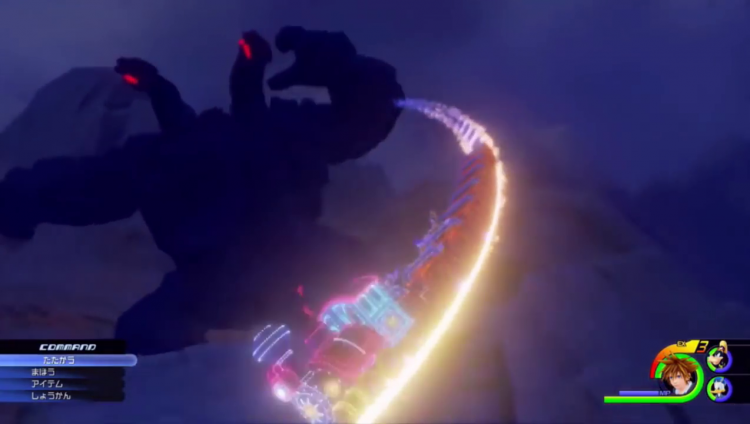 And attacks the Titan with a magic ROLLACOSTER!!! The possibilities are limitless.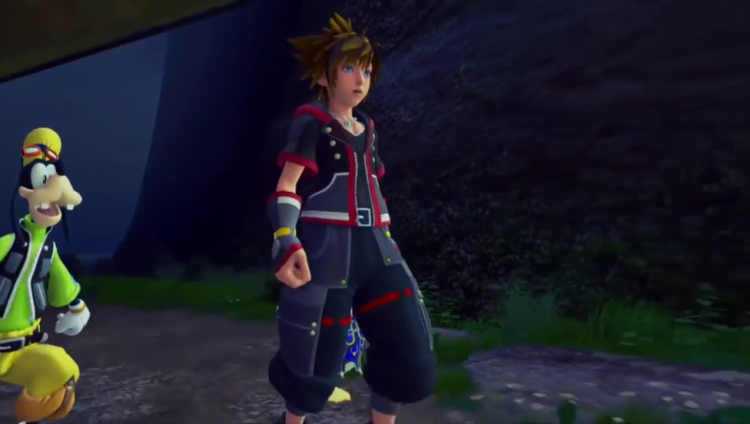 Here's the first clear snapshot of what characters will look like in Kingdom Hearts 3. Damn, maybe I should take back that quasi-simple remark. Also note that Sora has red borders on his clothing instead of white. A reference to Kairi maybe?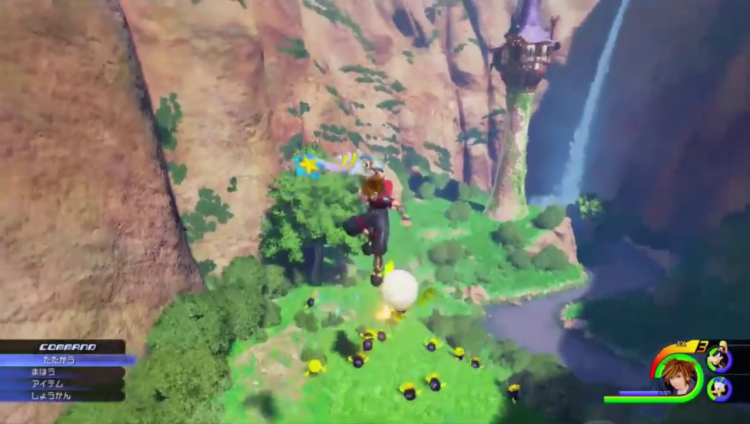 New level. Repunzel? Tangled!?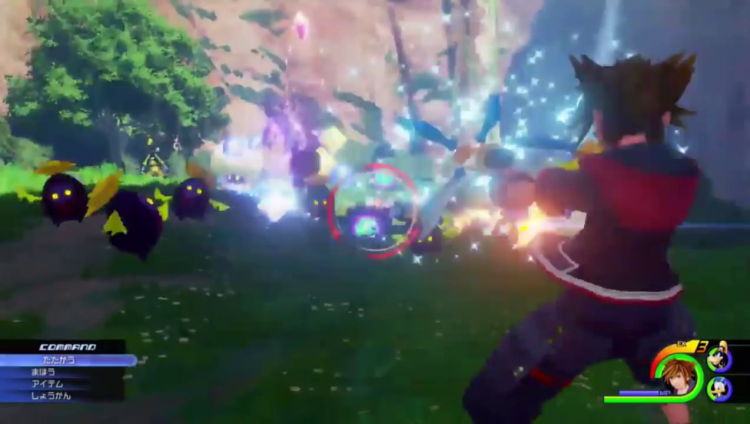 We then see a new ability for Kingdom Hearts 3, Weapon Switching. Or some variant. Sora appears to be able to briefly transform his Keyblade into a gun…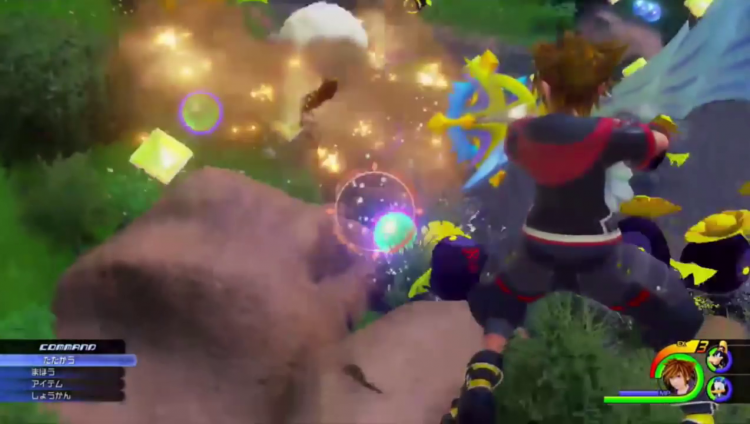 And cannon.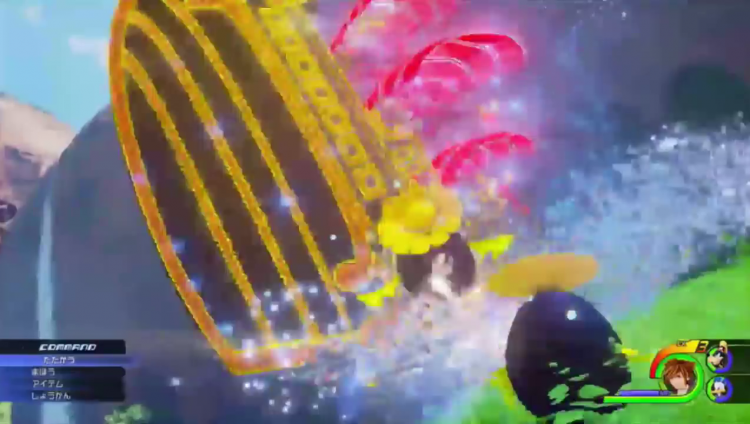 Another summon, this time of a boat. I wonder if all summons this time around will be theme park themed?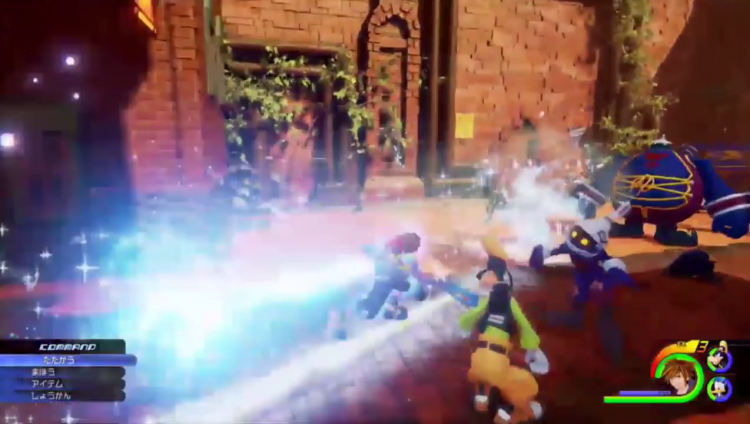 A return to Twilight Town. Plus, a showcase of the new Ice spell ability, Ice Slice. Bobby Drake eat your heart out.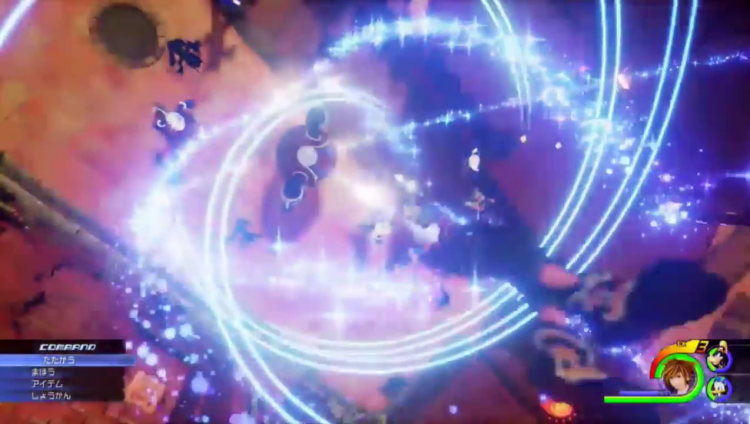 I have no idea what this is, but it may be a sort of final attack for a Drive Form. Possibly an upgraded Wisdom Form attack.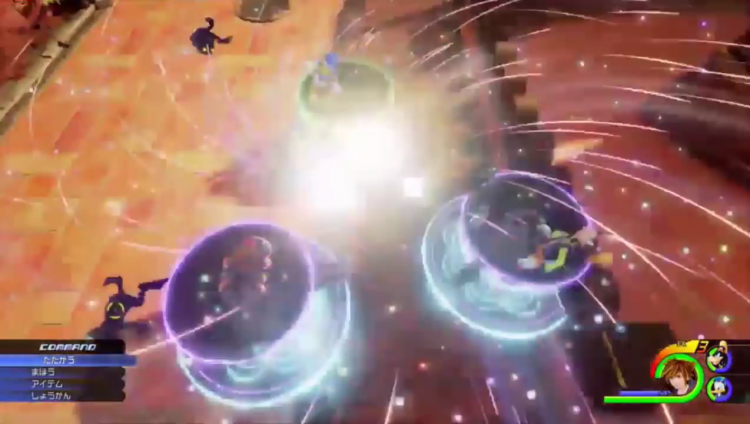 Yep, teacup attack. #Casual.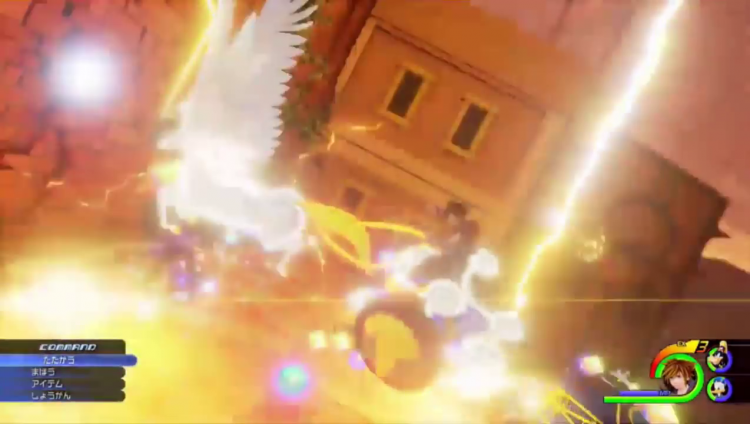 This Pegasus and Chariot was summoned via the Keyblade itself. As with the guns/cannon, separate Keyblades may be given unique attacks and transformations.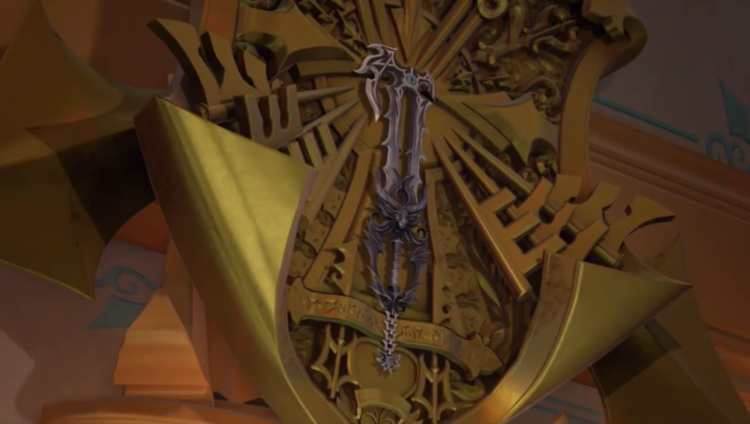 A neat shot of Xehanort's keyblade. Will you be able to use it?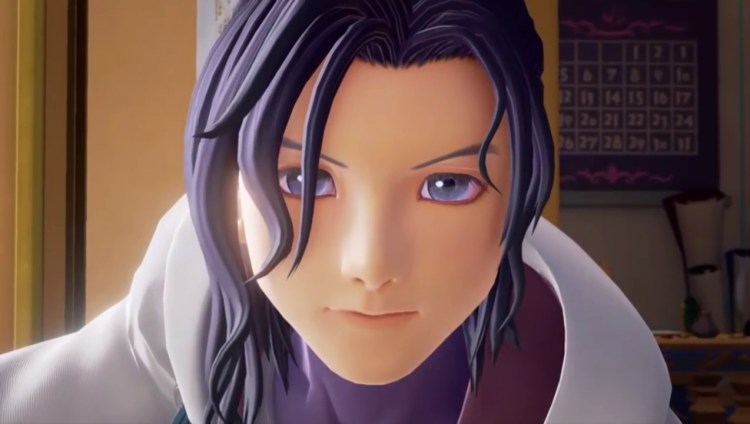 The last tagline, "There might be more to light than meets the eye" is intriguing. Not only for the potential Transformers cameo (please!), but also the theme of the game. Most of the series has focused on Xehanort's side, Darkness, executing some sort of scheme to take over the universe. Perhaps in Kingdom Hearts 3, we will get more focus on the light side. Eraques role is especially curious, as the Master/Mentor of Terra, Aqua, and Ventus, who are all indirectly responsible for the rise of Sora, Riku, and Kairi.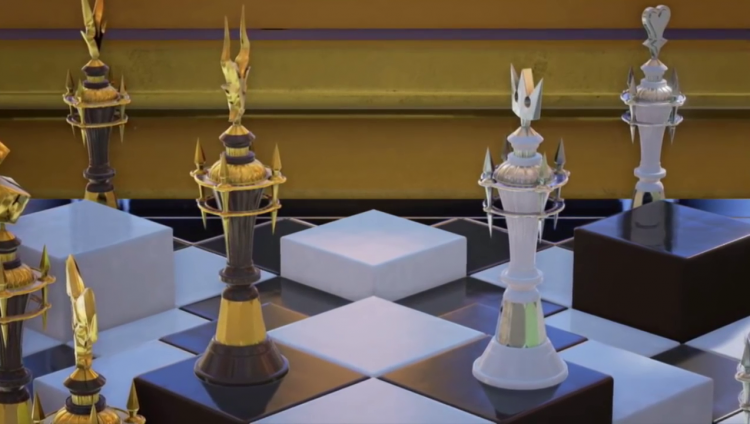 Kingdom Hearts 3 will be released for PS4 and Xbox One.

The Star Wars galaxy is about to get a whole lot bigger.

A few hours ago, Disney released a press kit for their 2018 slate. In it, we've gotten our first official description of what exactly this year's Star Wars installment is going to be about.

Today, The Force Awakens beat out Avatar to become the highest-grossing movie in the U.S. of all time. That being said, it has a long way to go if it's going to top Avatar's worldwide earnings.