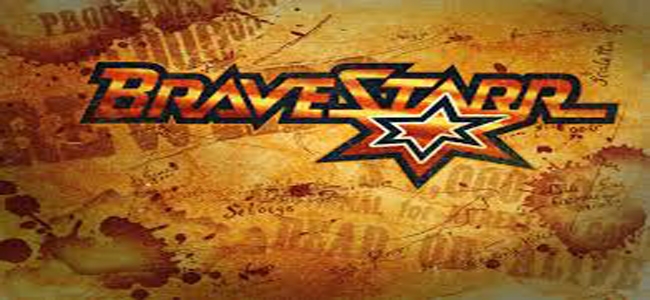 Community Post: This article was submitted by a member of our community. Find out how you can publish your own writing here!

When I was a kid, two genres would instantly catch my attention, Westerns and Science Fiction.  In 1987, a show was made that combined both genres.  BraveStarr told the tale of Marshall BraveStarr (voiced by Pat Fraley) who fought to protect the citizens of the planet, New Texas.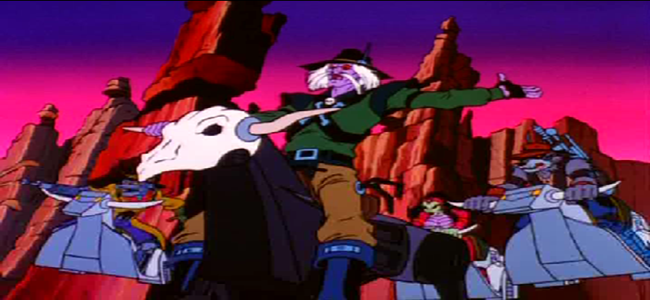 Who will save the people of New Texas?
Not only did BraveStarr have a cool side-kick, a cyborg horse, Thirty-thirty (Ed Gilbert), but he also had superpowers.  At any time, BraveStarr could call upon any of his four powers: Eyes of the Hawk, Ears of the Wolf, Strength of the Bear and Speed of the Puma.  These powers came in handy as he often fought against the evil Tex-Hex (Charlie Adler) and the Carrion Bunch.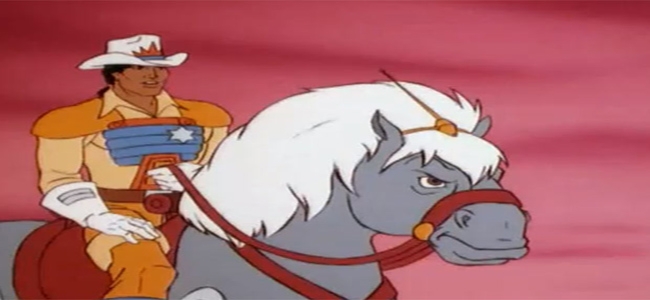 BraveStarr and Thirty-Thirty
BraveStarr had plenty of allies to help him.  There was Deputy Fuzz (also voiced by Charlie Adler), a small creature, a member of the Prairie People who was both funny and helpful.  Judge J.B. McBride (Susan Blu), a judge and lawyer who served along BraveStarr.  Finally, there was Shaman (Ed Gilbert).  Shaman also had powers and served as BraveStarr's father figure and mentor.
Each episode was pretty straight forward.  A villain would reveal he or she had an evil plan.  BraveStarr and his allies would go forth and stop it.  Everyone would cheer and BraveStarr would be ready for the next challenge.  Similar to GI Joe, each episode would end with a lesson for the audience.  Also, there would a quick quiz to see if you spotted Fuzz in the background during the episode.
I got a blast watching this cartoon.  It only lasted only a season, but still I enjoyed it.  The premise of a futuristic cowboy with superpowers was the coolest concept to a kid.  They even came out with some cool action figures.  I got a BraveStarr action figure (not a doll!) for one Christmas.  If I kept it in the box, it might be worth something today.  But us kids didn't think that far ahead.  When we got an action figure, we wanted to play with it.  'BraveStarr' is one show you should check out.  I'm sure you can find the DVD on Amazon or eBay.  Trust me, you won't be disappointed.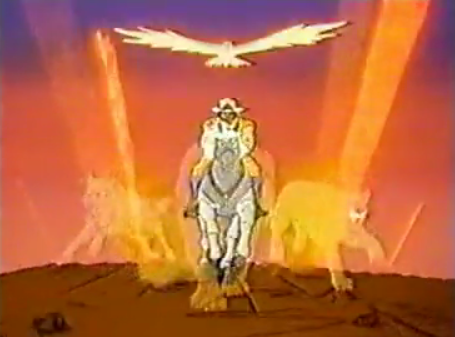 BraveStarr to the rescue!
Community Post: This article was submitted by a member of our community. The views expressed are the opinions of the designated author, and do not reflect the opinions of the Overmental as a whole or any other individual. We will gladly cooperate in the removal of plagiarism or any copyright infringement. Please contact us here.
Community Post: This article was submitted by a member of our community. Find out how you can publish your own writing here!Throughout time comic books have been known as a form of entertainment. Funny books some may call them in the past. People all over [...]

Community Post: This article was submitted by a member of our community. Find out how you can publish your own writing here!Yet another week comes to a close which means it's time for new music!! Each week a whole slew of new stuff is splooged onto the [...]

Community Post: This article was submitted by a member of our community. Find out how you can publish your own writing here!Hey kid! Like new music? Great! You've stumbled into the right rabbit hole. I'll tell ya what's good, what's bad, and what's a [...]